Mercedes hope for performance boost from new Canada engine
World champions to use second engine of F1 2018 at Canadian GP; Watch all sessions, live and exclusive on Sky F1, this weekend
By Matt Morlidge
Last Updated: 05/06/18 4:02pm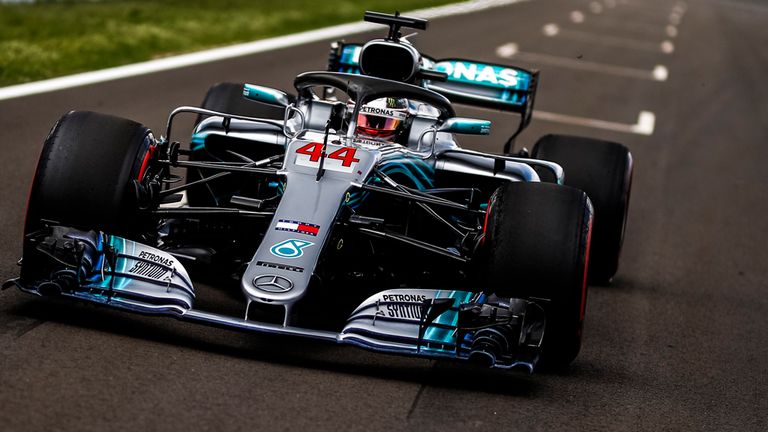 Mercedes will introduce their second power unit of the season at the Canadian GP and hope for more performance, according to Toto Wolff.
As Formula 1 reaches its seventh race of F1 2018 at the Canadian GP, with its power-hungry circuit, several teams are due to bring engine upgrades as the development battle hots up in a fiercely competitive season.
And though Red Bull and their Renault engine are a particular point of intrigue having joined Mercedes and Ferrari in the title race with their Monaco GP triumph, the four-time world champions are expecting a boost of their own.
F1 driver power unit usage
Why is Hamilton so good in Canada?
Ricciardo to be hit with grid penalties
"We expect a number of teams to take their scheduled second Power Units this weekend, including all the Mercedes-powered cars," said Mercedes chief Wolff.
"We are pushing hard to bring more performance to the car as soon as possible."
Red Bull technical chief Adrian Newey has downplayed the effect of Renault's upgrade, only expecting a tenth of a second in lap time, and instead the team are facing penalties for Daniel Ricciardo after his MGU-K was damaged in his Monaco win.
But Mercedes are still a long way from the three-unit limit and grid drops, with both Lewis Hamilton and Valtteri Bottas on the engine elements they started the season with in Australia.
Merc in strong position but have tyre "weaknesses"
Though Mercedes have made their worst start to the season since the hybrid era began in terms of race wins, with the six F1 2018 victories shared between three teams and three drivers, they are still leading both championships.
But the Silver Arrows are still anticipating another battle with Ferrari and Red Bull this weekend, with all sessions live and exclusive on Sky Sports F1.
"We can see that we are in a stronger position in both championships than we were 12 months ago," said Wolff. "But we also know that the battle is more fierce, with ourselves, Ferrari and Red Bull in the contention for race wins every weekend; there is not a moment to relax."
The Circuit de Gilles Villeneuve certainly seems to suit Mercedes, and in particular Hamilton. The Englishman's six wins means it his most successful F1 track, and he has only qualified off the front row once.
"In recent years, Mercedes has performed well in Montreal - and it's one of Lewis' most successful circuits, too," Wolff added. "However, past performances bring no guarantee of success this year.
"We will need to make sure we get the most from all the tyre compounds, including the Hypersoft, if we want to come out on top this weekend."
Mercedes' hypersoft struggles at the compound's debut in Monaco were profound, with chief engineer Andrew Shovlin calling it a "weakness", but were still masked somewhat by a tight circuit.
Hamilton's Canada record
| Year | Qualifying | Qualy v team-mate | Race |
| --- | --- | --- | --- |
| 2007 | 1st | 1-0, -0.456s difference | 1st |
| 2008 | 1st | 2-0 -1.203s difference | DNF |
| 2010 | 1st | 3-0, -0.415s difference | 1st |
| 2011 | 5th | 4-0, -0.263s difference | DNF |
| 2012 | 2nd | 5-0, -1.095s difference | 1st |
| 2013 | 2nd | 6-0, -0.496s difference | 3rd |
| 2014 | 2nd | 6-1, +0.079s difference | DNF |
| 2015 | 1st | 7-1, -0.305s difference | 1st |
| 2016 | 1st | 8-1, -0.062s difference | 1st |
| 2017 | 1st | 9-1, -0.718s difference | 1st |
| Average | | -0.493s advantage | |
At a Canada track where overtaking is rife, there will be no hiding place.
"We have been doing a fair bit of work on that this week," explained Shovlin. "We saw a lot of people up and down the field in a similar situation but, crucially for us, the Red Bull looked stronger and the Ferrari looked stronger.
"We've got some pretty good ideas of what went wrong and we're going to be doing a bit more work back here [in Brackley] to fully understand that because we need to get on top of that for Montreal.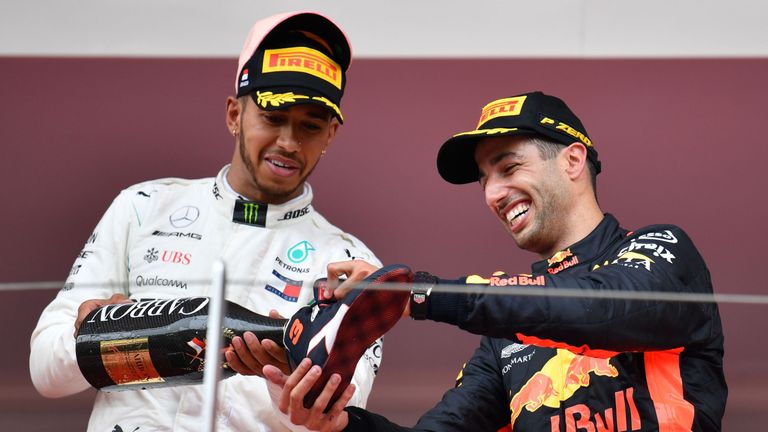 "We have got the same tyres, you could have similar problems, and we need to make sure we are not exposed because in Montreal if you lose pace and you're struggling degradation people will pass you very easily.
"We need to look at what we were doing with the car, how we were using the car and how we were setting it up. As is often the case when you suffer a performance problem, it isn't just one thing, it's a combination of factors."
Can Ferrari or Red Bull deny Lewis Hamilton a fourth consecutive win in Montreal? Watch the Canadian GP exclusively live on Sky Sports F1 from June 8-10. Get Sky Sports F1.
How to follow the Canadian GP on Sky F1
| | | | | |
| --- | --- | --- | --- | --- |
| Friday June 8 | Sky F1 digital live blog | 3pm: P1 LIVE! (Build-up 2.30pm) | 7pm: P2 LIVE! (Build-up 6.45pm) | |
| Saturday June 9 | Sky F1 digital live blog | 4pm: P3 LIVE! (Build-up 3.45pm) | 7pm: Qualifying LIVE (Build-up 6pm) | 8.45pm: The F1 Show LIVE! |
| Sunday June 10 | Sky F1 digital live blog | 5.30pm: Pit Lane LIVE | 6.30pm: On the Grid LIVE! | 7.10pm: The Canadian GP LIVE! |