The Formula 1 Gossip column
The latest gossip and speculation from around the sport after a bumper summer of driver moves
Last Updated: 20/09/18 3:56pm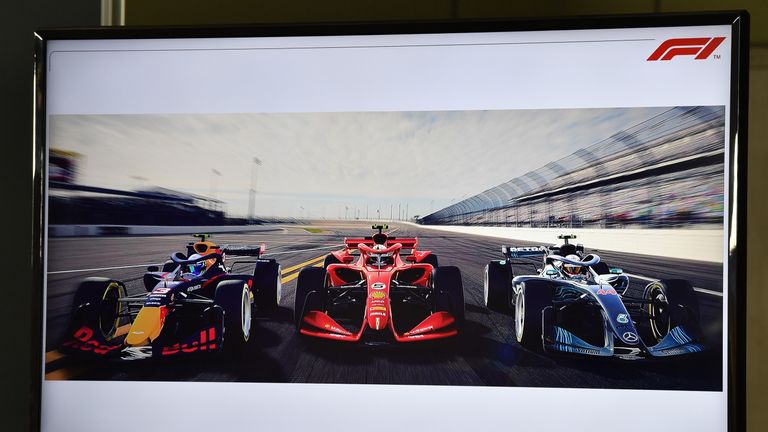 Alonso likes the look of 2021 F1 cars
He may be leaving the sport at the end of the season, but Fernando Alonso is a fan of the F1 car prototypes for 2021.
Ross Brawn revealed the concept ahead of the Singapore GP.
"If they did a study, they checked and they know it's going to be better in the future, it's the way to go," the two-time world champion said.
"The cars aesthetically look different. More like a Formula Renault or an IndyCar and they seem to follow each other a little bit closer. It's good to copy ideas that work already."
One of the reasons for the huge technical overhaul is to improve overtaking.
"It has been a little bit the nature of Formula 1, it's always been difficult to follow cars," added Alonso.
"I don't think it's been more difficult than 2004 or 2005 and those kind of years. It was probably a bit easier from 2010 to 2016 - when we introduced last year the wide wings and the wide tyres it makes it a little bit more difficult now."
Red Bull could take Russia penalties
With a need to introduce at least one more engine into their pool for the final six races, Red Bull have admitted the next race in Russia may well be the venue for their latest round of engine penalties.
"We need to look at it but the likelihood is Sochi is an obvious place," said team boss Christian Horner.
In F1's four previous visits to the Sochi Autodrom, Red Bull have not qualified or finished higher than fifth.
From four wheels to, er, two...?
Brawn: Verstappen is a future champion
Max Verstappen proved he has the ability, and composure, to be a future F1 world champion with his performance at the Singapore GP, according to F1 chief Ross Brawn.
The Dutchman sealed his first podium finish since his Austrian GP win as he superbly qualified just behind Hamilton before then holding off Sebastian Vettel for second place in the race.
"The young Dutchman squeezed every last drop of performance out of his Red Bull, first when he unexpectedly put it on the front row on Saturday and then on Sunday with an impeccable drive that showed real maturity," said Brawn.
"He even managed to close on Hamilton when they came up behind traffic, but even then he avoided unnecessary risks, perhaps aware that he didn't have a real chance of winning."
Brawn continued: "It shows that the Dutchman has all the hallmarks of a future champion.
"It's not enough to just produce phenomenal performances in some races if others are marred by silly mistakes, but more and more Verstappen's race are characterised by not just prodigious pace but also composure."
Wolff: Merc's Hamilton handling proved right
Mercedes chief Toto Wolff says Lewis Hamilton's performance in the Singapore GP proves the Silver Arrows' laissez-faire handling of their driver is the right approach.
"Since six years, I've heard 'how can you allow Lewis to get off and fly around the world?' You know what? He did it to his most extreme in the last 10 days," Wolff told the F1 website. "He loved it. He was in Shanghai on the catwalk, he was in New York a couple of days later, he came here, rock and roll, and he blew everyone away.
"Let's be non-judgemental and allow everyone to judge how he performed best. And he knows best what is good for him" (Full story - external site)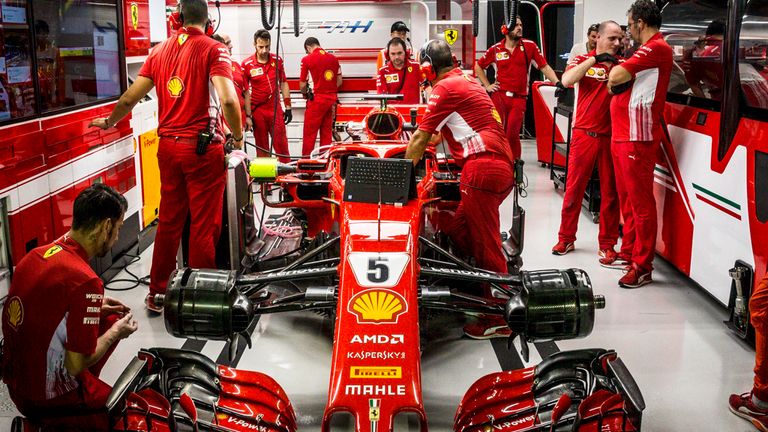 Papers savage 'desperate' Ferrari
The pressure is ramping up on Ferrari, and Monday's papers have not been forgiving when it comes to the team's disappointing Singapore GP.
'Ferrari are struggling to keep their heads clear these days,' writes Jonathan McEvoy in the Daily Mail.
'That is primarily because Hamilton is so quick that they have become desperate. It is why Vettel is questioning his Ferrari pit-wall people more often than before.'
Rebecca Clancy of The Times believes team principal Maurizio Arrivabene is in danger of losing his job.
'By the end of the Asian round of races last year, Maurizio Arrivabene's position as Ferrari's team principal was in question,' she notes. 'Ferrari chose to stick with him, deciding that stability was the key to growth. So it proved to be and the Scuderia came back this season.
'Yet as the rounds tick by, and Ferrari's weaknesses are increasingly exposed, the question over Arrivabene's future looms again. How many more seasons can Ferrari appear to come close, only to lose out through their own failings?
'Costly misjudgments by Ferrari and Vettel on Saturday and yesterday added to the list of mistakes made by both this season.
'With Hamilton and Mercedes showing no signs of weakness, there is a growing sense that Ferrari have already cost themselves any chance of the title.'
There was also immense praise for Lewis Hamilton from Fleet Street.
Giles Richards of The Guardian writes: 'His win at the Singapore Grand Prix was the culmination of a weekend when he put together moments of almost transcendent skill and a ruthless execution when it mattered that was untouchable.
'Reminiscent of Tiger Woods at his peak, Hamilton's performance for Mercedes under the lights of Marina Bay looked a class apart from his rivals. So much so that he now has one hand on the title.'
Kvyat and Wehrlein for Toro Rosso in 2019?
Is Daniil Kvyat heading back to Toro Rosso for a third spell?
Rumours that the Russian, currently a development driver for Ferrari, could return to the team have swirled for the last month after Scuderia bosses were spotted in talks with their Red Bull counterparts at the Belgian GP.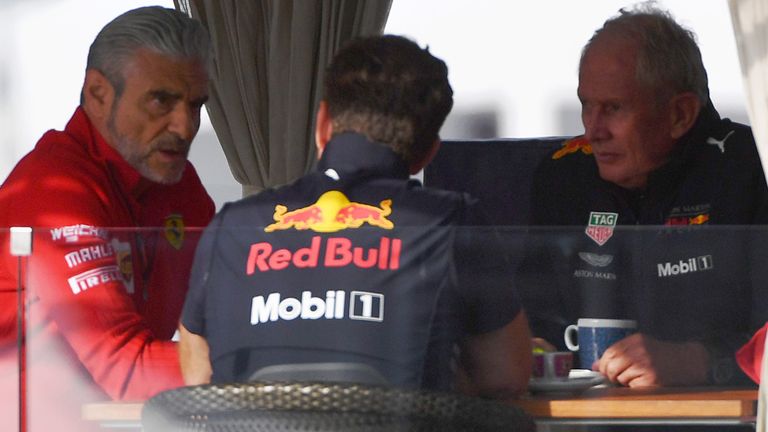 Kvyat has twice driven for Toro Rosso previously. While his first spell ended with a promotion to Red Bull, his second ended in fractious fashion in late 2017. But it now appears he is poised to be welcomed back into the Toro Rosso/Red Bull family.
Red Bull advisor Helmut Marko has indicated an announcement will be made in two weeks' time at the Russian GP.
But while Kvyat would replace the Red Bull-bound Pierre Gasly, what of the team's second seat?
Few in the paddock believe Brendon Hartley will be retained and the new favourite for the expected vacancy is Pascal Wehrlein, who was released from his association with Mercedes earlier this week.
"Franz Tost is a big fan of Pascal Wehrlein and wants to sign him now that he is free of his Mercedes contract," reported Sky F1's Ted Kravitz during his Singapore GP qualifying notebook.
"Kvyat and Wehrlein? Don't bet against it."
At Sauber, meanwhile, Antonio Giovinazzi is considered the likeliest option to partner Kimi Raikkonen in 2019.
Like Kvyat, Giovinazzi is currently contracted to Ferrari. All the indications therefore are pointing to the Scuderia having two development driver roles becoming available at the end of the year. Who will fill those vacancies?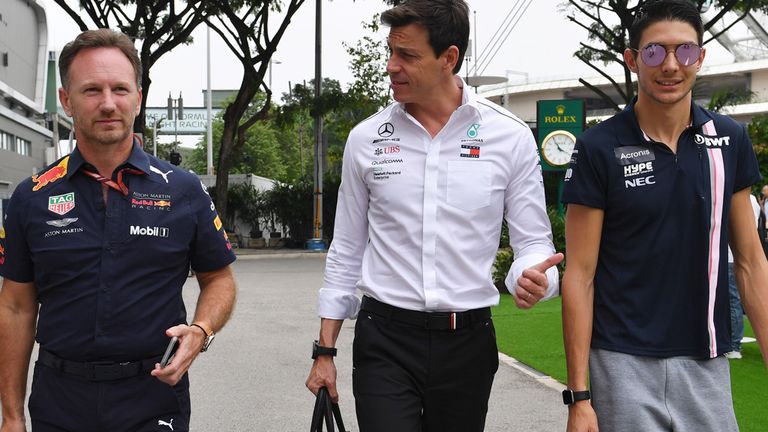 Will Ocon get a 2019 drive?
Plenty for Toto Wolff, Christian Horner and Esteban Ocon to discuss after the Mercedes boss revealed his anger at Ocon's struggle to be part of the 2019 grid... (Full story)
F1 reveals its car of the future
Not yet the end of the F1 road for Wehrlein
His relationship with Mercedes may be ending at the end of 2018, but Pascal Wehrlein says he remains in the hunt for an F1 seat next season.
"I am looking for new challenges and opportunities, and am currently talking to other teams about a cockpit for next season," said the former Manor and Sauber driver.
Wehrlein was linked with a Toro Rosso drive at the expense of Brendon Hartley earlier in the year and appears likely to be one of the many drivers in contention for one of the two seats at the team in 2019.
Ferrari door 'always open' for Schumacher Jnr
The name of Mick Schumacher has been mentioned with regularity during the Singapore GP weekend after the teenage son of Michael's winning run in European F3.
The 19-year-old is not linked to an F1 team yet - but could Ferrari, where his father enjoyed record-breaking success, he a natural eventual fit?

"Concerning Mick Schumacher I think the most important thing is to let him grow, without giving pressure," said Ferrari chief Maurizio Arrivabene.
"Recent results are very, very good and I wish him a great career. With a name like this, that wrote historical pages of Ferrari history, the door of Maranello is always open."
Did Homer Simpson drop Raikkonen?
After Kimi Raikkonen's classic display in Thursday's press conference, it was the turn of Maurizio Arrivabene to take centre stage in Friday's summit of the team bosses.
And he didn't disappoint.
"I think Kimi was funny also during the press conference. I try to be funny too. What did you expect Kimi to tell you, that Homer Simpson took the decision? Of course I took the decision but I have to say that the relationship with Kimi is so good that he understands. It's not only a question of telling him this is the decision. If you do my job properly, it's to take him through the process, and I took him through the process of the decision and he didn't even try to say 'yeah, I would like you to change your mind' or something. He's a professional driver."
Arrivabene added, by the way, that Raikkonen was told he was being dropped on the Thursday at Monza.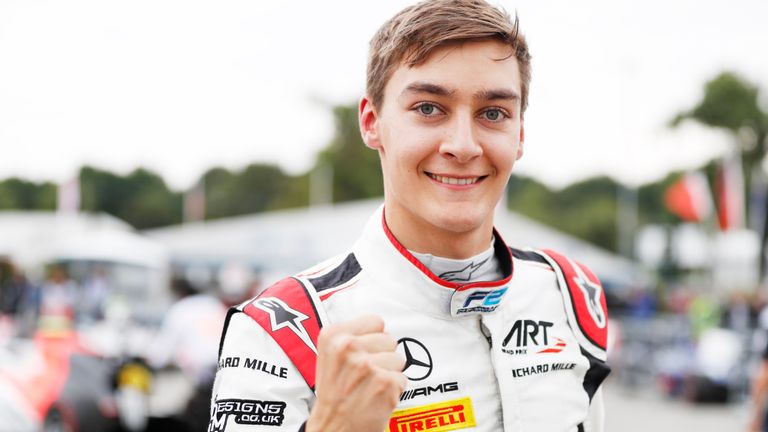 Russell desperate for 2019 F1 seat
Formula 2 championship leader George Russell says he is doing everything he can to secure a 2019 F1 seat as he looks to avoid another season racing in a different category.
"We're definitely looking towards a Formula 1 seat next year," Russell told Sky F1. "How everything has played out so far, it's not been as simple as everyone may have hoped for.
"Given my age no [a year outside F1 wouldn't be bad] - but a year outside of racing single seaters or being in the F1 paddock is not ideal. We're trying to avoid that at all costs. Things are changing day by day, week by week, so I just have to keep pushing on track, performing there and hopefully the rest should come."
Williams' 2019 driver decision a way off
Claire Williams admits Williams are operating on a "race-by-race" basis around Lance Stroll's future at the team and says the Force India situation has distracted them from their 2019 driver considerations.
"It is a bit of a moving target at the moment (around Lance)," Williams told Sky F1. "We're going through those conversations and waiting to see where and when he'll end up. It's more about what happens at Force India than it is about us. We're going race by race. Lance and Sergey are here for us and I'm sure they will be for the next race too.
"Everything that's recently happened with Force India and the Stroll scenario has distracted us from our focus on driver evaluations.
"We are now halfway through that progress. We won't be making a decision anytime soon, you know what we're like at Williams we tend to leave this right until the end of the season."
Vandoorne reflects on McLaren axeing
Stoffel Vandoorne says he was told he was being dropped by McLaren on the Monday after the Italian GP but is putting a brave face on the team's decision.
"It wasn't a huge surprise," Vandoorne told Sky F1. "At least I know what is happening for the future now and can look forward to a fresh start. I've been at McLaren for the two worst years in McLaren's history and it's a shame it didn't work out. It's a shame l didn't get better opportunities."
Verstappen believes Monza penalty was unfair
Red Bull's Max Verstappen believes he was harshly treated in the Italian GP when he was hit with a time penalty after the stewards ruled his defence against Valtteri Bottas to have been excessively forceful.
"I've looked back on it and initially I thought l could have given him a few more millimeters," said Verstappen. "But then l thought 'why did he drive into my wheel?'. I still think it's unfair what l got. But l don't lose sleep about it."
Hamilton's backing for Ocon
Lewis Hamilton has once again reiterated his support for Esteban Ocon as the young Frenchman seeks to secure a 2019 race seat.
"Any team who is not taking him, that's their loss," said Hamilton. "There are a lot of teams making bad decisions. It's fact."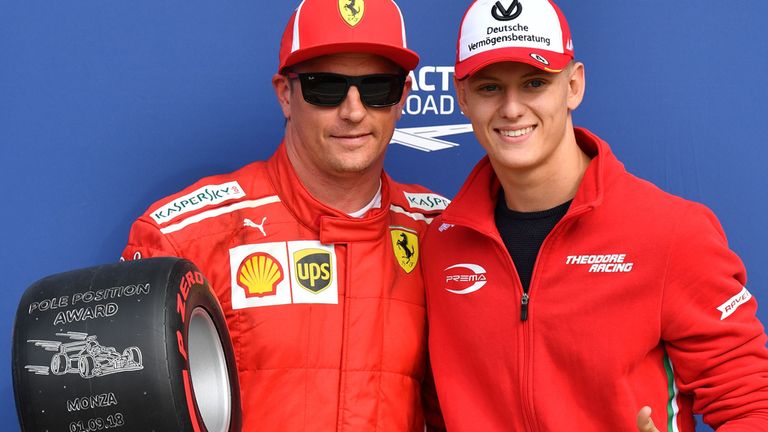 Toro Rosso rule out Mick Schumacher
He's currently one of the form drivers in motorsport's junior ladders, but 19-year-old Mick Schumacher, the son of seven-time world F1 champion Michael, is not among the drivers under consideration for a Toro Rosso seat next season.
"He's not on our list and we have zero contact with him," team advisor Helmut Marko told AutoBild.
Schumacher Jnr has burst into European F3 title contention in recent weeks with the first six wins of his career in the category coming in the last two months. He is now just three points behind series leader Dan Ticktum, who is a Red Bull junior driver.
Schumacher is instead thought more likely to take the step up to one of F1's official support series in 2019, F2 or GP3 (which is being renamed as F3).
Haas appeal date set
In what could be a key outcome in the fight for fourth place in the Constructors' Championship, the Haas team's appeal against Romain Grosjean's disqualification from sixth in the Italian GP will be heard ahead of the Brazilian GP, the season's penultimate round.
"We have got our hearing at the beginning of November with the FIA and we're getting prepared for that based on what we think was not correct in disqualifying us, confirmed team chief Guenther Steiner.
"It's a 50-50, it could go both ways. I'd never say I'm confident of winning it because you never know what is happening and you have no control over the decision.
"I hope the Court of Appeal has got a better understanding and more time at its disposal for us so we can explain."
And it's fair to say that Haas remain unimpressed with the timing of Renault's appeal against their car's floor at Monza, with Steiner suggesting they broke a 'gentleman's agreement' among the teams not to protest a rival after a grand prix has finished
"We were aware that this could happen but for a long time there was not a protest after the race. It was a long, long time so I'm a little bit surprised," he added.
"But what would you do if you were Renault? I wouldn't have done the same, I would have done what other people have done before. But Renault is in a position, they were overtaken on performance, where they need to do something otherwise they finish fifth."
Bottas: I'm willing to cooperate
Valtteri Bottas admits he is happy to play a supporting role in Lewis Hamilton's championship bid for the rest of the season.
Hamilton is 30 points ahead of closest rival, Ferrari's Sebastian Vettel, but Bottas is now 97 points adrift of his team-mate and accepts the title is well out of reach.
"The points difference between me and Lewis is now very big," said the Finn. "I'm willing to cooperate when it makes sense.
"We are here as a team and we need to be realistic. The team wants to win both titles."
Haas: Grosjean needs to be consistent to stay
Romain Grosjean's seat is one of the most competitive available for F1 2019 - but will he keep it?
Haas boss Guenther Steiner says he wants more consistency from the Frenchman if he is going to keep his place for next year.
Grosjean has endured an up-and-down year but finished sixth at the Italian GP, before it was taken away from him through disqualification after Renualt complained about the floor on his car.
"What we need to get with him is to keep it at that level," said Steiner. "Not going up and down, the fluctuation. But I think he's doing pretty good at the moment."
Ocon 'hungrier than ever' to fulfill F1 potential
His rivals are filling big seats, and his future is unclear. But Esteban Ocon is not giving up.
Alonso tests IndyCar again
With a full season in the American open-wheel series clearly one option for Fernando Alonso next season when he begins his racing life away from F1, the Spaniard has tested an IndyCar again - this time on a road course for the first time.
More than a year after running competitively on an oval at the Indy 500, Alonso was back in the USA for a test in the Andretti Autosport car at Barber Motorsports Park in Alabama.
"It was a good day, a fun day," said Alonso. "I love to test new cars and to test the IndyCar on a road course is something special. I've been lucky enough to test it in wet conditions, in intermediate conditions and in dry conditions, so overall I had a good feeling on every type of track. The weather was good for us today - a little bit of wind in the afternoon but overall a positive day."
McLaren, meanwhile, continue to evaluate their own Indy options for 2019.
"Clearly IndyCar is one of those series under consideration [for Fernando] and we're very much doing the same in terms of consideration," said Zak Brown. "I think we'll make a decision sometime this month whether we'll move forward with Indy [500], IndyCar or do nothing. Those are our three decisions that we need to make."
Norris on landing a 2019 McLaren seat
Sky Sports F1 is the only place to watch every Formula 1 Grand Prix, qualifying and practice session live in 2018. Get Sky Sports F1.