Canadian GP: F1 explains chequered flag error, vow to review procedures
"It was a miscommunication," says FIA race director Whiting, who insists celebrity Winnie Harlow was not to blame for mistake
Last Updated: 10/12/18 2:12pm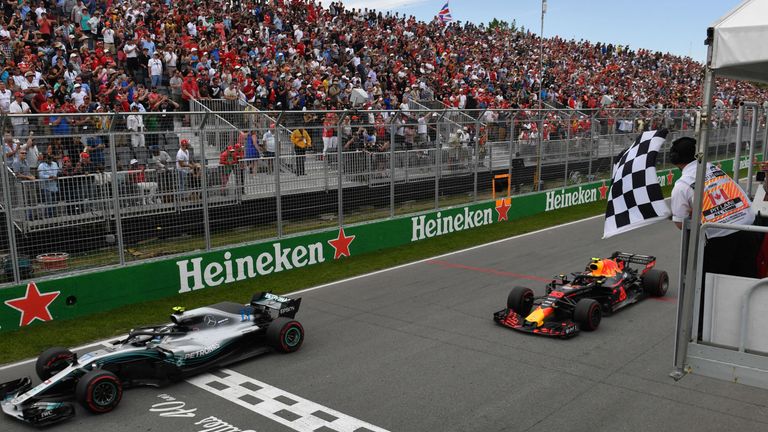 The FIA claim the chequered flag mix-up at the Canadian GP was a result of simple miscommunication, but insist they will "review procedures" for future races.
The flag, which marks the end of the grand prix, was waved a lap too early on Lap 69 - though fortunately race leader Sebastian Vettel realised the error and carried on at full pace to take victory.
The mistake also meant the race was officially declared as 68 laps long with the final two laps erased, and the FIA, Formula 1's governing body, have sought to explain the incident.
"It was a miscommunication between the start platform and the guy they call the starter here," said FIA race director Charlie Whiting, via Reuters.
"He thought it was the last lap and asked them at the top to confirm it, they confirmed it. They thought he was making a statement when in fact he was asking a question."
Although the flag was unfurled prematurely by model Winnie Harlow - a friend of Lewis Hamilton - Whiting insisted she was not at fault.
"He told the flag waver to wave it a lap early. It was as simple as that, it wasn't anything to do with the fact it was a celebrity flag-waver," he explained.
"The celebrity was not to blame."
The race result wasn't affected by the early flag and erased final laps, with no changes of position taking place, but did see Max Verstappen take the fastest lap of the race rather than Red Bull team-mate Daniel Ricciardo.
And the error resulted in confusion for drivers, teams and marshals.
Vettel double checked his lap count before confirming there was still a lap remaining with his Ferrari team, while there was a safety concern as course workers stood alongside the track to congratulate the drivers as they were still racing.
"We need to review procedures and make sure we have a very simple procedure for every circuit," added Whiting.
"We're dealing with different human beings, different countries, different languages and it's not always absolutely perfect. Of course we strive for perfection but fortunately, there was no harm done as far as it affected the result."
The same issue occurred at the 2014 Chinese Grand Prix, while Brazilian football legend Pele famously waved the flag too late for Michael Schumacher's 2002 victory at Interlagos.