Fernando Alonso wins Le Mans 24 on debut with Toyota
McLaren driver completes second leg of triple crown
Last Updated: 10/12/18 1:54pm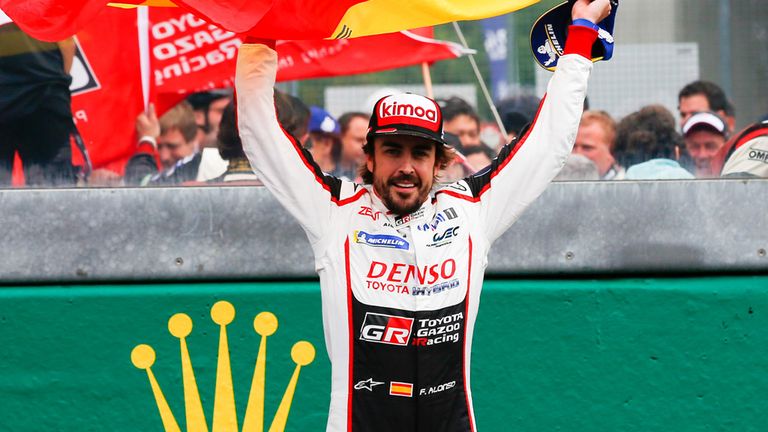 Fernando Alonso celebrated a victorious debut for Toyota in the 86th edition of the Le Mans 24 Hours race.
In his pursuit of motor racing's Triple Crown - the Monaco Grand Prix, Indianapolis 500 and Le Mans - the two-time Formula 1 world champion ticked off the second of the three prizes in France.
Drivers to have won Le Mans and Monaco GP
| Driver | Le Mans winner | Monaco GP winner |
| --- | --- | --- |
| Tazio Nuvolari | 1933 | 1932 |
| Maurice Trintignant | 1954 | 1955, 1958 |
| Bruce McLaren | 1966 | 1962 |
| Jochen Rindt | 1965 | 1970 |
| Graham Hill* | 1972 | 1963, 1964, 1965, 1968, 1969 |
| Fernando Alonso | 2018 | 2006, 2007 |
| * Also won Indy 500 | | |
The 36-year old Spaniard, who started from pole position on Saturday afternoon after his Japanese team-mate and former Williams driver Kazuki Nakajima posted the fastest time in qualifying, claimed a two-lap victory.
In his first driving stint on Saturday, Alonso made two impressive overtaking manoeuvres to pinch first place from the other Toyota, No. 7, with Argentine Jose Maria Lopez at the wheel.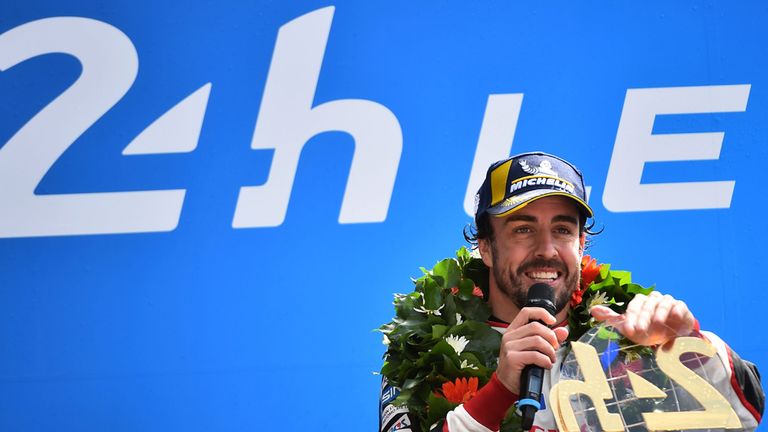 "I felt great tonight," Alonso said after his final run.
"I don't know exactly how, but I managed to make the tires work for us at the right time despite the cool air temp. Our pace has been good and I was lucky with the traffic as well."
It was Toyota's first victory at the 20th attempt, and the first win for a Japanese manufacturer since Mazda's success in 1991.
Alonso has twice previously triumphed in the Monaco Grand Prix, and now has only the Indy 500 left to win.
Only Englishman Graham Hill has won all three classic races in the entire history of motorsport.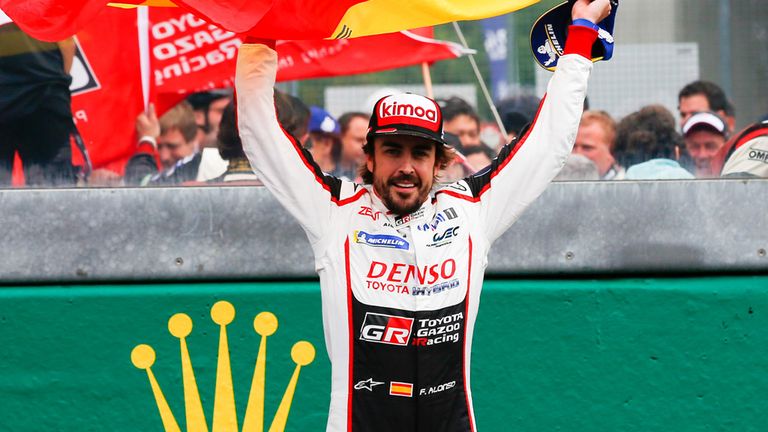 What next for Alonso?
Alonso has become just the sixth driver to have claimed victory at both Le Mans and the Monaco GP - and the first in almost 50 years - and is now just an Indianapolis 500 triumph away from an iconic triple crown only previously completed by Graham Hill.
With McLaren improving with Renault but not significantly, the 36-year-old has already told Sky F1 he has a "big decision" to make this summer and it's feasible Alonso will now consider a move to IndyCar so he can pursue a legendary dream.
"The triple crown is an attractive target because it is so difficult to achieve," Alonso said. "These are the three biggest races in the world of motorsport: the Indy 500, Monaco and Le Mans. It is challenging because all three require different style and a different driving technique."
"If you challenge yourself and try to be the best in all areas, you have to be a complete driver.
"I don't want to just be a good driver, I want to be a complete driver and hopefully the best driver in the world."
He has already hinted at the idea and McLaren's possible entry into the series would surely be appealing to Alonso, who impressed on his Indy 500 debut last year when partnered with Andretti.