Max Verstappen dreams of title glory after Red Bull's home win
Austrian GP victor up to fifth in standings and has top scored across last three races; Horner praises Max's "unbelievable" and "cute" performance
By Pete Gill and James Galloway
Last Updated: 10/12/18 12:21pm
Max Verstappen still believes he can be a world championship contender in the wake of his unexpected victory at the Austrian GP.
Verstappen's win in Red Bull's home race confirmed his status as F1's form man following his second place last week in France and a third position at the Canadian GP before then.
After a torrid start to 2018, which drew stinging media criticism, Verstappen is now fifth in the world championship but still over 50 points behind leader Sebastian Vettel in the standings.
"We never give up," Verstappen told Sky F1. "We need a bit more engine power and then we can definitely be in the mix."
Austrian GP Report: Max wins, Lewis retires
Verstappen's victory was Red Bull's first at the Red Bull Ring since the circuit returned to the F1 calendar four years ago.
"I couldn't have chosen a better race to do it, so very happy," the Dutchman, cheered on by an estimated 20,000 countrymen in the crowd, added.
How did Verstappen do it?
F1 2018's second-youngest driver claimed his fourth career win on a day the whole field suffered with unexpected levels of tyre blistering after temperatures rocketed on Sunday in the Styrian mountains.
Daniel Ricciardo, the Dutchman's Red Bull team-mate, and Mercedes' Lewis Hamilton were forced into emergency second pit stops yet Verstappen managed the soft tyres he took on at his only stop for 56 laps.
"[Verstappen drove] unbelievably," said Red Bull boss Christian Horner.
"It was absolutely nailed in the first lap. Hats off to him because the tyres were so crucial there, you see the blisters and everything that's going on, he just managed to keep those temperatures down and manage it all the way through.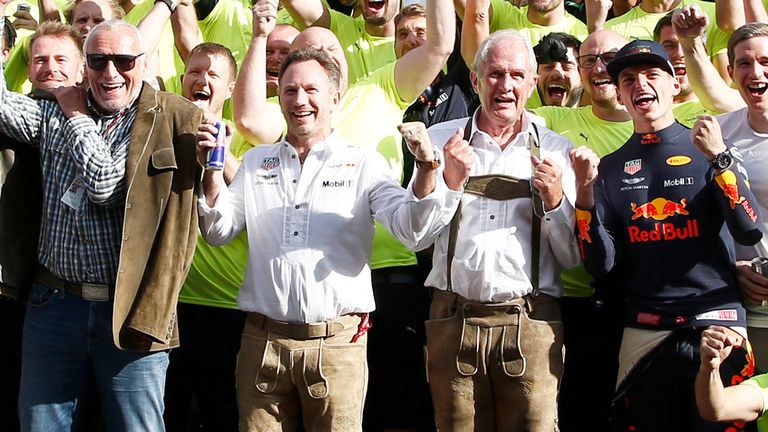 "He was keeping the rear left cooler than the rear right and the rear left here is the one that takes all the load. He's always asking for information, managing those tyres, and that's why they didn't blister up. A very, very mature drive by him."
With the rear tyres placed under particular strain through the Red Bull Ring's tricky final two corners, Horner added: "He was pretty cute today, backed out through those right handers and made his time in the other parts of the circuit."
Red Bull surprised by Mercedes
Although a strong start to the race, when he muscled past Kimi Raikkonen, meant Verstappen ran behind the then-leading Mercedes cars in third at the end of the opening lap, his race turned on Red Bull's decision to pit both their cars together on lap 15 when the Virtual Safety Car was initiated after Valtteri Bottas had retired.
In a critical error, Mercedes chose to keep race leader Lewis Hamilton out and their victory hopes quickly unravelled from there.
Asked about Mercedes' tactics, Horner told Sky F1: "I was surprised because it was pretty much a given [to pit].
"You've got to have confidence in your boys to nail a double stop with the proximity that the drivers were in there and we've got the best guys in the pit lane without any shadow of a doubt.
"It was a ballsy call but it was the right thing to do and it paid dividends."
Not only was Red Bull's victory from fourth on the grid unexpected, it represented the team's first at their own circuit in five attempts.
"It's a dream result," added a jubilant Horner. "Red Bull Ring, Red Bull car and Max driving an unbelievable race."