Jenson Button joins Sky Sports F1 for the British GP
2009 world champion to be part of the Sky Sports F1 team at the British GP; Watch the Silverstone race weekend live on July 6-8
Last Updated: 10/12/18 12:23pm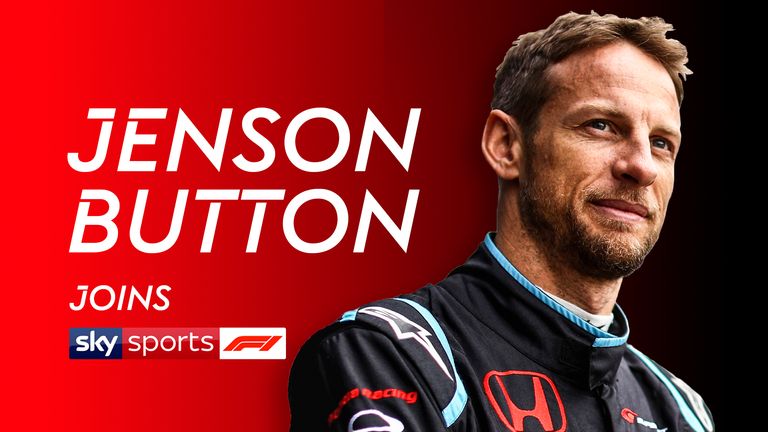 Jenson Button, the 2009 world champion, is to join Sky Sports, the world's leading F1 broadcaster, for the 2018 British Grand Prix at Silverstone.
Button, whose F1 career spanned almost two decades, won the World Championship driving for Brawn GP. Having competed in 17 British Grand Prix, Button knows every inch of the Silverstone track, and will provide Sky Sports F1 viewers with a unique insight on the race.
Joint-second in the list of all-time F1 starts, with 306 races, Button will add to the depth of knowledge and expertise across the Sky Sports team, where he will be joined by fellow F1 legends and Sky Sports F1 regulars, Martin Brundle and Damon Hill, alongside Johnny Herbert, Paul Di Resta and Anthony Davidson.
Button said: "The British Grand Prix is an iconic part of the sporting landscape in this country, and as my home race, was always one that was really special for me. I'm really looking forward to being part of the Sky Sports F1 team, and to having the opportunity to ask questions of the drivers, rather than answering them!"
Sky F1 pundit Martin Brundle commented: "How exciting to be working with Jenson at Silverstone, along with my friends. I'm looking forward to hearing about his views and experiences."
Scott Young, Head of F1 at Sky Sports, added: "Adding Jenson to the team for this race is a real coup. Sky Sports F1 is respected for its knowledge and few people know Silverstone as well as he does. Even fewer have achieved the remarkable feat of wining the Formula 1 World Championship.
"That expertise and currency will provide engaging insights for our viewers on what it's like to take on one of the most challenging circuits of the season. The team is now set to deliver our much loved home Grand Prix."
Sky Sports is the only place to see all 21 races from the 2018 Formula 1 season. In addition to every practice, qualifying and race, Sky Sports F1 offers F1 fans a range of exclusive programming, including the F1 Show, F1 Report, Ted's Notebook and much more.
In 2019, Sky Sports F1 becomes the exclusive home of Formula 1 in the UK.