McLaren must reform F1 ways says Zak Brown after Eric Boullier exit
Zak Brown tells Sky F1 where the team have gone wrong and how they can improve after Boullier's departure
By James Galloway
Last Updated: 10/12/18 12:06pm
McLaren have been "too slow" and "too clunky" in the way they approach F1 racing, team chief Zak Brown has admitted.
After McLaren announced Eric Boullier had resigned as the underperforming team's racing director and revealed a new-look technical structure, Brown gave an exclusive interview to Sky Sports F1 in which the American outlined the areas the former world champions must improve.
McLaren have cited 'systemic and structural' failings within the organisation for their lack of performance and Brown says they need to modernise to move up the grid.
"The reason the car is not performing on the track is because we're not performing well as a team," Brown, McLaren's executive director, told Sky F1's Rachel Brookes.
"What I see is we're too slow to react, we need to simplify things within the organisation and we need to operate like a race team.
"[McLaren need to become] a much faster organisation, we're a bit too slow and a bit too clunky. That's not any one individual's fault, I know we have got great people here, so it's our ways of working that need to change.
"My job is to get all 700-800 people rowing the same way as quickly as possible, communicating well because it's those people that produce the race car. So we might have a race-car problem, but it's how we built the race car that's actually the real problem."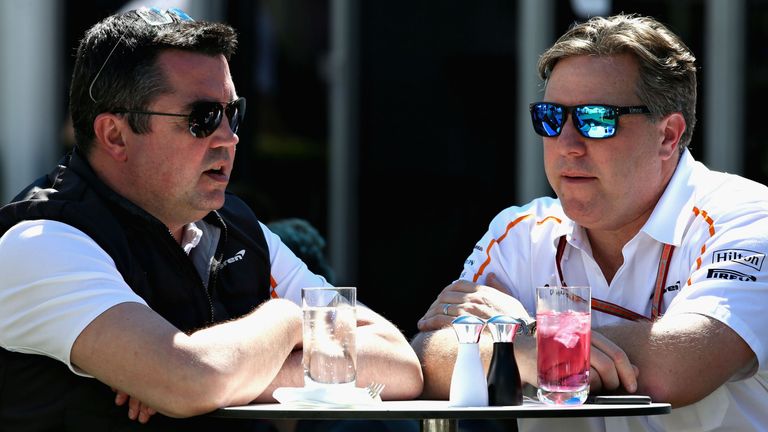 Brown explains Boullier's exit
With McLaren's four-year podium drought extending at the start of this season despite dropping Honda engines, Boullier's position had come under increasing media scrutiny in recent weeks.
Brown said he met with the Frenchman on Tuesday night and accepted Boullier's resignation.
"Eric has been here four years, he's contributed a lot to the team, he loves McLaren and ultimately he felt the best way for the team to move forward would be if he stepped down," said Brown.
"I met with him last night and we discussed it and ultimately accepted it. Wish him the best, he's a racer and I'm sure he'll end up in victory lane somewhere soon."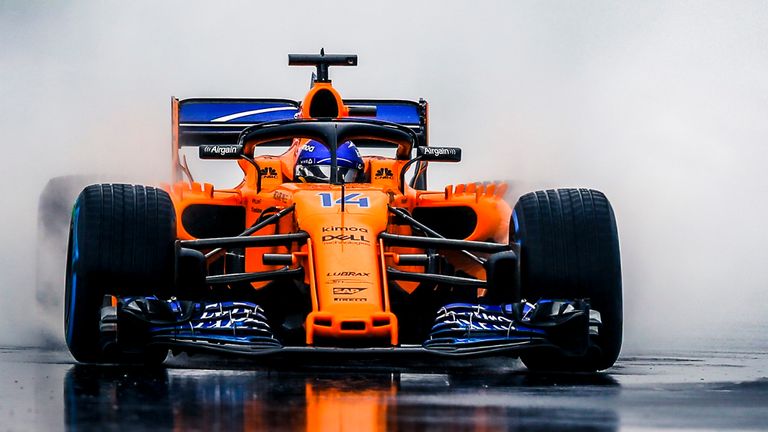 What next at McLaren?
Boullier's arrival at McLaren in January 2014 followed a wholesale overhaul of the top of the F1 team in wake of a coup by then-chairman Ron Dennis which saw Martin Whitmarsh depart.
Brown believes the Woking outfit have been repeatedly "destabilised" by change as far back as 2010 and, although more revisions are afoot, he believes they have now laid the foundations for a more stable future.
"It's just the start of the process, we're far from finished," Brown said. "We need to be a faster, more nimble organisation that communicates better because I think we've got great talent here, it's not just gelling like it needs to gel."
He added: "But I think we're in a good place now, we've got a good foundation and I want to build on that rather than continue to make changes."
Asked what further additions could be expected, Brown said: "We will promote within and I'm sure we'll be bringing some external resources in as well."
In a message to the team's legion of fans heading into their home British GP this week, Brown added: "We are frustrated - massively frustrated. I wish we could fix this overnight but it's going to take some time. So hang in there, we're not quitting. We're not quitters.
"The shareholders are fully behind us, we're investing where we need to invest and we're hopefully going to have better days ahead of us. We're going to have some bad weekends as well. I wouldn't expect miracles at Silverstone."
Who's who in McLaren's new structure?
The Woking team have put in place what they described as 'simplified technical leadership team', with three men charged with overseeing different areas of the car and race team.
So what will they all do?
"The three of them sitting here today will be ultimately responsible for getting us back to our winning ways, but it is just a start," explained Brown.
Andrea Stella - Performance director: "He is ultimately responsible for getting the most out of the race car at the race weekend."
Simon Roberts - Chief operating officer: "He will lead the technical team. He reports in to me and will be responsible for making sure we have a very fast race car."
Gil de Ferran - Sporting director: "Gil will work with the racing team and the drivers to make sure we enhance the team's performance.
"I have always been a fan of racer's instinct so I feel he'll bring a fresh set of eyes."