Fernando Alonso and Red Bull clash over 'seat offers'
Watch in-depth interview with Alonso during Sky F1's Belgian GP build-up on Sunday from 12.30pm; Race start at Spa 2.10pm
By Pete Gill
Last Updated: 06/12/18 11:44am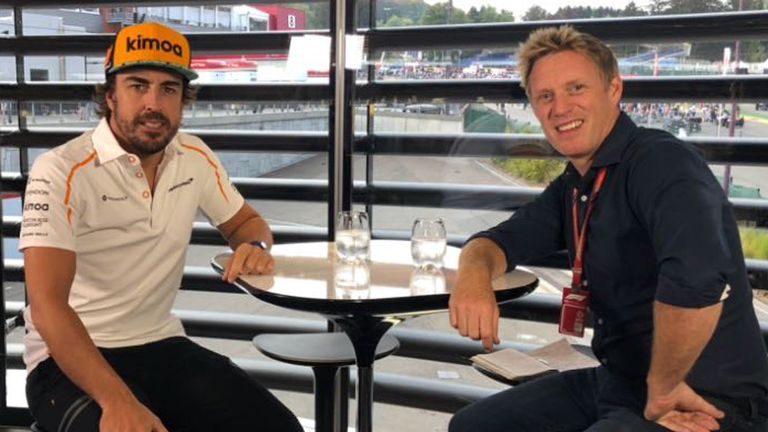 Fernando Alonso says he rejected six different approaches from Red Bull - including two this year prior to announcing his exit from F1 - but team boss Christian Horner remains adamant they didn't make the Spaniard an offer.
Alonso, who is to leave Formula 1 at the end of 2018, revealed to Sky F1 he had been offered Daniel Ricciardo's seat after the Australian opted to join Renault next season.
August 23: Alonso rejected Red Bull
But earlier this month Red Bull boss Christian Horner described Alonso as a disruptive influence and ruled out the Spaniard replacing Ricciardo while Red Bull have told reporters they didn't make an approach for the 37-year-old.
August 9: Red Bull rule out Alonso
But Alonso has insisted he was twice offered a drive with Red Bull this year and has received an apology from Horner for his comments.
Speaking to Sky F1 in an interview which will be played out in full during the build-up to the Belgian GP on Sunday from 12.30pm, Alonso said:
"From Red Bull, in fact, l had in 2007, 2009, 2011, 2013 and two this year - one in Monaco and one in August.
"The comments of Christian Horner this summer and Mr Marko are completely out of context and surprising about me causing chaos or being difficult to work with.
"One, they have never worked with me. And second, they have chased me on five or six occasions over the last seven years. And now they say that - that they are loyal to their programme and their junior drivers.
"It has been weird and unfair to me.
"I wrote to Christian after his comments this summer. He apologised on email and hopefully he will apologise again this weekend."
Horner insists Red Bull didn't make Alonso an offer
Pressed to explain Alonso's comments after Practice One at Spa on Friday morning, Horner remained adamant Red Bull hadn't offered made Alonso an offer.
"Maybe Franz [Tost, the team boss of Toro Rosso] has made him an offer but there was no offer from Red Bull Racing this year," said Horner.
"He just doesn't fit the profile of our team. It's sad for him to leave Formula 1 but there was certainly no offer from Red Bull Racing on the table.
"There was an enquiry which came from FOM immediately following Daniel's announcement but it was very clear that Fernando didn't fit in our thoughts or our future. There was never any offer so why Fernando has chosen to say that, I'm not quite sure. I'm not sure whom he had the offer from."
What did Horner first say about Alonso?
A day after Ricciardo's stunning - and entirely unexpected - bombshell he had decided to quit Red Bull for Renault, Red Bull team principal Horner spoke in a podcast with F1's official website.
Asked specifically whether Alonso was in contention to replace Ricciardo, Horner replied: "I have huge respect for Fernando, he is a great driver, a fantastic driver, but it's very difficult...he's tended to cause a bit of chaos wherever he's gone.
"I'm not sure it would be the healthiest thing for the team for Fernando to join. Our preference is to continue to invest in youth than take a driver who is obviously close to the end of his career."
But, in what appears retrospectively to have been a clear hint the Spaniard had already rebuffed an approach from Red Bull, the two-time world champion responded directly to Sky F1's story on Twitter with the hashtag 'FromlastweekNoThanks'
Ahead of this weekend's race in Belgium, marking the resumption of the season following its summer break, Red Bull named Pierre Gasly as Max Verstappen's 2019 team-mate.
Why did Alonso turn down Red Bull?
"I'd be surprised if Red Bull did offer Alonso a seat and even more surprised if he rejected it," said Sky F1's Martin Brundle.
But Alonso has explained he rejected Red Bull because he didn't believe they could offer him the winning seat he craves.
"I did not stay because winning now there are only two teams [Mercedes and Ferrari] and they continue with their drivers for the following years," said Alonso.
In 2019, Red Bull will be powered by Honda - the engine suppliers who Alonso repeatedly decried during the three years Honda partnered McLaren before being ditched for Renault.
F1 will be back from its summer break with the Belgian GP, live on Sky Sports F1. The race begins at 2.10pm on Sunday, August 26. Get Sky Sports F1 - the home of every race weekend LIVE in 2018.