Belgian GP: Nico Hulkenberg given Monza grid penalty for Fernando Alonso crash
Monza grid drop for Renault driver, who accepts full responsibility
By James Galloway
Last Updated: 06/12/18 11:12am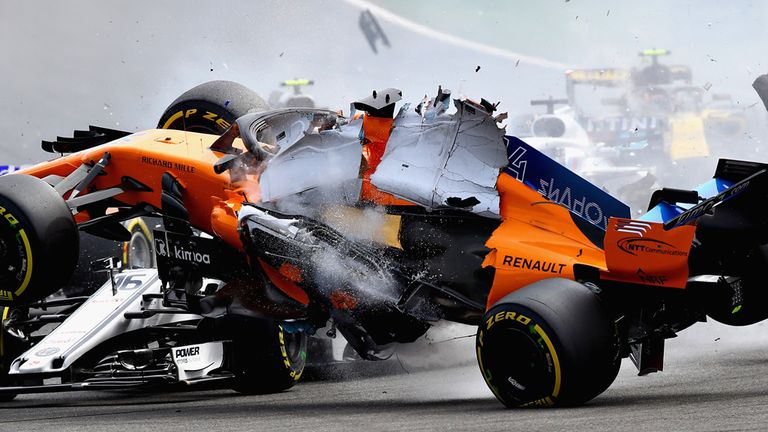 Nico Hulkenberg has been handed a 10-place grid penalty for the Italian GP after causing Fernando Alonso's spectacular airborne accident at Spa.
The Renault driver told stewards he had "completely misjudged" his braking for turn one when he smashed into the back of Alonso's McLaren, pitching the car into the air over Charles Leclerc's Sauber.
Report: Vettel wins after early Spa chaos
It was probably a misjudgement from my side as I was a bit late on the brakes, so it's frustrating for me, the team, and the other drivers caught up in the incident. We have Monza next weekend, so I want to get this out of the system as soon as possible and focus on that.. 🤨 pic.twitter.com/y0xhD7BOHN

— Nico Hülkenberg (@HulkHulkenberg) August 26, 2018
Hulkenberg has also had three penalty points applied to his race licence.
Speaking to Sky F1 immediately after the punishment was confirmed, a contrite Hulkenberg said: "I basically misjudged the grip level.
"It was nasty, it doesn't look great. It's my bad, my mistake. Today it went wrong quite badly. I'll accept it and move on."
Alonso, who was also sent over another car in a similar incident at Spa involving Romain Grosjean in 2012, said Hulkenberg had made a "big mistake".
Grosjean was given a one-race ban for causing that accident but, in their explanation for Hulkenberg's grid penalty six years on, stewards noted that the disciplinary procedure was now different to 2012.
Meanwhile, with all three drivers involved in the accident emerging unscathed, tributes were paid to F1's new-for-2018 halo head protection device after Alonso's car and wheels went over the top of Leclerc's. Later footage showed that the Sauber driver's halo was damaged in the incident.
The Monza race takes place this coming Sunday, live only on Sky Sports F1.
The full stewards' verdict
'The Stewards reviewed video evidence, heard from the driver of car 27 (Nico Hulkenberg) and the team representatives.
'The driver of car 27 [Hulkenberg] stated that he completely misjudged the situation and freely admitted it was his mistake.
'It should be noted that since 2014 the FIA has introduced the penalty points system which takes into account previous offences by a driver and can lead to a race suspension if 12 points are accumulated within a 12 month period.
'This system was not in force when an incident not dissimilar to this, occurred in 2012.'