Italian GP: Lewis Hamilton enjoys 'magic' touch to outwit Ferrari
Hamilton handles the Monza heat and savours "incredible" victory; Championship leader also explains Vettel and Raikkonen overtakes
By Matt Morlidge at Monza
Last Updated: 06/12/18 10:42am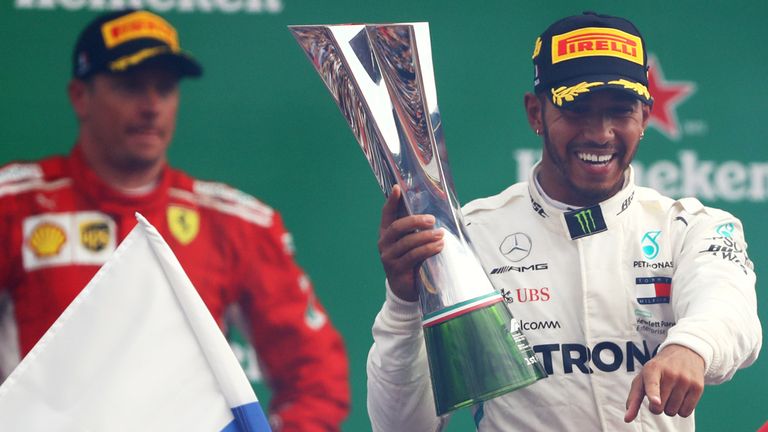 Lewis Hamilton believes he has found a "magic" mentality that is helping him get the better of the Ferraris and cope with the pressure of an intense championship battle.
Hamilton admits he was feeling the heat as he lined up behind both Kimi Raikkonen and Sebastian Vettel on the Italian GP grid in front of their adoring home fans at Monza, but responded with one of his drives of the season to take what could be a pivotal victory.
Hamilton wins, Vettel in a spin
Rosberg: Hamilton at peak of career
For Hamilton, who is now 30 points ahead of Vettel in the title race, psychology will be key for the rest of the season. Delivering a hammer blow to Ferrari in the Monza cauldron put the biggest smile on his face; he was even able to "welcome" the boos from the Tifosi on the podium.
"Heading into this race I was definitely feeling less at ease," the Mercedes driver said.
"I'm thinking, 'I've got two Ferraris ahead of me, how do I get past them, how do I not lose seven points today, or more?'. The pressure is high.
"You'll never know how hard it is to prepare to be in the mindset I've got right now. To be consistent, to not make mistakes, to continue to deliver, it takes everything and more.
"I don't just arrive with it, I have to work for it every single day. Especially with the season so long, it's so easy to arrive and not be prepared and not be in that same mental state."
He continued: "You're holding onto something, you don't even know where it is, but it's like magic somewhere."
While Hamilton enjoyed a near-perfect afternoon, Vettel, despite seemingly being armed with a faster car, has fallen a further 13 points behind the Englishman in the standings.
There are once again more questions about his ability to handle the pressure; the German sustained heavy damage to his car after making an error and clipping Hamilton on Lap One.
Vettel blames Hamilton for clash
Though Vettel blamed Hamilton for the collision, the championship leader refused to openly critcise his rival. He added: "The heat is there, the intensity is there. It's unavoidable for everyone, for me and him.
"It's very difficult for people watching who are not naturally in it to feel what we feel - the pressure is at its highest that I can ever remember. That's the pressure you put on yourself because you want to succeed, it's the pressure of all your desires and your fears and also of all the people that are depending on you.
"It's been an incredible day."
Hamilton 'proud' of wheel-to-wheel moves
There were two manoeuvres that were key to Hamilton claiming a record-equalling fifth Italian GP win.
First, the sweep around the outside of Vettel's Ferrari into the second chicane.
"I gave him the right amount of space, I'm so proud of that manoeuvre," said Hamilton. "It felt great in the moment and I think on replays it looked exactly like what I experienced."
Then there was the late-braking into Turn One to take the lead of Raikkonen. But Hamilton, who pitted later than the Finn and therefore had fresher tyres, says he was using his racing nous long before that move.
"When I was behind Kimi I was just like, 'I've got this really experienced driver ahead of me, can I push him into making a mistake?'," he explained.
"He was killing his tyres through certain corners and I knew he wasn't going to be able to do that for a long time.
"Every now and then he kept nipping his front right into Turn One and I knew that psychologically that has a big effect on you, and I wasn't making that mistake.
"So I knew the pressure was building up, which was awesome to be in that position. It's horrible to be in his position when you've got someone breathing down your neck."
In Hamilton's words, he simply did not want to walk away with having left something on the table on Sunday.
"I honestly love that wheel-to-wheel battle we had, that's honestly the thing I love most about racing," he added.
"The single most amazing feeling are those wheel-to-wheel battles. I used to have it in karting, had it in GP2, every now and then you have it here in Formula 1 and when you do it's the greatest thing."
Could Monza win be the one that brings him the title?
Though Hamilton now has more of a race-win advantage over Vettel, and won a grand prix that Ferrari seemed destined for with their engine power advantage, he is not taking anything for granted.
"We know we have to work even harder than they are to close the gap or to make sure we deliver results like this more often," he stated. "Today could have easily been the other way round, we could have lost a lot of ground.
"There's still seven races to go and there's still loads of points, and trust me we are not being complacent at all."