Can Carlos Sainz become an F1 star with McLaren stability?
Spaniard has signed two-year deal with McLaren for 2019 and 2020
By Pete Gill
Last Updated: 04/12/18 5:51pm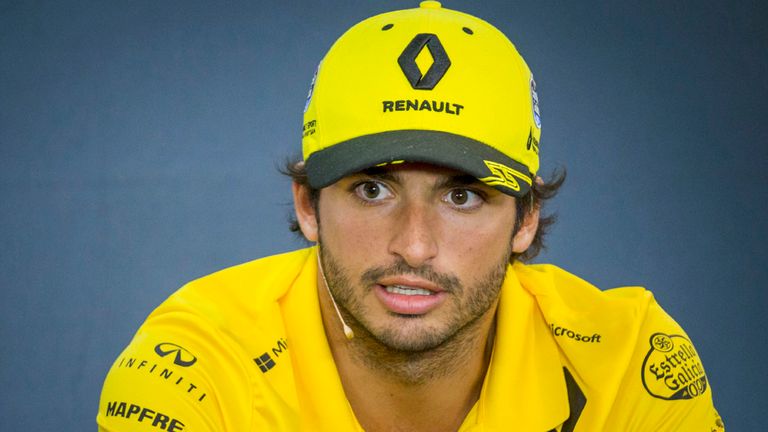 Carlos Sainz believes he can reach his full potential at McLaren with the stability of his first long-term deal in F1.
The Spaniard has signed a two-year deal with McLaren for the 2019 and 2020 seasons.
Sainz has so far spent the entirety of his F1 career tied to Red Bull. But having debuted alongside Max Verstappen at Toro Rosso in 2015 - a year in which Sainz out-qualified Verstappen 10-9 - Sainz has never driven for Red Bull's senior team, spending three years at Toro Rosso being sent 'on loan' to Renault this term.
Sainz has been a long-term target for McLaren, with the 24-year-old revealing he had been "been in touch with McLaren for the last year and a half" prior being signed as Fernando Alonso's replacement.
But it's the two-year deal he has signed at McLaren which Sainz believes will give him the platform he needs.
"A driver needs confidence and if a team gives you two years it means they really trust you and believe in you," Sainz told Sky Sports F1. "This is my first time in F1 that I will have a two-year contract. It gives me stability and it gives me confidence."
Perhaps mindful of how Sergio Perez and Kevin Magnussen struggled during their single-season spells at the team before then flourishing within stability elsewhere, McLaren understand the importance of the commitment they have shown Sainz.
"Carlos has been racing under a bunch of one-year deals and that can't be a comfortable thing," observed team boss Zak Brown.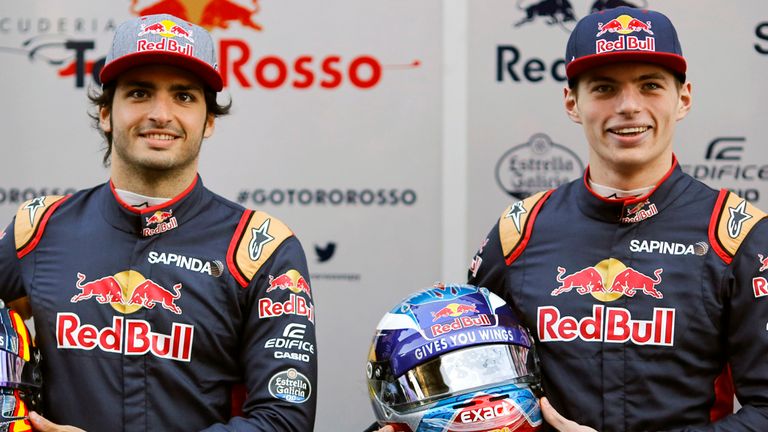 How Sainz prospered over time at Toro Rosso
Sainz cites the progression of his own nascent career as evidence of how a driver's performance can benefit in a stable environment.
"My first year at Toro Rosso in 2015 was a good year, but in 2016 l scored three times as many points in a car that was actually a bit worse than the 2015 car, and then in the third year, 2017, I did an even better year and it gave me the passport to go to Renault," explained Sainz.
The facts support the tale: Sainz scored 18 points in 2015, 46 in 2016 and 54 in 2017 - when his assorted collection of team-mates at Toro Rosso managed just five between them.
"Just by having a second year in the same team, in the same car, with the same engine, same mechanics, it allows you to find the little tricks of the car, the differences that mean you are able to extract the final two tenths. It allows the whole team to come together. That's why stability is important. It really helps you perform."
Sainz is occasionally overlooked in the roll call of F1's future stars. But he is not short of admirers in the paddock. "I think he is a star in the making in the right environment," says Sky F1's Martin Brundle.
The upward trajectory of Sainz's career has, however, stalled this season at Renault where his performances have been mixed and he currently trails Nico Hulkenberg by 38 points to 53.
The 2018 Drivers' Championship standings
But delve a little deeper into the numbers and another interesting narrative emerges. Against Hulkenberg, a Renault resident for the last two years, Sainz initially struggled in a car he could not balance to suit his driving style. In the opening four qualifying sessions of the year, Hulkenberg had a clear edge. But since May, the fight has been evenly-matched: in the last nine events, Sainz has bettered Hulkenberg 6-5 in qualifying and his overall points deficit can be traced back to the first three events of the year when Hulkenberg out-scored him 22-3.
Missing out on Red Bull or dreaming of McLaren?
Sainz's mid-season development was not sufficient to persuade Red Bull to appoint him rather than Pierre Gasly as the replacement for the Renault-bound Daniel Ricciardo. Sainz's reputedly often-turbulent relationship with Verstappen may have been a factor in Red Bull's decision. But, with Gasly taking his place at Toro Rosso, was bad timing a larger factor? Sainz appears to have suffered for fleeing the family nest at just the wrong time.
"I am convinced that in 2016 and 2017 that if there was a gap at Red Bull then l would have got it but Ricciardo and Verstappen were fixed," Sainz says. "Then l left for Renault, and had a very good year, but inevitably l lost a bit of touch and Red Bull didn't have as much information, so they went for the safe option with Gasly, which l fully back because he is a great driver and deserves the Red Bull chance."
Sainz's own chance of finally starring in the limelight will now come at McLaren where he will drive alongside Lando Norris next year. Although the pair exchanged 'high-fives' on social media following the British teenager's promotion, the pair are yet to speak in person.
Sainz is equally unfamiliar with McLaren itself. "I have never been to MTC [the McLaren Technology Centre]," he says. "But l will go a couple of times over the next months because l need to start preparing for next year."
Norris has already ruled out victories for McLaren in 2019 and 2020. But Sainz says he has "a lot of hopes" for next season.
"The team have had a tough year and they have learnt from it," he told Sky F1. "There has been the clear reaction of a team which wants to get back to winning ways."
Already - and inevitably - dubbed 'the new Lewis Hamilton', Norris will be of central attention in 2019. Sainz, though, is ready to play the long game.
Will stability finally make him an F1 star?
Sky Sports F1 is the only place to watch every Formula 1 Grand Prix, qualifying and practice session live in 2018. Get Sky Sports F1.