F1 2018: Can Sebastian Vettel and Ferrari still win the championship?
Why Ferrari should still be confident of title success in 2018
By Matt Morlidge
Last Updated: 04/12/18 5:48pm
Sebastian Vettel is 40 points behind Lewis Hamilton in the standings with just six races remaining, and the Mercedes driver seems to be hitting form at exactly the right time. But it's certainly not over yet.
For while perennial title-winners Mercedes hold the advantage for now, there are plenty of reasons to suggest Ferrari should be very confident as they seek their first crown in a decade.
Hamilton v Vettel: The story so far
How to watch the Ryder Cup and the Russian GP
Here's why it should still be a fierce and frenetic conclusion to the championship.
Who's the man in form, and who will handle the pressure?
Why Hamilton is the favourite
Throughout his career and indeed during his five years with Mercedes, Hamilton has enjoyed many dazzling purple patches - there can be weekends where he simply looks unbeatable. And, towards the climax of an incredibly intense season, Hamilton is arguably hitting the form of his life.
Hamilton has been equipped with a Mercedes that isn't the field-leader for the first time, and right now he is outperforming the tools at his disposal. Hamilton has won four of the last five races against the odds, and his victories in Italy, where he shocked the home Tifosi, and Singapore, where he produced one of the pole laps of his life, were crushing blows to the favourites for those grands prix, Ferrari.
What's more, Hamilton rarely lets championship leads slip. The only seasons where he has squandered an advantage were 2007 (17 points ahead, six races remaining), 2010 (14 points ahead, eight races remaining) and 2016 (19 points ahead, nine races remaining). His rival, meanwhile, has not won back-to-back races since the opening two rounds - and never three in a row since leaving Red Bull.
A 40-point lead with six races left therefore looks very tasty indeed for Hamilton and Mercedes.
Why Vettel can still win it
It wasn't long ago that Vettel's form was being lauded after a sublime drive of his own. His Belgian GP win was clinical, and Hamilton simply had no answer. The German looked downbeat and off the pace in Singapore, but this isn't a driver out of form; he could easily have won in Germany, Hungary and Italy but for a change of weather and/or strategy.
While a 40-point deficit heading into Russia would alarm and stress many drivers, it must also be remembered that Vettel has been in this sort of position before - and has bounced back in flying colours.
Not only did Vettel overturn Fernando Alonso's 25-point lead in just two races to take the 2010 crown, but two years later he trailed the Spaniard by 44 points (10 races remaining) and 39 points (seven races remaining) before winning four of the final seven races to claim the championship.
Indeed, though Vettel hasn't flourished down the stretch at Ferrari, that was his hallmark at Red Bull days - taking 21 victories from 33 races after the summer break. That's a 63 per cent win rate, better than that of Hamilton at Mercedes.
"Usually he is very good under pressure, so he certainly won't give up," said Christian Horner, his boss at Red Bull.
What's more, this championship is still in his hands. Simply put, if Vettel wins all six remaining races - even if Hamilton finishes second in every one - he will win this title by two points. It certainly sounds doable.
Who has the faster car?
Why Mercedes are the favourites
Toto Wolff was evidently downbeat after Ferrari appeared to take the lead in engine power prior to the summer break.
"We have been benefitting for many years with engine power, but Ferrari has done a job now that makes everybody need to catch up," the Mercedes boss admitted less than two months ago. "We have fallen back since Austria."
But while Ferrari still appear to be faster on the straights, even after both teams introduced their new engines in Belgium, Mercedes have been making up the deficit in other areas.
They are supremely quick on race day whatever the track, while their comfortable victories in Hungary and Singapore would suggest they are now the team to beat on lower-speed circuits. That's quite some turnaround.
The world champions certainly don't seem to have a 'diva' of a car on their hands like last year, and will take some stopping now that they have some momentum.
Why Ferrari can still win it
Surprise defeats in Italy and Singapore would have shocked Ferrari and Vettel, whose bickering when it comes to strategy appears to be having an impact on the German's on-track performances.
You'd suspect a two-week break and their very real tag of underdogs will help to ease those concerns, however, and paddock consensus remains that Ferrari do still have the faster car.
They have proved that ever since Austria on all sorts of tracks, only having a bizarre off-weekend in Singapore. There are no high-downforce tracks left on the calendar, and that Ferrari should keep improving on the evidence of 2018.
The team have also yet to encounter any real reliability issues, which plagued their end to the 2017 season.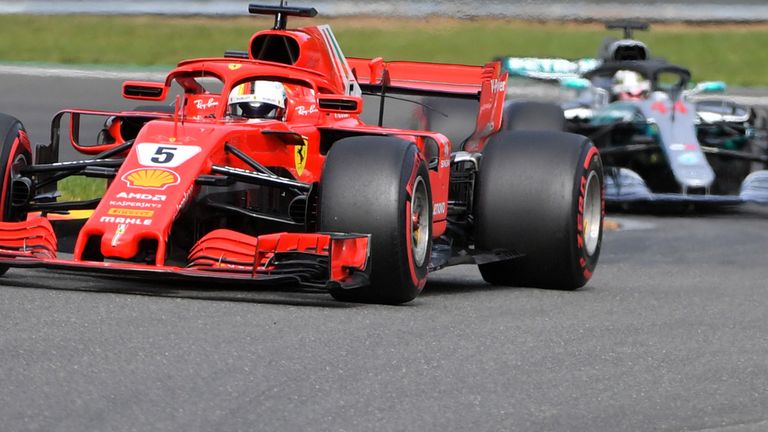 What tracks are left?
Why Mercedes are favourites
On paper, most of the tracks left are Mercedes strongholds.
They have never been beaten in the hybrid era in Russia, Japan, USA (where Hamilton has won the last four) and Abu Dhabi. In Mexico and Brazil, meanwhile, they have been victorious in every post-2014 race but one.
Their rivals Ferrari have had one victory on these tracks in the same four years; in Brazil last year when the championship was already over.
Why Ferrari can still win it
The form book when it comes to 'Mercedes tracks' has been ripped up in F1 2018.
Other races Mercedes had never lost before this year were China, Austria, Great Britain, Germany and Italy. Ferrari won three of those events, and should really have been victorious in all five.
There are plenty of high-speed tracks remaining, which would suit Ferrari, and if their durability continues they could well be the favourites heading into every weekend.
There are plenty of reasons to be hopeful for Scuderia fans.