Russian GP: Romain Grosjean 'on thin ice' over F1 penalties
Haas driver just three penalty points away from F1 race ban
By James Galloway in Sochi
Last Updated: 04/12/18 5:45pm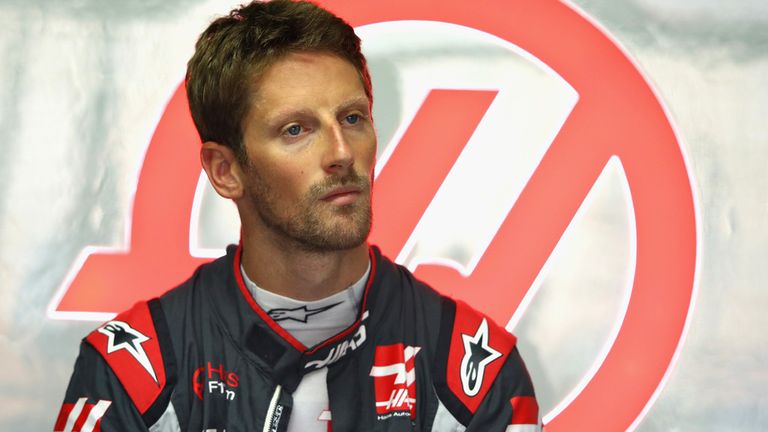 Haas boss Guenther Steiner admits Romain Grosjean is "on thin ice" with F1's authorities for the upcoming grands prix after moving within three penalty points of a race ban.
Grosjean moved from six to nine points at the last race in Singapore as part of a penalty for ignoring blue flags in front of race leader Lewis Hamilton.
F1 drivers are suspended for one race if they collect 12 penalty points on their superlicence over a rolling 12-month period. Currently on nine, Grosjean does not drop points until the day after the Mexican GP at the end of October, meaning he has to navigate the next three rounds without adding three points to his tally.
"He should be very careful - but I think he knows that," said Steiner.
"We are getting close and are on thin ice at the moment I would say with that one - and for a few races as well.
"The first one [point] going away is [after] Mexico."
No driver has yet been banned since the current totting-up procedure was introduced in 2014, with Grosjean the last driver to be suspended for a race in 2012 after causing a start-line pile-up at Spa.
The Frenchman is now once again walking a disciplinary tightrope.
"It's Formula 1 and we still need to deliver good performance. I'll make sure I don't do anything silly, but I will still be pushing and racing and doing my job," said Grosjean.
"When you look back at the points I got, some you can really explain, some others are more questionable."
He added: "I'm not here to crash, I'm not here to do anything silly. In Singapore, it was a tricky situation I got caught in."
Asked what he thought of the penalty points system in general, Grosjean replied: "I'm happy not to judge some situations."