Russian GP: Sebastian Vettel and Lewis Hamilton set for Sochi fight
By Pete Gill and James Galloway in Sochi
Last Updated: 04/12/18 5:45pm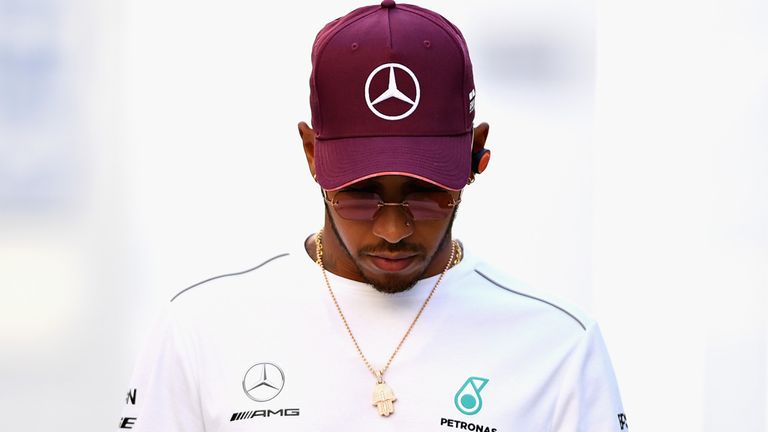 Lewis Hamilton insists he does not feel like he has one hand on a fifth world championship amid the "most challenging" battle against Sebastian Vettel.
Hamilton leads the championship battle by 40 points with six races remaining but scoffed at the notion that he had the job half won heading into this weekend's Russian GP.
"I don't think you ever have one hand on it - you either have both hands on it or you don't," said the Mercedes driver. "There is still a long way to go. A lot of points available.
"Six races is still a lot of races. The job, the target and the approach is still exactly the same."
Hamilton, by common consent, leads Vettel in the championship primarily to the excellence of his own performances whereas his rival has committed a series of high-profile mistakes.
Hamilton wouldn't be drawn on whether he felt he had pressurised Vettel into those errors, but did elaborate on the wellbeing which has driven him to the top of the standings this year.
"I'm happier, healthier and stronger than ever," he explained. Just as critically, Hamilton has embraced the challenge posed by a rejuvenated Ferrari team and a car regarded as slightly superior to the Mercedes.
"It has been the most challenging year fighting against another four-time world champion. The stakes are as high as they have ever been."
The mistake, though, would be to consider Hamilton's lead as unassailable.
"Anything can happen," cautioned Vettel. "I still believe we have a chance. We will give it everything we can. We have a fair chance."
Victory for Vettel this weekend has the potential of transforming the championship picture, especially if Hamilton runs into trouble.
For now, however, the outlook of the two drivers is identical.
"I am aiming to win here and then we will go to the next race," said Vettel.
"The approach is exactly the same," concurred Hamilton.
But in their quest to win one race at a time, something will have to give this weekend.
Hamilton relishing the challenge
With Hamilton appearing to be revelling in both the intensity and unpredictability of this year's title fight as the balance of power swings between Mercedes and Ferrari, the world champion explained how he was helping push his team to stay ahead.
"Breaking patterns, breaking moulds and challenging people - that's what I live to do," he said.
"I'm a pain in the ar** to my engineers because I'm always challenging, challenging, challenging. Even if I'm wrong, it's still questioning, questioning, questioning.
"Some of that I like to think has had a positive impact to spring an idea or a direction which we've pushed the car."
A two-time winner in four attempts in Sochi, but Hamilton endured a relatively off-form weekend last year and was comfortably outperformed by race-winning team-mate Valtteri Bottas.
"I really do believe we'll be in a better position this weekend than we were last year," he said.
Sky Sports F1 is the only place to watch every Formula 1 Grand Prix, qualifying and practice session live in 2018. Get Sky Sports F1.