F1 2019: Mercedes braced for tough Ferrari and Red Bull challenge
"The job is going to get more difficult every year. We are setting the benchmark and our competition will get more motivated by us."
By Matt Morlidge
Last Updated: 21/11/18 4:23pm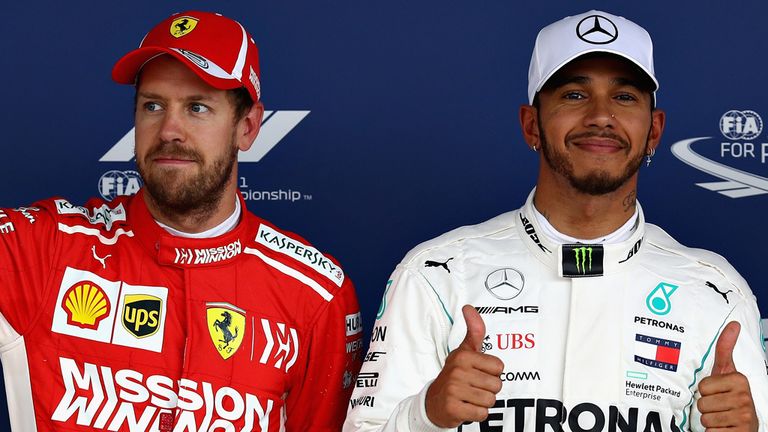 Toto Wolff says world champions Mercedes are already braced for a "very difficult and complicated" 2019 with fierce challenges expected from Ferrari and Red Bull.
Mercedes have become only the second team in F1 history to clinch five consecutive double world titles - sealing every Drivers' and Constructors' Championship since 2014 - but their latest triumph comes following their toughest season yet.
Ferrari have often appeared to have the faster car, while Red Bull's strong chassis will give them hope heading into next year as they switch to Honda engine power.
Red Bull bullish about 2019
The Formula 1 Gossip Column
And Wolff is not taking anything for granted.
"It's quite a complex psychological situation," the Mercedes boss told reporters after his team clinched the constructors' title at the Brazilian GP.
"The risk is you become complacent with winning - but I think this team has overcome this obstacle.
"But the job is going to get more difficult every year. We are setting the benchmark and our competition will get more energised and more motivated by us.
"You have to acknowledge the strength of the other teams, and acknowledge that you could lose next year's championship and respect what they might achieve.
"All points start at zero next year, we'll have forgotten about the five and we'll fight hard to be in contention for the sixth. Whether we achieve it or not, we will see next year."
Key to Mercedes' success, Wolff says, is the fact the team kept setting themselves different "objectives" to avoid becoming complacent.
That is the same for this year's world champion Lewis Hamilton, who now has the added motivation of aiming to make history with Michael Schumacher's F1 win and title records firmly in his sights.
"You have to have a blueprint for what you want to achieve and then push hard, and obviously records are an interesting object," Wolff added.
"He's won five driver titles now and he's second now with [Juan Manuel] Fangio, which is unbelievable.
"He will be setting his sights for his next title but before seven, there is six, and I can assure you this will be very difficult and complicated next year."
Merc's best-ever title
After the race and wild Mercedes celebrations in Interlagos, Wolff said he received a congratulatory phone call from FIA president and former Ferrari chief Jean Todt, who was in charge of the Scuderia when they became the first team to win 10 titles in five years.
Wolff, meanwhile, believes the Silver Arrows' 2018 triumph was their best yet.
"We always said we needed to be cautious because this has gone both ways throughout the season," he said.
"This is why this championship is the best. Because we had a hell of a fight on our hands throughout the season with Ferrari, a fantastic team and an amazing brand, and being able to win a fifth consecutive championship is something that we wouldn't have dreamt of six years ago.
"Not in our wildest dreams."
Wolff praises Mercedes drivers
On Lewis Hamilton
"We wouldn't have won five championships without Lewis. He is an exceptional driver and an unbelievable human. He's been an integral part of the team."
On Valtteri Bottas
"Valtteri's contribution was enormous. Until the Baku incident where he lost 25 points, he was properly in the fight for the championship, since then it's gone against him but he's still played a big role and he's supporting the team without losing stature as a racing driver.
"I think it's an enormous mental struggle to know that you can't win any more to support your team-mate and he's achieved that. I think he'll come back stronger next year and give Lewis and all the others a run for their money."
Sky Sports F1 is the only place to watch every Formula 1 Grand Prix, qualifying and practice session live in 2018. Get Sky Sports F1.