Niki Lauda, 1949-2019: The legend and the legacy
Niki Lauda is a legend who embodied the fighting spirit of Formula 1 like no other. Remembering Niki the champion, the driver, the man
By Matt Morlidge
Last Updated: 21/05/19 6:30pm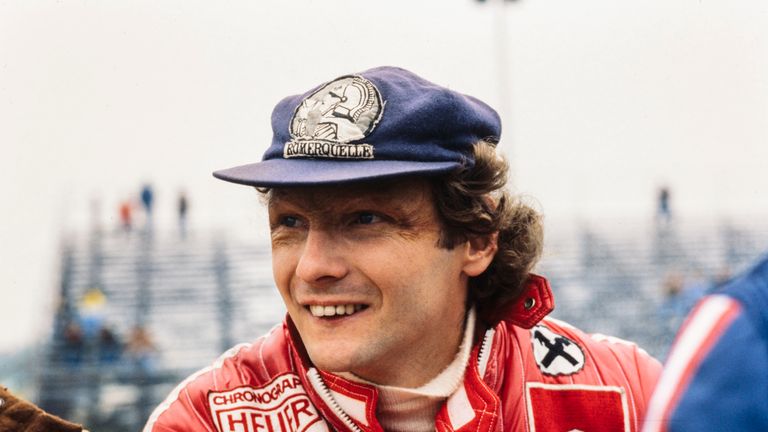 Niki Lauda is a true legend of Formula 1. A winner of three world championships, with the sport's two most iconic teams, before returning to the paddock as a trusted advisor to another leading light, Lauda was respected, idolised and loved by all who were lucky enough to know him.
What he will be remembered for most is one of the most extraordinary sporting comebacks in history. Lauda, trapped in an inferno at the Nurburgring in 1976 before being read his last rites in hospital, would return to the cockpit a mere six weeks later - showing incredible bravery, courage and sheer resilience.
The expression 'fighting spirit' was taken to a whole new level by this remarkable man.
Lauda had carried his title-winning form from the previous year into the first half of that campaign, winning five of the nine races before the German GP and though a rivalry between James Hunt and Lauda was certainly simmering, the Austrian was firmly in control of the championship. But on the second lap of that Nurburgring race, disaster struck for Lauda.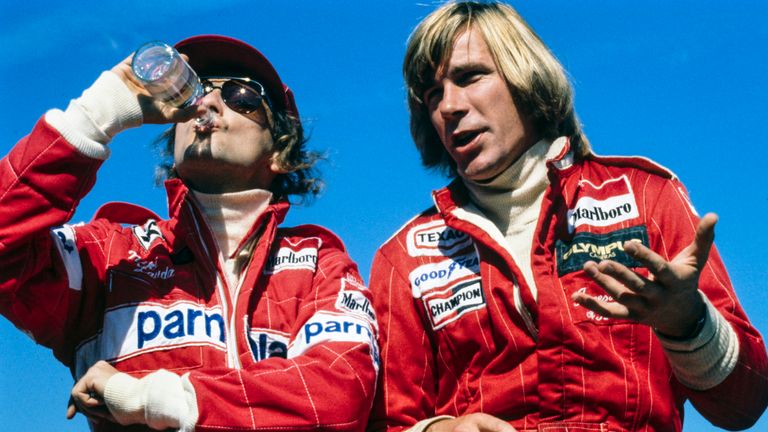 He crashed his Ferrari into the Bergwerk embankment and flames quickly engulfed his car and cockpit.
Several other drivers rushed to his aid but by the time they were able to pull him from the wreckage, he had suffered severe burns to his head and inhaled toxic gases that damaged his lungs. At a time when death in F1 was all too common, fans and fellow drivers feared the worst as he was rushed to hospital.
Then, on Lauda's third day in intensive care, a Roman Catholic priest gave him the last rites of the church. Lauda was conscious, and the rites only made him angry.
"I kept telling myself, if he wants to do that, OK," he said. "But I'm not quitting."
Quit he didn't.
Though he suffered severe injuries, including a mostly-missing right ear, and had reconstructive surgery done to allow his eyelids to function properly, Lauda would, quite unfathomably, only miss two races before making his comeback at the Italian GP.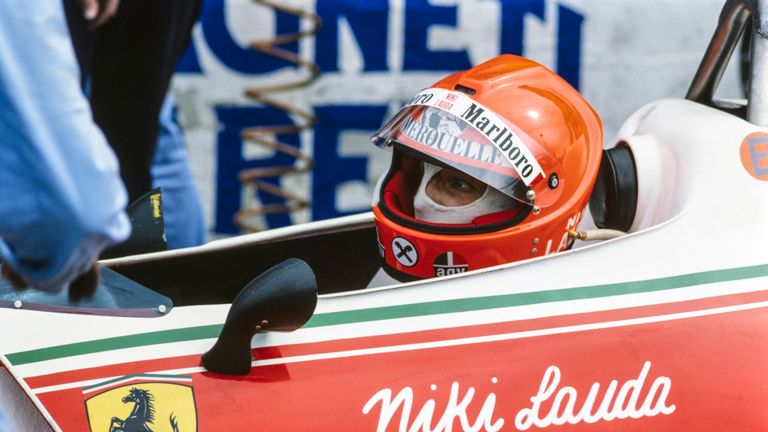 He finished fourth, and if it weren't for his scars - balaclava bloodied by his unhealed wounds - you would have thought Lauda had never been away.
Lauda would eventually miss out on the title by a single point to Hunt and his withdrawal from horrendously wet-race conditions in the Japan finale was poignant in itself. Quite rightly, after all he had been through, Lauda believed his life to be more important than just another championship win.
Niki Lauda: The making of a legend
Though that season helped forge Lauda's legacy, it by no means defined his career. After all, he won two of his three titles after that devastating crash. Not just a fighter, Lauda was an exceptional talent.
Born in 1949, the young Niki showed a love of motorsport from an early age. Despite his family's misgivings about his motor racing career, he took out a £30,000 loan to buy himself a drive with the fledgling March team in 1971.
However, the team struggled and so he took another bank loan in order to secure a drive with BRM for 1973 - and while Lauda was instantly quick, his team were in decline.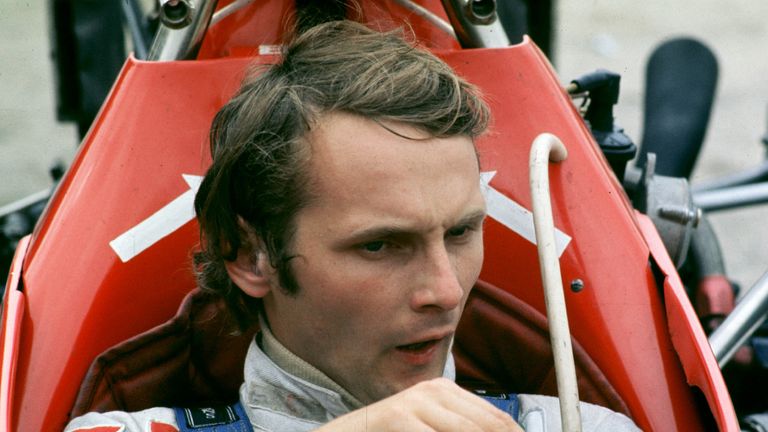 His performances did, however, help catch the eye of a certain Enzo Ferrari, who signed him for the following season.
Without a world title since John Surtees' triumph in 1964, Ferrari had been through something of a lean spell but, inspired by Luca Di Montezemelo as team manager and a new motivated youngster in the cockpit, the team blossomed and success followed.
A first world championship would come for Lauda in 1975 and he looked on course to dominate F1 for the next few years before that fateful 1976 season. But with more time to recover from his injuries for 1977, Niki won three races and racked up seven podiums on his way to his second F1 drivers' title.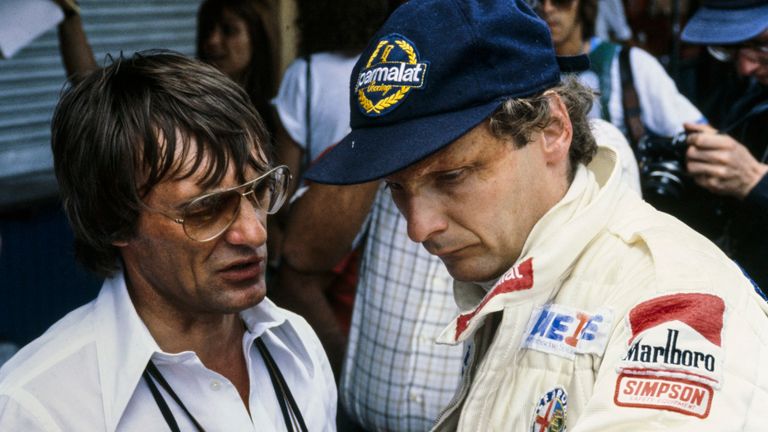 But he then quit Ferrari - the wrong decision, he would later admit - for two years with the Brabham team run by Bernie Ecclestone. Success was fleeting, and at the end of 1979 he walked away to focus on building his airline business, Lauda Air.
Yet the competitive spirit still burned fiercely and, after winning a BMW Procar title with Ron Dennis' team during his F1 break, Lauda decided to link up with Dennis, now in charge of McLaren, again in 1982, winning the third race of his comeback season.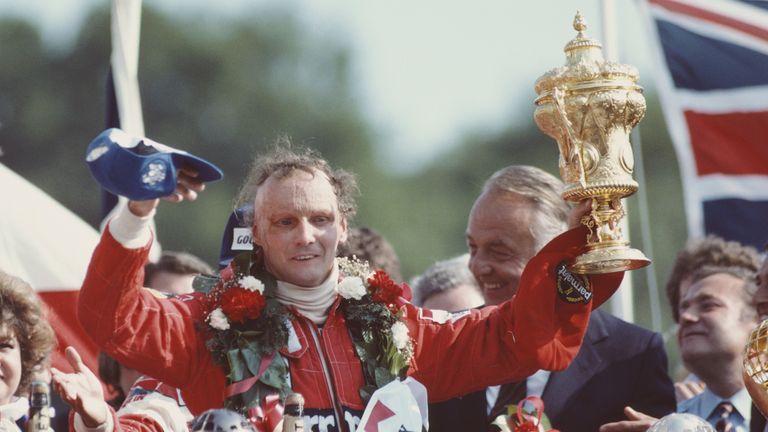 Lauda then found himself in the grid's quickest car in 1984 and, after winning his home race for the first time, he claimed his third and final world championship, beating team-mate Alain Prost by half a point.
He would take one more grand prix victory, his 25th, at Zandvoort in 1985, but called it quits for good at the end of the campaign to concentrate on his business interests. He did, however, remain a familiar face in the paddock, through a consultancy role with Ferrari and a fleeting spell in charge of Jaguar, before a more successful spell with Mercedes.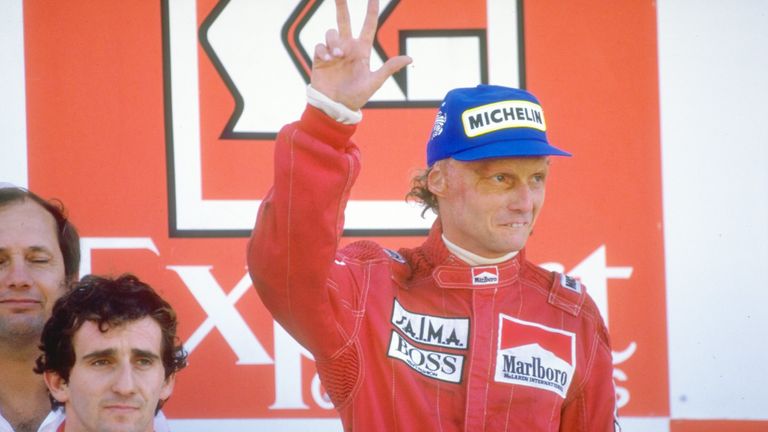 Lauda, in his role as non-executive chairman, forged close bonds with team boss Toto Wolff and star driver Lewis Hamilton, with the team enjoying a remarkable run of success. Always happy for a chat, Lauda maintained his straight-talking ways as part of one of the most dominant F1 teams in recent history.
One of the most popular men in the F1 paddock, a world champion who fought back from near death, not only to return, but also win a further two world championships, Niki Lauda is someone who can quite rightly be called one of the greatest of all time.
He will be greatly missed, but never forgotten.