George Russell replaces Lewis Hamilton at Mercedes for Sakhir GP
Williams' George Russell to race next to Valtteri Bottas at Mercedes after Lewis Hamilton contracted Covid-19; Jack Aitken to make his F1 debut at Williams; Russell has been highly-rated since F1 debut last year and is on Mercedes' books
By James Galloway
Last Updated: 02/12/20 5:39pm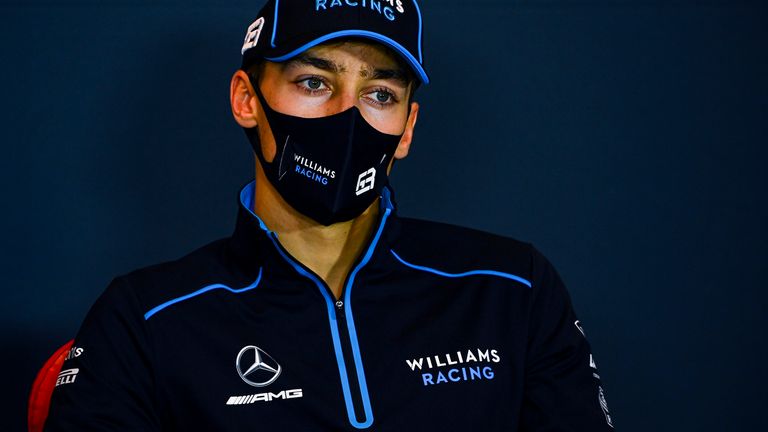 Britain's George Russell will replace Lewis Hamilton at Mercedes for this weekend's Sakhir GP after the seven-time champion was ruled out through coronavirus.
Jack Aitken, a 25-year-old British-Korean, will race in Russell's place at Williams for his F1 debut.
Russell's career has been backed by Mercedes since 2017 and he is effectively on a three-year loan at Williams, where he has impressed since making his F1 debut last season.
Once Hamilton's absence from the first race of his career was confirmed after a positive Covid-19 test and retest, Mercedes approached Williams to see if a deal to release Russell was possible - with confirmation arriving on Wednesday morning.
From driving for the team at the bottom of the championship, he will now race Mercedes' dominant W11 this weekend as team-mate to Valtteri Bottas. Despite several near-misses and an immaculate qualifying record over his F1 team-mates after 36 races, Russell has yet to score points in F1.
"Firstly, I want to say a huge thank you to everybody at Williams for giving me this opportunity. I might be wearing a different race suit this weekend, but I'm a Williams driver and I'll be cheering my team on every step of the way," said Russell, the 22-year-old.
"I see this as a great chance to learn from the best outfit on the grid right now and to come back as an improved driver, with even more energy and experience to help push Williams further up the grid. A big thank you also to Mercedes for putting their faith in me.
"Obviously, nobody can replace Lewis, but I'll give my all for the team in his absence from the moment I step in the car. Most importantly, I wish him a speedy recovery. I'm really looking forward to the opportunity and can't wait to get out on track this week."
Mercedes boss Toto Wolff thanked Williams for their cooperation.
"First and foremost, I wish to thank our loyal partners at Williams for their collaboration and open-mindedness in making it possible for George to race for Mercedes this weekend. The conversations with the team at Williams were positive and pragmatic, and those were the key factors in reaching an agreement," said Wolff.
"It will not be a straightforward task for George to make the transition from the Williams to the W11, but he is race-ready and has detailed understanding of the 2020 tyres and how they perform on this generation of cars. George has shown impressive form this year with Williams, playing an instrumental role in their climb up the grid, and I am optimistic that he will deliver a strong performance alongside Valtteri, who will be a demanding reference for him.
"This race will mark a small milestone for us, as we see a member of our Junior programme compete for the works Mercedes team for the first time. We have a job to do this weekend, and the full focus of our sporting efforts will be behind Valtteri and George in order to maximise our points score as a team. But, of course, our thoughts are also with Lewis, and we will be supporting him as much as we can to make a rapid recovery during his period of self-isolation."
Mercedes say they will announce their driver plans for next week's season-ending Abu Dhabi GP after this week's second event in Bahrain. Hamilton is isolating for 10 days since Monday, a period which ends next Thursday, but it remains unclear whether he will compete at the final race.
'This is an opportunity for Mercedes'
Analysis from Sky Sports News' Craig Slater, in Bahrain
"Mercedes are a very diligent team and like to do things in the correct and proper way.
"Mercedes have a reserve driver, Stoffel Vandoorne, who was due to come here to deputise were anything to happen to the two front-line drivers.
"He is still flying here from Valencia from Formula E testing as I understand, but this is an opportunity for Mercedes.
"They have George Russell on their driver development programme. He has spent a couple of years with Williams, having won the GP2 championship, and driven brilliantly. He's out-qualified his team-mate 36 times in a row.
"But because he's in the back-marking car he hasn't been able to claim any points, so this was a real opportunity for Mercedes to give him a try out.
"The remarkable thing is he will go from bottom of the championship, because he hasn't scored a point, to potentially being able to win a race in this Grand Prix.
"Russell is certainly someone Mercedes see as a potential long-term replacement for Lewis Hamilton, maybe as team leader if Hamilton decides to step away from F1 at some point in the next few years."
What to expect from Russell on Merc debut?
Analysis from Sky Sports F1's Ted Kravitz, in Bahrain
"It's going to be very difficult for George but he's an expert on a Saturday, so I would reckon top four in qualifying would be a very good result for him - he should be near enough the Red Bulls. Again, in the race, top four would be very good, a podium would perhaps be expected in the car he's driving.
"Really this is Mercedes bringing some positive news from the body blow really which was that their lead driver and world champion Lewis Hamilton had contracted Covid-19.
"It was not a great story for them, but they've really turned that negative into a very big positive, giving their development driver, a young driver, George Russell, the chance of making his Grand Prix debut in a top team like Mercedes.
"He's been racing for two years, has George, with nothing really to show for it, now he's in the best car. Let's see what he can do. Very exciting for Mercedes, and British motorsport."