Sakhir GP: George Russell fastest in first practice as Lewis Hamilton stand-in
George Russell a tenth faster than Red Bull's Max Verstappen in first practice as Mercedes driver; Valtteri Bottas fourth and three tenths slower than Russell in sister W11 car; Watch second practice at 5.30pm on Sky Sports F1
By James Galloway
Last Updated: 04/12/20 10:50pm
George Russell impressively set the pace on his practice debut for Mercedes standing in for Lewis Hamilton in Friday's opening session on F1's first experience of Bahrain's fast 'Outer' track at the Sakhir GP.
Two days after receiving the call up to replace the seven-time champion after Hamilton's positive coronavirus result, Russell was driving the 2020 W11 car for the very first time - but showed no signs of needing an acclimatisation process to F1's fastest and title-winning car.
Outpacing new team-mate Valtteri Bottas by three tenths of a second, as the Finn endured a scruffy session with locking brakes, Russell settled himself in gently to the session as F1 got to grips with its newest layout with a quickest lap of 54.546 seconds.
The Bahrain Outer loop - which features just 11 corners, seven fewer than last week's full Bahrain circuit - runs to just 3.5km and is producing sub-60 second lap times in F1 for the first time since 1974.
Max Verstappen was second for Red Bull, just a tenth behind Russell, with Alex Albon a further tenth back in the sister car. Both AlphaTauris also started well, finishing in the top six.
But it was Russell's seemingly seamless - and eye-catchingly fast - start that made the headlines.
"It's the start George would have wanted," said Sky F1's Anthony Davidson, who also serves as a simulator driver for Mercedes. "He looked like he was at home in the car and I'm impressed so far. But it's early days.
"He's off to a good start, although of course there are things still to work on."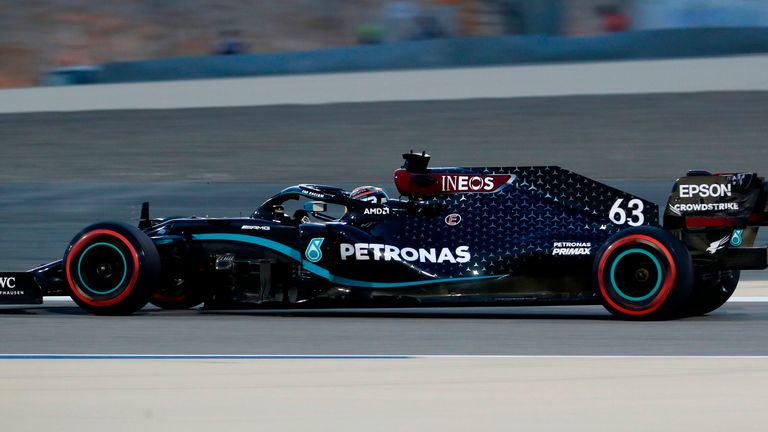 Mercedes boss Toto Wolff told Sky Sports: "He coped well. I saw him this morning, we had a chat and also yesterday, he seems very natural. There is not great excitement about being in the car because he knows he needs to deliver a solid job. He is taking the car of the greatest champion of all time and he needs to get there gradually."
Wolff said while Russell and Bottas were "like-for-like" in terms of car settings, the latter sustained damage to his W11 and did not have an optimised session as a result.
Friday night's second session, which starts at 5.30pm on Sky Sports F1, is usually the most indicative session of the day with drivers completing longer race runs in addition to lower-fuel qualifying simulations.
F1 back on track after a dramatic week
Staying in Bahrain for a second successive event, Formula 1 has experienced an intense week since the first last of Sunday's first race at Sakhir when Romain Grosjean miraculously escaped a high-speed crash in which his car tore in two and caught fire.
Grosjean's accident, from which he amazingly only sustained relatively minor injuries, made headlines around the world and the Frenchman returned to the paddock on Thursday to meet the marshals and medical professionals who helped save his life.
The 34-year-old, whose hands are bandaged, is missing at least this weekend's race with his place at Haas taken by Brazilian test driver Pietro Fititpaldi, the grandson of legendary two-time world champion Emerson Fittipaldi.
Like Russell, Fittipaldi is driving his car for the first time this weekend and the 24-year-old completed 24 laps in the opening session. He was 19th fastest, a second slower than Haas regular Kevin Magnussen.
British-Korean Jack Aitken, Russell's replacement at Williams, was 20th in his second practice outing in the FW43 this year. His session contained a half-spin but the F2 race winner completed 33 laps and finished within half a second of Nicholas Latifi in the sister car.
Sakhir GP Practice One Timesheet
| Driver | Team | Time |
| --- | --- | --- |
| 1) George Russell | Mercedes | 54.546 |
| 2) Max Verstappen | Red Bull | +0.176 |
| 3) Alexander Albon | Red Bull | +0.265 |
| 4) Valtteri Bottas | Mercedes | +0.322 |
| 5) Daniil Kvyat | AlphaTauri | +0.465 |
| 6) Pierre Gasly | AlphaTauri | +0.620 |
| 7) Esteban Ocon | Renault | +0.727 |
| 8) Sebastian Vettel | Ferrari | +0.735 |
| 9) Daniel Ricciardo | Renault | +0.833 |
| 10) Charles Leclerc | Ferrari | +0.903 |
| 11) Lance Stroll | Racing Point | +1.012 |
| 12) Sergio Perez | Racing Point | +1.170 |
| 13) Carlos Sainz | McLaren | +1.211 |
| 14) Kimi Raikkonen | Alfa Romeo | +1.237 |
| 15) Antonio Giovinazzi | Alfa Romeo | +1.312 |
| 16) Lando Norris | McLaren | +1.532 |
| 17) Kevin Magnussen | Haas | +1.584 |
| 18) Nicholas Latifi | Williams | +2.218 |
| 19) Pietro Fittipaldi | Haas | +2.531 |
| 20) Jack Aitken | Williams | +2.641 |