F1 2021 stats: The numbers which underline Max Verstappen's gain on Lewis Hamilton, Ferrari's progress
Through 17 races, Max Verstappen and Lando Norris have been the big improvers, while Red Bull and Ferrari have gained on their rivals; Race and qualifying stats also highlight Verstappen's strong season; F1 2021 continues with Mexico City GP this weekend
By Matt Morlidge
Last Updated: 05/11/21 12:24am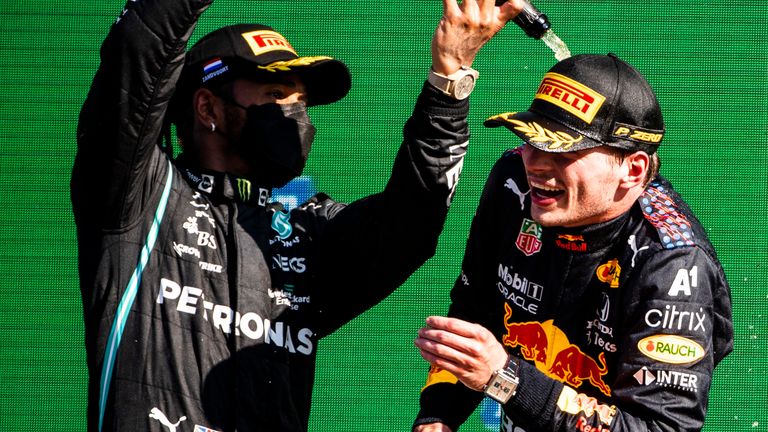 Max Verstappen has a championship lead over Lewis Hamilton heading into 2021's final five races - but what are the stats behind his season so far? And which other drivers and teams have enjoyed big improvements?
The 17 races completed this season gives us an ideal comparison with 2020's 17-round campaign, and illuminates the gains of Verstappen and Red Bull, plus the performances of Lando Norris and Ferrari...
Points scored
Mercedes had it pretty much all their own way last year, with Hamilton enjoying a record points advantage (well over 100) despite the shortened season. But as you well know, and as you can see below, that has all changed in 2021.
A combination of the subtle car rule changes helping Red Bull and hurting Mercedes has completely shifted F1's pecking order, with Verstappen increasing, and Hamilton decreasing, his tally over the same amount of races by more than 70 points.
In Verstappen's case, that is a percentage increase of 34 per cent and he leads by 12 points heading into five races in six weeks.
Sergio Perez and Carlos Sainz have enjoyed rises after moving to new teams, while Charles Leclerc and the Williams drivers - finally scoring some points in 2021 - are also big improvers. But arguably the most impressive gainer is Lando Norris, the McLaren star who has bolstered his points total by over 50 per cent compared to last year.
The biggest drop in terms of points has been from Lance Stroll, owing to Aston Martin's struggles - similar to Mercedes - with the new rules. That is also highlighted in the team totals as Aston Martin, previously known as Racing Point, have dropped 133 points compared to this stage last year.
Alpine, formerly Renault, have also dropped in the pecking order, with Ferrari, McLaren and Red Bull all making progress.
Ferrari's gains, in particular, are very impressive, having slumped to their worst season in four decades last year before bouncing back; they have almost doubled their points tally from 2020.
Race wins and pole positions
Verstappen's remarkable season and rise to a title favourite is summed up by the huge swing in the key race and qualifying stats. The Dutchman had a personal best of two wins in a season coming into this year but has won eight of the 17 GPs in 2021, and it should really be at least nine given his late tyre blowout in Azerbaijan.
Hamilton, meanwhile, has slipped from 11 to five, while Mercedes team-mate Valtteri Bottas only claimed his first race win of the season in Turkey last month.
Verstappen's qualifying increase is even more noticeable. He had a grand total of three career pole positions pre-2021 but he has a whopping nine to his name this year - with one of his poles coming by winning the F1 Sprint at Silverstone.
Again, both Hamilton and Bottas have dropped, while Leclerc deserves huge credit for his two poles back in Monaco and Azerbaijan.
Laps led
The numbers above make you think Verstappen should probably have a bigger championship lead - and the laps led stats definitely do.
Verstappen has been the race leader in over half (504 of 990) of the laps completed this season, and 350 more than his close title rival Hamilton.
That makes you understand how costly Verstappen's DNFs, and his crashes with Hamilton, have been this season.
More 2021 stats: Sainz and Norris stand out
Sky Sports F1's Mexico City GP schedule
Thursday
10pm: The F1 Show Live*
11pm: Drivers' Press Conference
Friday
5pm: Practice One Live (Session starts at 5.30pm)
8.45pm: Practice Two Live (Session starts at 9pm)
Saturday
4.45pm: Practice Three Live (Session starts at 5pm)
7pm: Qualifying Build-up Live
8pm: MEXICO CITY GP QUALIFYING LIVE*
9.45pm: Ted's Qualifying Notebook
Sunday
5.30pm: Grand Prix Sunday Live
7pm: THE MEXICO CITY GRAND PRIX LIVE*
9pm: Chequered Flag Live*
10pm: Ted's Notebook Live
*simulcast on Sky Sports Main Event