Max Verstappen on-board footage released from Lewis Hamilton wheel-to-wheel controversy in Sao Paulo GP
A new angle on the big talking point from Sunday has been released, with the on-board camera from Max Verstappen's Red Bull giving a fresh look at how he defended from Lewis Hamilton to keep the lead; Battle resumes this week with the first Qatar GP, live on Sky Sports F1
By James Galloway
Last Updated: 16/11/21 4:09pm
The on-board footage from Max Verstappen's car during his controversial battle for the lead in the Sao Paulo GP with Lewis Hamilton, when both cars ran off track, has been released for the first time.
Race Control 'noted' the lap-four incident between the title contenders after it had happened but quickly ruled that no full investigation into Verstappen's defence was warranted, and so the battle continued uninterrupted.
Hamilton eventually overtook his Red Bull rival with 12 laps of the race to go to secure a remarkable victory from 10th on the grid - but the earlier events at the Turn Four braking zone continued to prove a big talking point after the race.
FIA race director later Michael Masi confirmed that officials did not have access to the forward-facing cockpit camera on Verstappen's car at the time of their analysis of the incident, with it only to become available after the race.
That footage has now been released.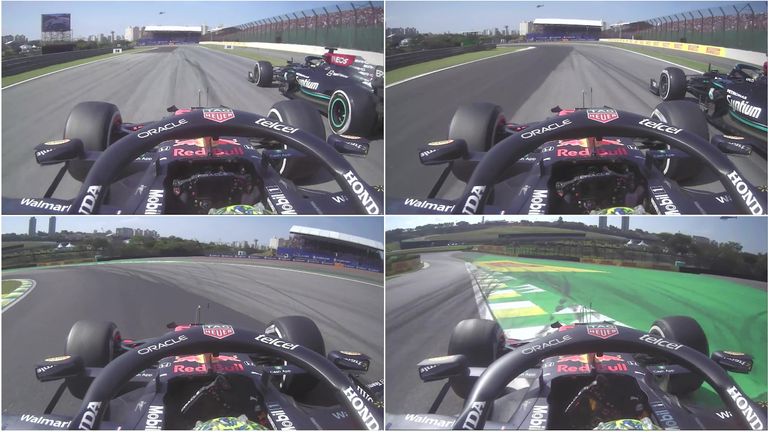 Although Hamilton ended up triumphant to cut Verstappen's title lead to 14 points, Mercedes were left unhappy that the Dutchman had not been penalised on a weekend when they already felt several big decisions had gone against them.
Toto Wolff, Mercedes team boss, told Sky Sports F1: "I think [if] you put the helmet on and said that that's hard defending just to the limit. Lewis was super clever avoiding the contact, so it was great to see these two super drivers.
"But not giving it a five seconds [penalty] or so? Come on."
Red Bull boss Christian Horner saw it differently.
"It's two guys running hard," said Horner. "Lewis has got a run around the outside, Max has gone in deep, they've both gone wide.
"It would have been really unfair to penalise on that. If it was the other way around, I would have told my sporting director to have a moan about it but I wouldn't have expected really anything from it."
Martin Brundle's verdict: Does new angle change anything?
Writing in his post-race column for Sky Sports, Brundle said: "On viewing the onboard footage, it confirms that Max braked very late and was slow and limited with his turn-in point, but at no point did he open the steering wheel towards Lewis.
"It was totally on the limit and could have easily gone either way with the stewards. It warranted a driving-standards warning black and white flag at least.
"Mercedes may still ask for a stewards' review, but those claims rarely get a change of decision. In any event, Red Bull will say they cruised at the end and so any five-second penalty putting them behind Bottas would be unfair, Max would have just driven faster, to which Mercedes will say so would have Valtteri.
Hamilton and Verstappen: What they said about the incident
What's next in the deciding final weeks of the title race?
After three days of drama in Sao Paulo to conclude its run of races in The Americas, Formula 1 is travelling back east this week and a new destination for the sport in Qatar.
The Losail International Circuit on the outskirts of Doha has staged other international motorsport events before, but never F1, and is therefore a completely-new challenge for most of the grid's drivers.
Verstappen leads Hamilton by a reduced margin of 14 points with 78 still to play for this season, while Mercedes increased their Constructors' Championship lead over Red Bull in Brazil out to 11 points.
All seasons from Qatar are live only on Sky Sports F1, with opening practice commencing on Friday at 10.30am and Sunday's race at 2pm.