McLaren haven't given up hope of signing Fernando Alonso for the 2014 season
Spaniard has previously insisted he is intent on remaining at Ferrari
By Sky Sports Online
Last Updated: 04/10/13 1:27pm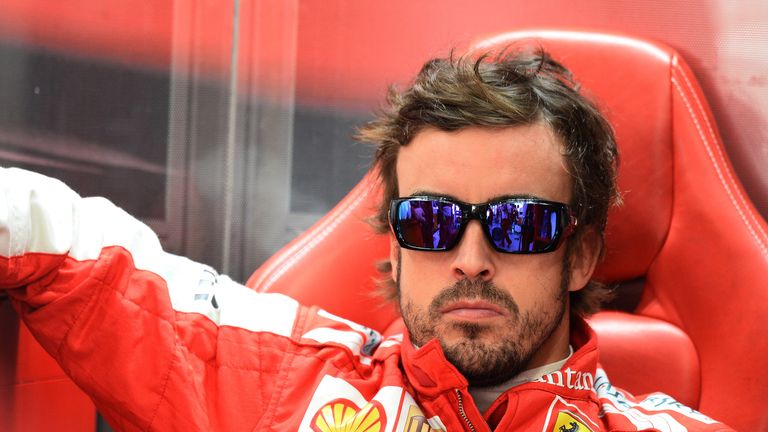 Although the Spaniard delivered an emphatic assurance that he will partner Kimi Raikkonen at the Scuderia next year when he faced the press two weeks ago at the Singapore GP, it's understood the Woking outfit are refusing to concede defeat in their ongoing bid to rehire the two-times World Champion.
Efforts continue at McLaren to wrest Alonso from Ferrari for 2014. #skyf1

- Mark Hughes (@SportmphMark) October 4, 2013
Alonso's single season at McLaren in 2007 ended in bitter acrimony and a swift divorce, but team boss Martin Whitmarsh has publicly confirmed he wants to re-sign the Spaniard following a dismal campaign in which Sergio Perez has failed to impress alongside Jenson Button.
"I am told by a credible source that their efforts are very much continuing to get him in the car for 2014," Sky F1 columnist Mark Hughes revealed during coverage of Friday practice for the Korean GP.
It had been thought that, were Alonso to be lured back to McLaren, it would be for the 2015 season when the team will once again join forces with Honda.
While Button has signed a contract extension for next season, Perez's future with McLaren remains clouded in doubt, with the Mexican's seat for next season still not guaranteed even if, as is expected, Alonso opts to remain at Ferrari.
That remains the most likely option, although speculation suggests that Alonso, who is currently contracted until the end of 2016, is free to leave because Ferrari have broken the agreed terms by hiring Raikkonen even though the double World Champion has a veto.
The logic is that Alonso - a proud man and aware of how his leaving Ferrari now a team-mate rather less malleable than Felipe Massa is coming on board might project to the wider world - will stay put and take on the challenge Raikkonen will provide.
Then there's the fact that although next season brings wholesale rule changes, McLaren will be seeing out the final year of their Mercedes contract. Might a move in 2015, when Honda power is on tap, make more sense?
By then Alonso may have bettered Raikkonen and with his reputation enhanced further, the chance to embark on a new challenge with his former team and escape the Maranello cauldron might be too tempting to resist.
Such a move might appear unlikely but F1 is a world where unlikely things can happen.