McLaren youngster Kevin Magnussen ready to leap into Formula 1's deep end
McLaren graduate also linked with Force India and Marussia
By James Galloway at the Buddh International Circuit and Pete Gill
Last Updated: 02/12/13 5:11pm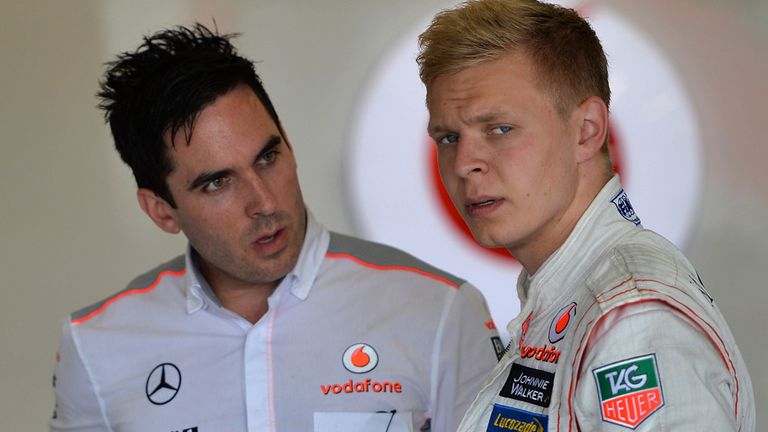 Although it seems more likely that the youngster's first steps into F1 will eventually be served in an apprenticeship further down the grid, possibly with either Marussia or Force India, the highly-rated Dane - a graduate of McLaren's Young Driver Programme - is still believed to be in the frame to replace Sergio Perez for next season.
While the chances of Magnussen driving alongside Jenson Button in 2014 may appear remote, McLaren have previously shown they are not averse to appointing a youngster alongside a former World Champion. After all, this is the team that as recently as 2007 appointed a rookie by the name of Lewis Hamilton to partner Fernando Alonso.
"I feel it is the right time for me to step in but I don't know how likely it is, I just have to wait," Magnussen told reporters at the Buddh International Circuit on Thursday. "If I get the chance with a big team then it would because they expect me to deliver and only because they think I am the right solution. I feel I'm ready. I have won in everything I have driven in so why would that change in Formula 1?"
The 21-year-old is clearly not short of confidence but admits that his preparations for F1 cannot be compared to the intensive testing audition Hamilton undertook before he made his F1 bow six years ago.
"I'd love to do the same, although things are a bit different these days. If I could test every week this year, I would and it would make me feel even more ready. When I say I'm ready, I feel I'm ready, but I'm not ready in the same way that drivers were ten years because they were testing all the time and I don't think any driver will be as ready again. F1 has changed."
The imminent 'rules revolution' would present an additional challenge for Magnussen to overcome were he to enter F1 for the 2014 season, although the youngster has welcomed the prospect of the sport's framework being ripped up.
"If anything, it could be an advantage for us rookies because if anything it means that experience counts for less," observed the Dane. "But of course I'd prefer loads of testing beforehand."
Magnussen also offered his support to Antonio Felix da Costa following Toro Rosso's shock decision to overlook the Portuguese youngster in favour of Russian teenager Daniil Kvyat.
"I have been team-mates with Antonio for a few seasons when we were younger and he is a really big talent. I couldn't comment on this season because I wasn't his team-mate, but I know that Antonio is a really good driver and I wouldn't be surprised if he ended up in Formula 1 anyway."