Red Bull Newey backing Vettel to improve
Adrian Newey believes F1 world champion Sebastian Vettel will continue to develop as a driver.
Last Updated: 29/10/13 4:52pm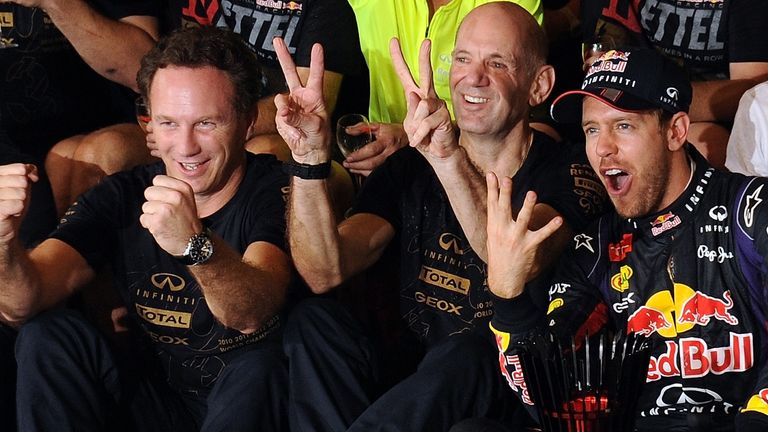 Vettel's victory in Sunday's Indian Grand Prix saw him become - at 26 - the youngest ever driver to win four world titles, beating previous record holder Michael Schumacher to the milestone by four years.
The Red Bull driver now has 36 Grand Prix wins to his name but the team's chief technical officer is backing the German to improve further.
"Sebastian is not going to get worse, that's for sure," Newey said
"He's going to continue to develop, although it's difficult to see how he can develop relative to this season, but no doubt he will.
"As we can continue to build competitive cars then hopefully Sebastian can continue to win more championships with us."
Nigel Mansell, Alain Prost and Mika Hakkinen have all won the world title in Newey-designed cars and he feels Vettel's ability to absorb information puts him right up there among the best.
"A lot of people have asked me to compare the drivers I have been lucky enough to work with and it is wholly unfair for me to compare them," Newey added.
"But the one thing they do share is that ability to drive and process at the same time. They also have an incredible recall after they get out of the car.
"I think that means that they can drive while considering and planning what they are going to do next in the race. Then, they can get out of the car afterwards and continue to learn and analyse what happened in the race.
"You see it with Sebastian all the time. You have that impression that each time he gets in the car, he gets in with a bit more knowledge than he got out of it last time.
"His driving has gone from very talented but slightly raw at times, let's say in 2009, to incredibly well-rounded now.
"In 2009 and 2010 you could occasionally criticise him for making slightly ill-judged moves and having accidents, and you could criticise him possibly for not being able to overtake, as a lot of people felt that if he didn't start from pole and control the race from there, then he was not so good.
"But I think you really cannot make those criticisms any more. It is difficult to see a chink in his armour."
The Abu Dhabi Grand Prix is live only on Sky Sports F1 this weekend - coverage begins with the Drivers' Press Conference on Thursday at 11am