Lewis Hamilton takes the blame after losing out to Nico Rosberg again
German has had the upper hand in five of the last six races
By Pete Gill
Last Updated: 04/11/13 1:14pm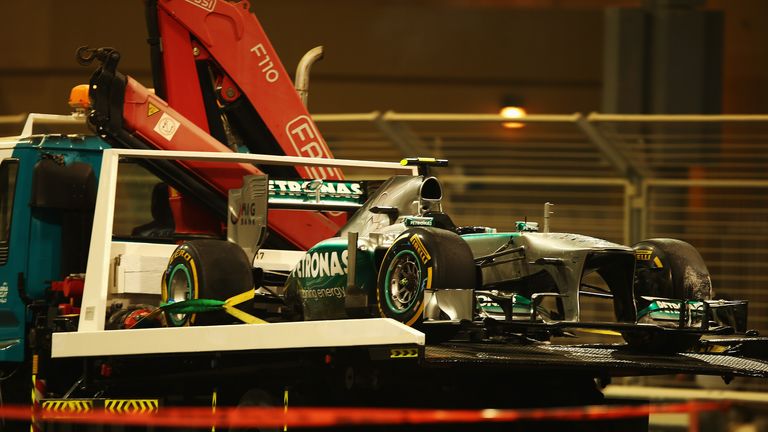 While Hamilton's failure to build on his maiden victory for Mercedes in the Hungarian GP, erroneously seen at the time as a turning point in the title race, can be attributed to the stunning turn of speed developed by the ever-improving Red Bull team, less explicable is the Englishman's recent head-to-head record against Nico Rosberg.
Having had the better of the German during the first half of the campaign even when struggling to master his W04's brake system, Hamilton has lost out to his Mercedes team-mate in five of the last six races and been out-qualified four times during that period.
Hamilton's frustration continued in Sunday's Abu Dhabi GP when his race almost immediately unravelled after being squeezed out at the first corner. While Rosberg celebrated his second podium finish in a week, Hamilton crossed the line in seventh, over forty seconds behind the lead Mercedes.
"Clearly, with Nico's result the car is better than what I'm able to bring home with it, so I just want the guys back home to know that I'll keep pushing," Hamilton told Sky Sports F1.
"It's the same in every race so it can't be other peoples' fault. Nico is getting great points for the team, so I just need to work harder to do the same."
The Englishman was even more downbeat in Mercedes' own press release, remarking: "My race just didn't quite come together and I'm not really sure why as I gave it my all out there. I had some problems with grip and, of course, it's so difficult to overtake here when you are in traffic but we also need to figure out why I'm not getting the maximum performance from the car at the moment."
Hamilton's regretful tone was echoed by Ross Brawn, with the Mercedes Team Principal adding: "Lewis got tangled up in other people's races after his first stop and found it impossible to overtake in traffic. This is a clear weakness of our package at the moment and he spent most of his race behind slower cars, unable to demonstrate his true speed. This is an issue where we need to get our thinking caps on in order to find a more effective compromise because there's little point having a quick car if we can't use that performance in the race."
After seeing their driver struggle in the last two races to overtake 'slower' cars, the team are expected to run a skinnier rear-wing on Hamilton's W04 in next week's U.S. GP.
Hamilton currently sits in fourth place in the Drivers' Championship, with the sixth-placed Rosberg just sixteen points further behind.