Exclusive Q&A: Nico Hulkenberg discusses his future and where he could be in 2014
German says he has a good chance of a drive next season
By William Esler
Last Updated: 24/11/13 9:21pm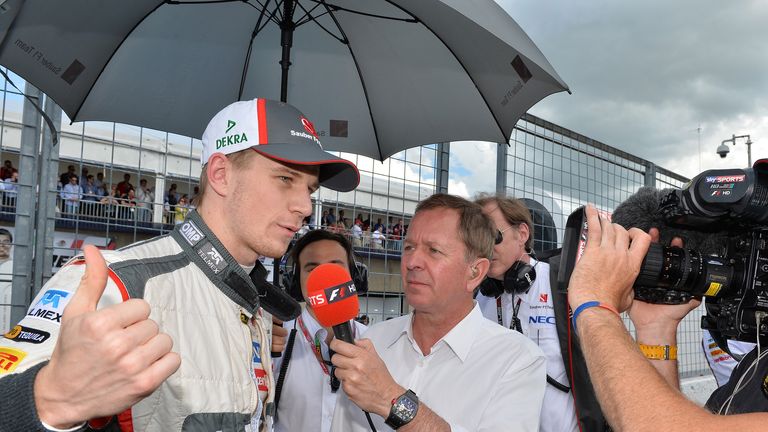 Martin Brundle: Your position in 2014 is put up as a big test for Formula 1 - perhaps over simplifying it a bit, it is talent versus money. How do you see it?
Nico Hulkenberg: "I have proved enough on the circuit that I deserve a chance of being here and to be fighting for wins hopefully one day. I love my job, I love Formula 1, obviously I want to be in Formula 1 in the future and I think there is a very realistic and good chance that I will be."
MB: But you were fighting Alonso for fifth last time out in the USA, it shouldn't just be a good chance you will be in F1 next year.
NH: "It is what it is. It is maybe not the most healthy and good situation from my point of view for someone like me that doesn't have a couple of good million reasons when looking for a job next year. Like I said I think there are teams here that rate what I am doing and take drivers that don't have big budget and therefore I am optimistic that I am going to be here next year."
MB: Monisha Kaltenborn said she would love to have you stay at Sauber, the guys at Force India I am sure would love to have you back, there is talk about you going to Lotus - we spoke to Mansoor Ijaz and he said 'the money is there, we want Hulkenberg.' Are those the three options?
NH: "Yes they are. As far as Lotus goes, I think they have to sort out their financial package with the new investor and I understand that that hasn't happened yet. So it is a matter of finding a good deal where the terms are attractive to me and also where you think it is going to be a competitive package next year. It is a bit similar to what I have done this year coming to Sauber because I wanted to achieve good things, but we found ourselves in a bad situation at the beginning - we were pretty far away from where I hoped we would be.
"So it is difficult, there are question marks and we enter a new era and you can't take this year's performance as relative for next year because it is so different. You don't want to get lost in that whole thinking and all the scenarios - sometimes you just have to go with your gut feeling, be a bit spontaneous and close your eyes and do it."