F1 regulations change: Double points to be awarded in the final race of the season
'Cost cap' to be introduced, drivers to be given a fixed number for the duration of their career, tyre test to be staged in Bahrain next week
By Sky Sports Online
Last Updated: 10/12/13 11:31am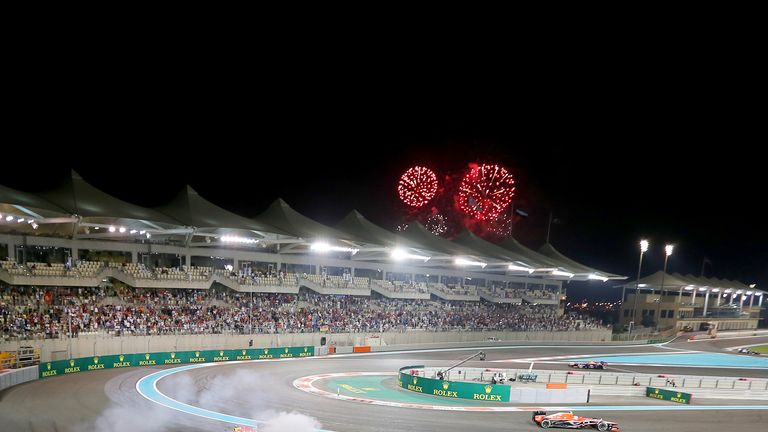 The International Automobile Federation (FIA) said the dramatic alteration, after a season of record domination by Red Bull and four-time champion Sebastian Vettel, was immediately applicable and would 'maximise focus on the championship until the end of the campaign'.
Had such a system been applied in previous seasons then Fernando Alonso would have beaten Vettel to the 2012 title while Felipe Massa would have been crowned World Champion in 2008 ahead of Lewis Hamilton.
Next year's season finale is scheduled for Abu Dhabi on 23 November.
The FIA also announced, after a meeting in Paris of its Formula One commission and the F1 strategy group, that the principle of a global cost cap had been unanimously approved, with the aim of introducing it from January 2015.
A working group, made up of the FIA, commercial rights holder and team representatives, will be established to work on having regulations approved by the end of June next year.
A change to the system of driver numbers has also been agreed, with drivers in future carrying their number through their career in Formula One rather than taking a new one every year depending on where they finished.
The number one will be reserved for the world champion, should he decide to use it.
Should more than one driver choose the same number, preference will be given to the man who finished highest in the previous year's championship.
The principle of a five-second penalty for minor infringements was also accepted for 2014, with teams to discuss how it should be applied.
In a further unexpected announcement, the FIA have also confirmed that a Pirelli tyre test will be staged next week at Bahrain. Six teams have agreed to take part - Red Bull, Mercedes, Ferrari, McLaren, Force India and Toro Rosso.
Sky Sports F1 expert Ted Kravitz is not convinced the new proposals outlined will necessarily be implemented as they stand.
"This is an idea, it is not set in stone - yet," he told Sky Sports News. "Even though this is a pronouncement from the FIA, the sport's governing body, I think there is still some wriggle room if this proves to be very unpopular.
"The reason they have done it is to spice up the last race of the season, and they have certainly done that,. This is a major break form F1 tradition and judging from the reaction on social media, it has not gone down well.
"People don't seem to like the idea that one race at the end of the season is worth more than some classic races.
"The question is also, can the cost cap actually work because in the past when there has been a voluntary budget restraint it has been totally unenforceable. But I think it is something that needs to happen because spending has got out of hand."
The FIA statement in full | All the dates for 2014