Who wants what number: The drivers make their selections for the 2014 season
Button, Ricciardo and Magnussen the latest to make their choices
By Sky Sports Online
Last Updated: 10/01/14 2:36pm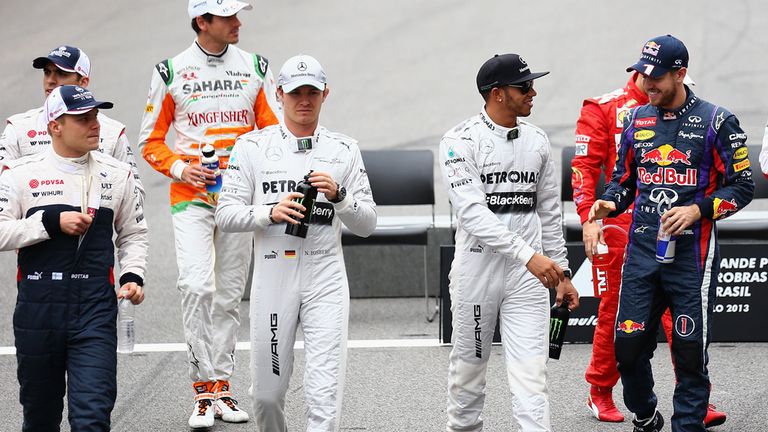 In an unexpected development ahead of the new season, the FIA, motorsport's governing body, announced in December that F1 will introduce permanent driver numbers from 2014 onwards.
While the number one badge will be reserved for the World Champion, should he choose to use it, the rest of the field have been asked to select a number of their preference between two and 99.
At present, a handful of drivers have revealed their selection, with McLaren driver Button deciding to select 22 - the car number his Brawn GP car carried en-route to winning the 2009 Drivers' Championship.
Coincidentally, the Briton's former team-mate Lewis Hamilton, who has yet to reveal his number choice, also carried the same number in his own championship year.
#Jenson22 great memories, looking forward to making a few more. #22WDC2009

- Jenson Button (@JensonButton) January 9, 2014
Ferrari's Fernando Alonso will carry number 14 having ran with the number during his days as a junior karter.
#Alo14 pic.twitter.com/4E9AOvlca6

- Fernando Alonso (@alo_oficial) December 20, 2013
New Red Bull signing Daniel Ricciardo, meanwhile has selected 3, Mercedes driver Nico Rosberg has requested 6 as his first choice, Williams new boy Felipe Massa has opted for 19, and Jules Bianchi of Marussia has identified 7, 27 and 77 as his preferences.
Hello my friends :) i asked for 7,27 and 77. We will see what i will get ...

- Jules_Bianchi (@Jules_Bianchi) December 16, 2013
It would appear, however, that 77 is proving a popular choice, with Williams youngster Valtteri Bottas also identifying the number as his first selection.
So, It's the #77 I have applied for! 17 as 2nd choice and 11 as 3rd choice. #BO77AS

- Valtteri Bottas (@ValtteriBottas) December 13, 2013
In the circumstances of two different drivers identifying the same number as their preference, the driver who finished highest in the previous year's World Championship would be given first choice - i.e., in this case, Bottas would be invited to pick 77 ahead of Bianchi.
McLaren rookie Kevin Magnussen has requested 20 for his McLaren car in 2014 on the basis that it is the number he used last year whilst winning the Formula Renault 3.5 championship.
Here's some news: my driver number will be 20 this year, which I won the @WSR_Live 3.5 title with last year. pic.twitter.com/0xZdZXYYTv

- Kevin Magnussen (@KevinMagnussen) January 8, 2014
Driver number choices:
Red Bull
Sebastian Vettel: Yet to be announced.
Daniel Ricciardo: 3.
Mercedes
Lewis Hamilton: Yet to be announced.
Nico Rosberg: 6, 5 or 9.
Ferrari
Fernando Alonso: 14.
Kimi Raikkonen: 7.
Lotus
Romain Grosjean: 8, 29 or 11.
Pastor Maldonado: Yet to be announced.
McLaren
Jenson Button: 22.
Kevin Magnussen: 20.
Force India
Sergio Perez: 11.
Nico Hulkenberg: Yet to be announced.
Sauber
Adrian Sutil: Yet to be announced.
Esteban Gutierrez: Yet to be announced.
Toro Rosso
Jean-Eric Vergne: 25, 21 or 27.
Daniil Kvyat: Yet to be announced.
Williams
Felipe Massa: 19.
Valtteri Bottas: 77, 17 or 11.
Marussia
Jules Bianchi: 7, 27 or 77.
Driver still to be confirmed.
Caterham
Driver still to be confirmed.
Driver still to be confirmed.