Go figure: FIA reveal the driver numbers for the new 2014 season
Sebastian Vettel to use '1' but has requested '5' for his career; Lewis Hamilton chooses '44'; Lotus and Marussia 2014 entries 'subject to confirmation'; Max Chilton named as second Marussia driver
By Sky Sports Online
Last Updated: 13/01/14 8:18pm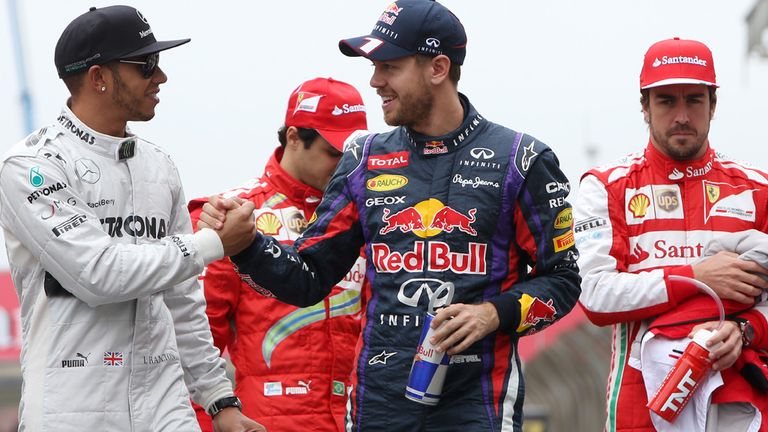 Ferrari pair Fernando Alonso and Kimi Raikkonen will use '14' and '7' respectively.
Asked to explain his choice, the deadpan Finn told Reuters: "It's the number I already had last year and I saw no reason to change it."
Jenson Button of McLaren has selected '22' - the number he used during his championship-winning campaign of 2009.
Meanwhile, Lotus new boy Pastor Maldonado, ever the contrarian, has opted for '13'.
In another eye-catching selection, Adrian Sutil of Sauber has chosen '99'.
The governing body's release of the 2014 entry sheet also names Max Chilton at Marussia, although the Englishman has yet to be allocated a car number.
Curiously, the entries of both Lotus drivers, as well as those of Marussia pair Chilton and Jules Bianchi, are marked as 'subject to confirmation'. Lotus announced earlier this week they will not be running at the upcoming Jerez test while Marussia are yet to reveal their plans.
Caterham, meanwhile, are yet to name either of their drivers for 2014.
2014 Driver Numbers:
Red Bull
1: Sebastian Vettel.
3: Daniel Ricciardo.
Mercedes
44: Lewis Hamilton.
6: Nico Rosberg.
Ferrari
14: Fernando Alonso.
7: Kimi Raikkonen.
Lotus
8: Romain Grosjean. *
13: Pastor Maldonado. *
McLaren
22: Jenson Button.
20: Kevin Magnussen.
Force India
27: Nico Hulkenberg.
11: Sergio Perez.
Sauber
99: Adrian Sutil.
21: Esteban Gutierrez.
Toro Rosso
25: Jean Eric Vergne.
26: Daniel Kvyat.
Williams
19: Felipe Massa.
77: Valtteri Bottas.
Marussia
17: Jules Bianchi. *
4: Max Chilton. *
Caterham
Both drivers still to be confirmed.
* Subject to confirmation
27...... its going to be my Number for the rest of my F1 career😀👍! What do u think, like it??

- Nico Hülkenberg (@NicoHulkenberg) January 10, 2014
Yes yes yes I have got my first number choice : 8

January 10, 2014
Enough already! That's not me either! I'm happy with #20 but it's interesting that no-one chose #2, #4 or #5. @McLarenF1

- Kevin Magnussen (@KevinMagnussen) January 10, 2014
Let's go for #17 ! #F1 #2014

- Jules_Bianchi (@Jules_Bianchi) January 10, 2014
Cool. got number 6 for my remaining F1 career! My future wife's and my dad's lucky number. so it has got to work for me too! ;)

- Nico Rosberg (@nico_rosberg) January 10, 2014
Reason for #3 is it was my first ever number in karting and I was also a fan of Dale Earnhardt. pic.twitter.com/Z9zBntEewl

- Daniel Ricciardo (@danielricciardo) January 11, 2014
@JeanEricVergne: Happy about my number :) content de mon numéro #25 pic.twitter.com/k75uxhYhVv

- Jean-Eric Vergne (@JeanEricVergne) January 11, 2014
So next year I will be racing with number 4 on my car! #M4X

— Max Chilton (@maxchilton) January 13, 2014