Caterham have signed BRDC Rising Star Seb Morris to their Racing Academy
Welshman will race in Formula Renault NEC in 2014
By William Esler
Last Updated: 03/02/14 6:26pm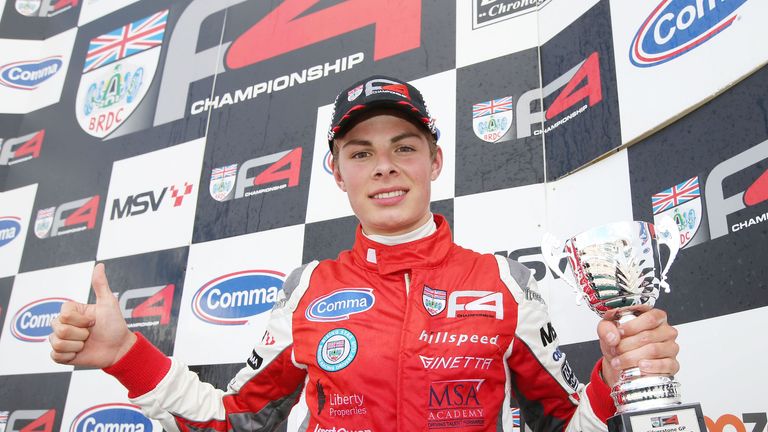 The 18-year-old Welshman finished as runner-up in the inaugural BRDC F4 Championship last year, showing consistency throughout the season by finishing 23 of the 24 races, with 22 of those top-ten results.
Morris will graduate to a European championship for the first time next season and he is hoping the support from Caterham will see him replicate the success fellow Brit Matt Parry - who is also a member of the F1 team's Academy - had in the NEC in last year.
"Joining the Caterham Academy is pretty huge for me," Morris said.
"Matt Parry is someone I look up to, and who I had a real battle with in the McLaren Autosport Awards. I am following his footsteps this year both as a Caterham driver and in NEC and I am looking to win it as Matt did.
"To be part of an F1 team, with all the support and knowledge that brings, is a massive step forwards for my career."
Head of Caterham Racing Academy Mia Sharizman was delighted by the signing of the Welsh driver and is tipping him for a successful career.
"Seb is another outstanding addition to our list of Academy drivers," Sharizman said.
"His talent speaks for itself and we are very pleased to be able to provide him with the full range of support available to all our Academy drivers as he makes the step up to Formula Renault NEC.
"He will be a strong contender for Championship honours this season and, if, as we firmly believe he will, he fulfils his promise, the UK will have another serious motorsport talent to back."
Morris joins fellow Brits Will Stevens and Parry on the programme along with F1 reserve driver Alexander Rossi, Malaysian Weiron Tan and Singapore's Daim Hishammudin.