Fernando Alonso denies he is interested in a transfer to pacesetters Mercedes
Spaniard insists Ferrari can challenge Silver Arrows this season
By William Esler
Last Updated: 12/05/14 10:03am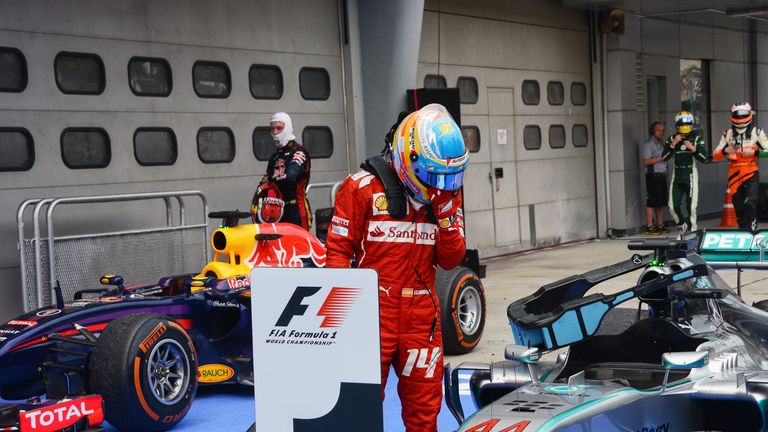 The Spaniard finished almost 90 seconds behind the Mercedes cars of Lewis Hamilton and Nico Rosberg on the weekend that marked a year since his last victory in F1.
The partnership between Alonso and Ferrari is now in its fifth season, but has yielded just 11 victories and if 32-year-old is now to add to his two world titles, it will be the longest gap between championship wins in Formula 1 history.
With Mercedes dominant and Alonso's years remaining in the sport ticking away, the paddock rumour-mill has linked him with the Silver Arrows and a reunion with Lewis Hamilton.
However, the Spaniard has dismissed the speculation.
"No," was his blunt response when asked by Sky Sports F1's Natalie Pinkham if he would like to join Mercedes.
When pressed further as to whether he felt his talents deserved a better car, Alonso was careful not to criticise his team, insisting Ferrari can challenge Mercedes before the end of this season.
"I think we need to work better and have a better car at Ferrari. We have the potential, we have the talented people, so we can do that together," Alonso added.
"We can do it this season - it will be tough as we are so far behind, not just us but everyone, but we are in the fifth race of the championship. Our job is to make things hard for Mercedes because when they have a big gap they don't stress the mechanical side so we need to do better."
Ferrari, who are believed to have made a blank-cheque offer to Red Bull Technical Director Adrian Newey, had hoped to close the gap to Mercedes in Spain, but instead found themselves behind not only the pacesetters, but also the two Red Bulls and Bottas' Williams, with Alonso and Kimi Raikkonen fighting over sixth and seventh.
"We would obviously like to be fighting for first and second but unfortunately today we were not quick enough and at the end we had different strategies and I was able to pass him," he said. "But we would rather be fighting for first and second.
"We haven't closed the gap like we intended and we need to close it in the next couple of races."