Christian Horner claims Renault behind as they 'started too late' on turbo engine
Rivals Mercedes have dominated start to F1's new era
By James Galloway
Last Updated: 16/05/14 4:50pm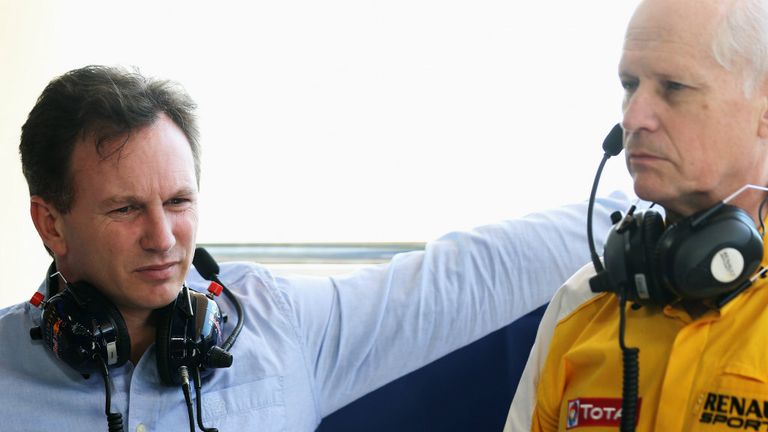 The Milton Keynes outfit have found themselves usurped by the Mercedes works team in the wake of the sport's winter switch to more energy-efficient engines and technologies and the quadruple title winners have now gone five races without a victory for the first time since their breakthrough campaign of 2009.
Enjoying the benefit of in-house chassis and engine operations, Mercedes have had a particularly long lead time for the development of their 2014 package following the announcement of the V6 turbo regulations back in 2011.
And although Renault are fast-improving both the reliability and performance of their power units after a disastrous pre-season, Red Bull's Team Principal believes the French firm have paid the price for being too slow off the mark.
"It's quite simple really: we've had a massive engine regulation change and Renault have turned up and they weren't as ready as some of their competitors were," the Red Bull Team Principal told Sky Sports F1 at the Spanish GP.
"So we've been playing catch-up. They're working tremendously hard at it and we're slowly closing that gap down.
"As you can see we've got a very good chassis, I just think that they started too late. It's as simple as that."
Pressed by Sky F1's Johnny Herbert as to why he reckoned Renault had started their programme late given that the French manufacturer, like Mercedes, had known about the introduction of V6 turbos for several years, Horner replied: "That's a very good question and perhaps one you should ask Renault because they were the guys who pushed very hard for this regulation change, so one would have thought that they'd have been the most prepared for it.
"The guys are having to recover lost ground and they've got a recovery plan, they're working to that, they're trying to close that gap.
"Mercedes, take nothing away from them, they've done a fantastic job and turned up with a very strong engine unit this year."