2014 Canadian GP: Daniel Ricciardo wins dramatic race as Nico Rosberg extends lead
First GP win for Australian; Mercedes beaten for the first time in 2014; Rosberg escapes penalty and survives technical woes to finish in second; Hamilton retires with brake failure; Perez and Massa escape unscathed from huge shunt
By Pete Gill
Last Updated: 17/06/14 10:43am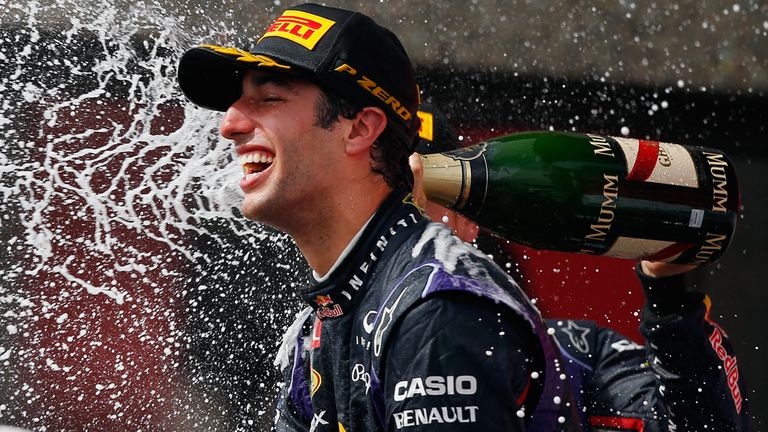 While Hamilton was forced to retire from the race due to brake failure, Rosberg rode his luck - escaping a penalty for cutting a chicane as he held on to the lead of the grand prix from a fired-up Hamilton - to move over 20 points clear at the top of the summit.
But this, in an utterly unexpected outcome that nobody could have predicted, was Ricciardo's day - and F1's as the sport served up two hours of riveting and controversial drama that ended in a heartstopping bang when Williams' Felipe Massa, chasing down Sergio Perez for fourth place, crashed heavily into the Force India. Both drivers were later released from hospital after a check-up, but Perez has been served with a grid penalty for next week's Austrian GP.
The immediate upshot on the track was Jenson Button being promoted to fourth place behind Sebastian Vettel after a late charge through the field and, more significantly, Ricciardo, the surprise package of the year, crossing the line for his first grand prix win behind the Safety Car - a conclusion utterly at odds with the chaotic bedlam that had just occurred.
First there was the Rosberg-Hamilton battle for the lead of the race after the Englishman recovered from being forced onto the grass at the first corner and the German's fortunate escape from official rebuke after cutting the chicane. Then there was the anarchy of a mid-race loss of power for both Mercedes' which suddenly brought half-a-dozen cars into play for victory as both Silver Arrows went into sharp reverse.
Hamilton's retirement was next on the breathless agenda, his Mercedes developing a chronic rear-brake failure, leaving Rosberg, still suffering a loss of power in his W05, buffered from the Red Bulls of Ricciardo and Vettel by the struggling Perez.
There were just three laps still on the clock when Ricciardo finally found a way through, crawling around the Force India and its worn-out tyres at the first corner, and the youngster - displaying the sort of Aussie grit that his Red Bull predecessor might recognise - immediately set about prising the lead of the race out of Rosberg's grasp, passing the German into the final chicane to the delight of the Montreal crowd. Has there ever been a more popular race winner than Ricciardo? It may be weeks before he stops smiling again.
"I'm still a bit in shock, this is ridiculous," he grinned on the podium. "I was struggling to pass Perez, but we got a run out of the last chicane and made a nice move into Turn One and set my sights on Nico. Then with a couple of laps to go I just found myself in the right spot to use DRS. It's an amazing feeling right now, I feel really grateful for this."
Finally, at the seventh time of asking, Mercedes have been beaten in 2014. Not, however, that Rosberg will necessarily view the day as a defeat after claiming an extra 18 points over the luckless Hamilton. Twice this season the Englishman has been forced to retire due to a technical malfunction - a misfortune that Rosberg has yet to experience in 2014.
"It was a big battle all the way," said Nico afterwards. "I didn't have the best getaway but I got better through Turn One so managed to keep the lead and from then on it was a big battle all the way through. I managed to stay ahead until the second pit-stop and then we had a problem at the pit-stop and I dropped behind as a result. Then I didn't really know what was going on because I lost a lot of power, so I was very slow down the straights and I just tried to hang on, put qualifying laps in all the time, but it didn't work out against Daniel."
It certainly didn't work out for Hamilton as the 2008 World Champion forlornly parked up his W05 just moments after emerging from his second and final pit-stop ahead of Rosberg. All of a sudden, his World Championship deficit has assumed ominous proportions.
"I've had a lot of work to do since race one - that is now two DNFs that I have had and zero for Nico," noted Hamilton.
"The thing is, I was following him and when you are following someone you are getting more heat - he was in clean air the whole time in front and so there was not really much I could do. When I finally came out in front, I think by then everything was already cooked so there was nothing I could do."
But the last word must belong to Ricciardo.
"I'm still a bit in shock," Daniel admitted as he surveyed the scene from the top step of the podium after the first of what will be surely many race victories as a new star dawns in F1. "This is ridiculous."
The Canadian GP certainly was that.
PG