Sebastian Vettel says Daniel Ricciardo is not giving him 'a harder time' than Mark Webber
German has been out-raced six times in seven races in 2014
By William Esler
Last Updated: 19/06/14 6:47pm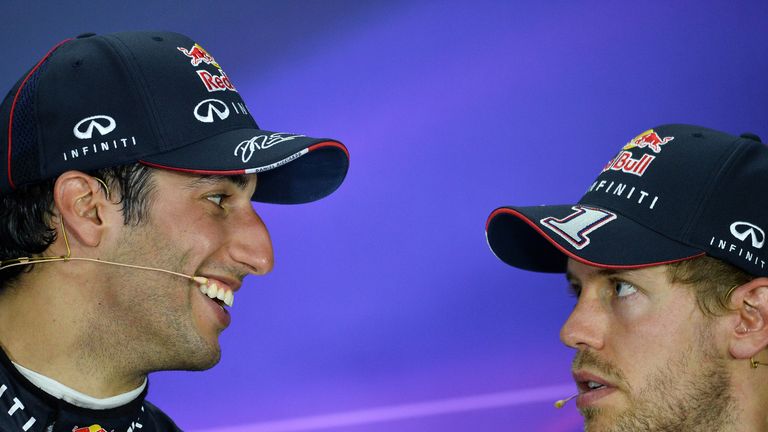 Sebastian Vettel says Daniel Ricciardo is not giving him "a harder time" than Mark Webber, the German instead blaming technical issues for his six-one deficit in races this season.
The World Champion has yet to beat his new team-mate when both drivers have finished a grand prix this year, a marked difference to 2013 when he crossed the line ahead of Webber at every race he completed.
"I think it hasn't been a very smooth year on my side, obviously we had a lot of difficulties to overcome. But if you look at where we started in winter testing and where we are now it is a big step," Vettel told reporters ahead of the Austrian GP.
"I wouldn't say that he is giving me a harder time than I was used to. Obviously if you look at the results it is clear that he has been in front most of the time and in the past I was in front of Mark most of the time, but equally each race writes its own story and there are always two sides to each story. 
"I think he is going a very good job, I am not doubting that and he is able to get the maximum out of the car which he has been since race one, which is good. On my side we had a couple of things to overcome, but it is good to see the other half is doing well."
The World Champion admits the 2014 regulations have made it more difficult for him to find a balance he is happy with, but is hopeful the team can make him more comfortable in the car.
"With the MGU-K recovery and the H recovery and so on there are a lot of things that can upset the driving feel and it is up to us the teams and the drivers to set it up accordingly so you get back to a normal race-car feeling," he added.
"I think we are making progress, sometimes you go one step forwards, other weekends you make a step back. There is a lot experimenting going on, the tools that we have are very different to last year and trying to set them up and having them communicate to each other in the right manner and give you the right feel inside the car is extremely complicated and takes a lot of work – particularly for the engineers to come up with the right code and the right software and to get in the right direction. 
"It is not as easy as, 'Change this, change that and that will solve the problem' but I think we are already on a good way, there is always lots of things to test and ideally we would like to have more time on track. But this year you have the limits of mileage on a Friday that you have to deal with so it is not always straightforward. But to sum it up we have made a lot of progress in terms of feel, in terms of how comfortable I am in the car and I am sure there is still more to come. 
"But then again to express in terms of lap time it is very difficult because it is not that straightforward to measure how much lap time there is in feeling comfortable and not feeling comfortable – sometimes it is more, sometimes it is less depending on the track."
Both Red Bull cars finished on the podium at the previous race in Canada, with Ricciardo winning the event to break Mercedes' 100 per cent record, but Vettel is still not satisfied with their pace.
"When we had a clean weekend in terms of performance we were alright," he said. 
"Would I have loved to have been quicker? Yes, and that means there is still a lot of work ahead of us to try and get the car in the right window for me to hopefully extract a little bit more and close the gap to Mercedes."
This weekend's Austrian GP is live only on Sky Sports F1. Race Day coverage begins with the Track Parade at 11.30am on Sunday