'Shocked' Williams team now hope to prove FW36 is race winner in Austrian GP
Felipe Massa admits his first pole since 2008 "emotional"; Sir Frank Williams believes team can show they have race-winning pace
By James Galloway
Last Updated: 22/06/14 10:58am
Williams have expressed their surprise and delight after Felipe Massa and Valtteri Bottas claimed a stunning front-row lockout for the team at the Austrian GP – with their owner now boldly predicting they can "prove that we have a very good race-winning car" on Sunday.
In the most unexpected result of the Mercedes-dominated season so far, Williams became the first team to deny the championship leaders pole position in 2014 and in the process claim their own first front-row lockout since the 2003 German GP - back when the Grove outfit were still a regular race-winning force.
Deputy Team Principal Claire Williams admitted that toppling Mercedes had come as a surprise but said the result was reward for the major restructuring work that has gone on at the team over the past year.
"I'm in a bit of shock, I think maybe everyone is," she told Sky Sports F1 after Massa took Williams' first pole since Pastor Maldonado's in Spain two years ago.
"But that's the result of a lot of hard work that's been going on behind the scenes over a long time now and I'm so happy for everyone in the team here and at Grove. They deserve it.
"I'm not sure we necessarily expected this today, but I'm so happy for Felipe, he deserves this. He's had a lot of bad luck over the past few races and I just hope we can now work on a really good strategy for tomorrow and capitalise on these positions because we have got to score a lot of points tomorrow."
For Massa, Saturday's qualifying result in Austria represented a particularly personal emotional achievement given it came 95 races after his last pole and six months after he was released by long-time employers Ferrari.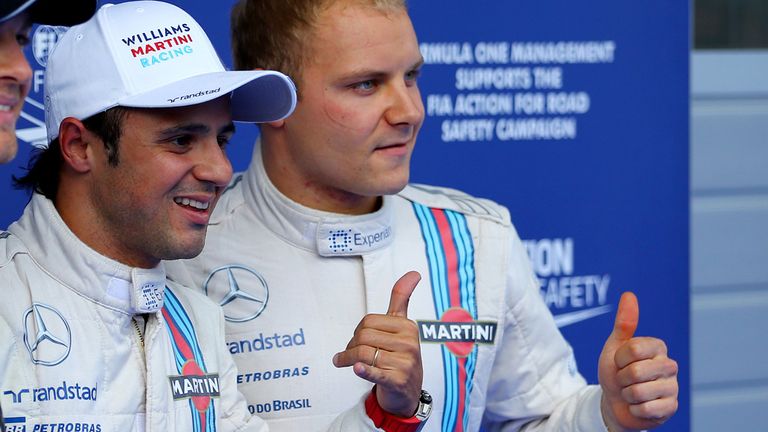 "I'm so happy what's happened today with us, our team. It was such a great moment," the 33-year-old said. "It was already a long time when I had my last pole position, which was in Brazil 2008, so it's such an incredible moment.
"For sure we need to concentrate on the race for tomorrow, it's a very difficult and important race for us, but I think it's a great moment. The best place to be is here on the first place. It's something I got the chance to be many times in all my career and I am again now. So after a long time that I couldn't be on this place I hope this can be the beginning on maybe some great possibilities to be here again – not just in the qualifying but in the race,
"The race is tomorrow but I'm so happy and very emotional. Not just for me, I think it's a similar feelings from what I feel and what Williams feel. Williams had an incredible career in the past and they are back to the top, they are back to the fight. There's still a lot to do but I think the work is going on that line and I'm so pleased for me and Williams as well."
Although he had held provisional pole up until the final Q3 runs, Bottas put aside any disappointment at missing out on a first F1 pole to express his delight for Williams. The Finn, however, is expecting a battle to hold position in the race.
"Best position so far. I'm really happy for us as a team, the result is really good at this point," he said. "We've made some big, big steps from last year and now we get a result like this. Of course, it's only Saturday, but still we can see all the hard work starts to pay off and I'm really happy for us.
"The race is tomorrow so we need to focus on that. It's going to be a different story tomorrow – it's not going to be easy to keep the Mercedes cars behind, and even some other cars like Ferrari and Red Bull are going to be strong."
Having made a big step forward in performance from last year when they scored a measly five points, Williams are currently sixth in the standings on 58 points and within 20 of fourth-placed Force India.
Massa, who lost out on a possible podium last time out in Canada after a last-lap crash with Sergio Perez, is aiming to capitalise on higher starting berths this time round.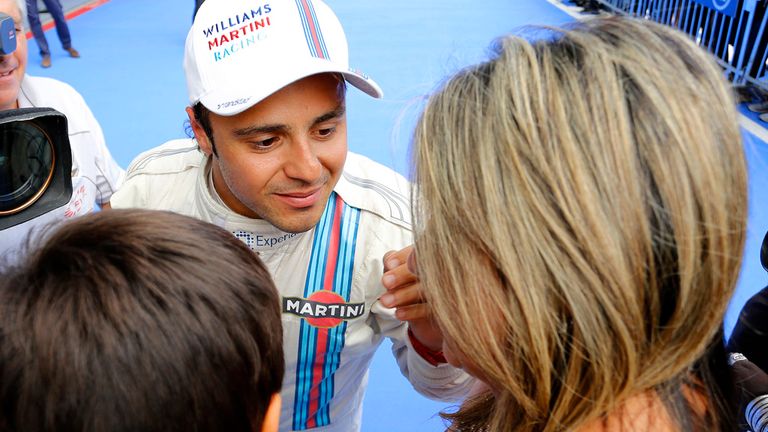 "We need to try and do the best we can," the Brazilian insisted. "I think we have a good car, definitely we showed that we have a very competitive car since yesterday morning. I think what's happen in the last race is past. You can't live in the past, we need to live in the present and the future. We lost some great points in Canada.
"We start in a better position which always help and we need to see how Mercedes are in the race, but we will try everything we can [to win] obviously."
And winning Sunday's race is firmly on team boss Sir Frank Williams' mind. The legendary Grove outfit have claimed more grands prix victories than everyone bar Ferrari and McLaren, but Maldonado's 2012 success is their only triumph in the last decade.
"Talk's cheap but I think tomorrow we'll prove that we have a very good race-winning car," Williams declared to Sky F1.
"I think we are in with a good chance, but I always take a very cautionary view because an awful lot of things can go wrong during the race or even before the race."
This weekend's Austrian GP is live only on Sky Sports F1. Race Day coverage begins with the Track Parade at 11.30am on Sunday