Paul Hembery denies that Pirelli's tyres are too conservative this season
Supplier says F1's technical change made it necessary for a re-think
By Mike Wise
Last Updated: 02/07/14 4:31pm
Pirelli's Paul Hembery has said F1's big technical change made it necessary for a re-think on tyres but denied that this year's rubber is too conservative.
A number of drivers have suggested this season that Pirelli have 'played safe' with their rubber as they've adapted to new hybrid cars which have less grip than their predecessors but also more torque.
Stung by negative publicity they've received in the past, Pirelli have provided harder rubber this season. Even so, Hembery insisted the Italian manufacturer hasn't played it cautiously.
"Conservative is, I don't think, really the right word," Hembery, Pirelli's Motorsport Director, told Sky Sports News. "I think we had to take a little step back; we certainly couldn't have been as aggressive as we've been in the last three years, where the teams, I would say, had to really engineer a solution to getting the best out of the tyres. And that's why you had a lot of very dramatically different strategies.
"This year, it's certainly a lot easier for the teams, they're able to manage their strategies in almost a linear way. You see the majority of races with people following almost the same strategy but I think that was necessary with such a big technical change."
After three years of criticism that their tyres were too brittle – Pirelli's response had always been that they were merely doing as instructed by the sport's powers-that-be to spice up 'the show' – matters came to a head at last year's British GP.
Several drivers, including early race leader Lewis Hamilton, suffered tyre failures and although some teams were discovered to have gone beyond recommended camber and pressure levels – and even swapped the rears over to prolong tyre life - Pirelli were also forced to change their design for safety reasons.
Unlike in the past, they have also had the benefit of testing with current cars this year and Hembery said the change has been crucial.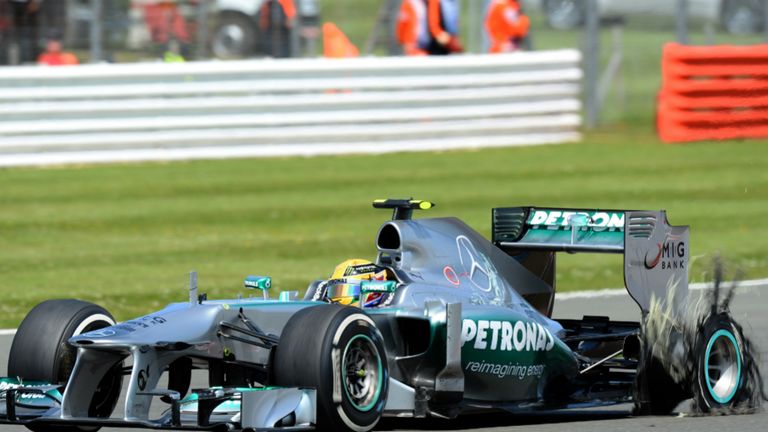 "I think the main area we've worked hard on is having more information from the teams about the race of development of the cars, which incidentally this year is going to be double what it is historically," he added.
"Normally you'd get a two-second improvement in lap time over a season from the start to the end; this year we're talking about four. And assuming that the engines are fixed more or less fixed now, that's going to come a lot from increased aero and increased cornering.
"Increased cornering has an impact on the tyre, so we're monitoring very carefully the data that we're getting from the teams and making sure we understand what steps in performance they're all going under."
Watch the 2014 British GP live on Sky Sports F1. Extensive coverage of the Silverstone race weekend begins with Friday Practice from 9.45am on July 4.