Lewis Hamilton 'gutted' to be denied duel for British GP victory with Nico Rosberg
Hamilton moves to within four points of Rosberg with his Silverstone victory; Mercedes driver to reconsider his approach to qualifying
By Pete Gill
Last Updated: 07/07/14 8:59am
Lewis Hamilton says he was "gutted" to have been denied a wheel-to-wheel battle with Nico Rosberg for victory of the British GP by the gearbox failure on the German's Mercedes midway through the race.
After taking just four laps to charge through to second place from sixth on the grid after his bewildering error in qualifying, Hamilton was quickly closing in on Rosberg for the lead of the Silverstone race prior to his team-mate's gearbox problem becoming terminal on lap 30. If the europhia of the partisan crowd was tinged with disappointment at being denied by the spectacle of the Mercedes pair duelling for victory, it was an emotion shared by Hamilton himself.
"I was gutted not to have a wheel-to-wheel race," Hamilton told Sky Sports F1. "I went to the prime tyre and he was on the options and yet I was catching him at the time. I knew then that at the end of the race on the option tyre I was going to be in a position to fight to him and I was so excited for that.
"I don't want anything bad for my team-mate. I want him to be at his best and me to be at my best so we can really see the difference."
Speaking in the post-race press conference, Hamilton's confident belief that he was the faster driver on the day was abundantly clear.
"I really felt I had the pace on Nico, that I was hunting him down like never before. I have the pace, I just have to put the laps together, and when I do I think that the opportunities will come," he said.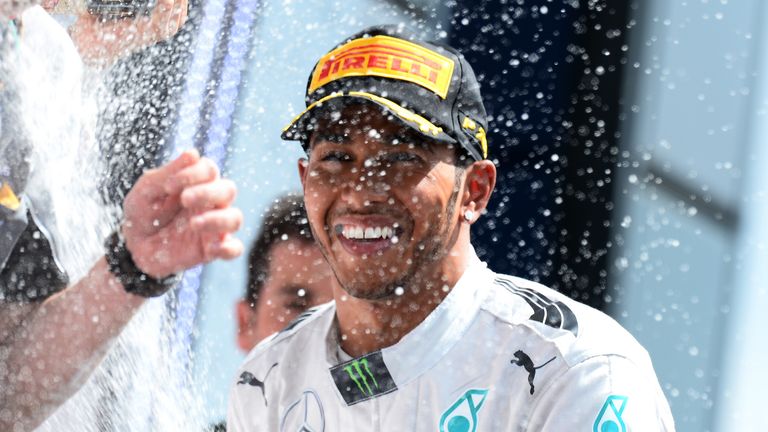 It's unclear to what extent Hamilton's speed superiority over Rosberg on Sunday after the first round of pit-stops – during which period the Englishman, as become customary this year, lost nearly two seconds to his team-mate – was due to the worsening condition of Rosberg's gearbox. Yet while Nico's misfortune ought to dilute acclaim for the 27th victory of Hamilton's career, it should also not go overlooked that, once he had muscled his way past the two McLarens, Hamilton had trimmed his team-mate's lead from over five seconds to less than three before the World Championship leader pitted for his first stop.
Hamilton's speed advantage over Rosberg was apparent all weekend – with the solitary exception of qualifying when he pitted at the conclusion of the pole position shoot-out, unaware that the track had dried out in the final sector.
Whilst a different kind of error to those he committed in Canada and Austria, the lapse prolonged a worrying trend which has seen Hamilton hand the initiative to his team-mate on a day when his speed superiority should have made him untouchable. Not since Spain in early May has Hamilton secured a pole position - a shortfall he knows he has to address.
"I really need to take a couple of steps back and analyse," Hamilton acknowledged to Sky F1. "Qualifying has always been my strength above all else and in the last three races or so it's been pretty shocking. So I need to have a word with myself, fix it for the next race, and maybe change my approach – but I will do something."
Just four points - half the difference between first and second place - now separate Hamilton and Rosberg in the Drivers' Championship and the Englishman says the season will start afresh in two weeks' time at his team-mate's home race, the German GP.
"We can now draw a line under the last nine races," Hamilton declared. "It's attack-mode now."