Silverstone in-season test Day Two: Ferrari sub Jules Bianchi goes fastest
Raikkonen's stand-in P1 as Pirelli debut 18-inch tyres
By Mike Wise
Last Updated: 09/07/14 8:21pm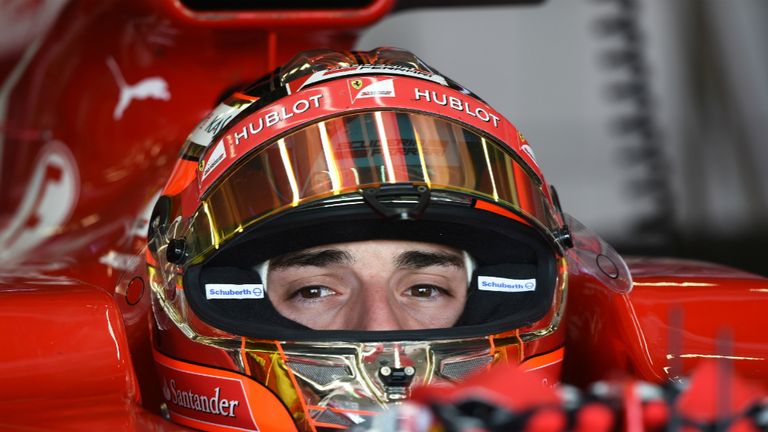 Standing in for Kimi Raikkonen at Ferrari, Jules Bianchi was fastest on the second and final day of the Silverstone in-season test.
The 24-year-old Frenchman tested for regular team Marussia on Tuesday but was drafted in by the Scuderia to give Raikkonen time to recover from the heavy crash he suffered on the first lap of Sunday's British GP.
Bianchi, a Ferrari development driver, responded by setting a time of 1:35.262s around the 3.66-mile track. It was about 0.3s faster than the day's second-fastest driver, Toro Rosso's Daniil Kvyat, and also compared favourably to the quickest times set during British GP practice by Raikkonen (1:36.554s) and Fernando Alonso (1:35.244s).
"By the end of the day I got a really good feeling in the car, even if at the start, it was not so easy adapting to a car that's very different to the one I race," he said. "The parameters are completely different and I spent the first runs getting used to it.
"Putting on a Ferrari race suit is always a special feeling and I hope one day I can wear it as a race driver, even if I have a lot to learn."
The day's main talking point, though, was the debut of Pirelli's 18-inch concept tyre. The honour of trying the rubber - which could be introduced to F1 in 2017 if the sport decides to follow its switch to hybrid power and seek even greater road-car relevance - fell to Lotus reserve Charles Pic and the Frenchman set a best time of 1:44.728s in 14 laps.
Pic later returned to the track on the more usual 13-inch rims and eventually set times about nine seconds faster although, according to Pirelli motorsport director Paul Hembery, performance wasn't exactly the priority.
Third fastest behind Kvyat came McLaren's Kevin Magnussen, with Sauber reserve Giedo van der Garde fourth although he crashed at Copse towards the end of the session.
"During my last outing on the soft tyres, I unfortunately lost the rear of the car and went into the barrier on my second lap when I was pushing," the Dutchman said. "It was a hard crash, but luckily I am fine."
Returning to the scene of his British GP success, Lewis Hamilton was P5 but made an inauspicious start when, after conducting a series of slow aerodynamic evaluation runs, he spun off the track at Stowe corner and brought the session to a halt.
Cold tyres were blamed but Hamilton then spent the best part of five hours on the sidelines as Mercedes changed the engine on his W05. He eventually managed to complete 47 laps but admitted afterwards that it "wasn't an easy day".
"We had great weather but unfortunately had some problems at the start of the day which meant we lost some track time," said Hamilton, who worked on setup, aero development testing and data collection, as well as engine settings.
"The guys did a fantastic job to get the car ready again and we were able to put together a few successful runs."
As was the case at the weekend, Valtteri Bottas followed Hamilton with the sixth fastest time for Williams, with Max Chilton's Marussia P7 ahead of the Force India driven by reserve Dani Juncadella. 
Sebastian Vettel was ninth fastest, with the World Champion spending the day testing 2015 tyres for Pirelli - although his running was also limited when Red Bull had to change a power unit.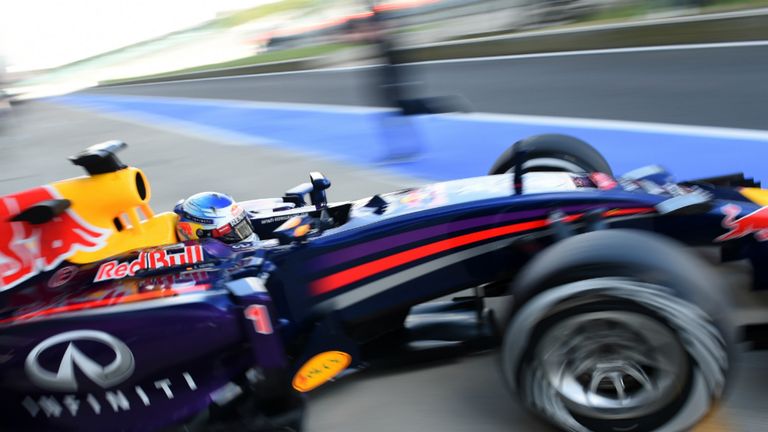 "We did all the work we could for Pirelli," Vettel said. "It was a shame we had to change the engine but the boys did a great job and we got in a solid two hours of track time at the end.
"We tried a lot of tyres for next year, which was interesting."
Next up came Pic while Julian Leal completed the order after Caterham handed the Colombian his first taste of F1.
A power unit problem also sidelined Leal for a large part of the day, but the 24-year-old did manage to complete 51 laps - and therefore meet the 300km requirement to qualify for an FIA superlicence.
Silverstone in-season test, Day Two times:
1) Jules Bianchi, Ferrari, 1:35.262, 89 laps
2) Daniil Kvyat, Toro Rosso, 1:35.544, 55 laps
3) Kevin Magnussen, McLaren, 1:35.593, 91 laps
4) Giedo van der Garde, Sauber, 1:36.327, 84 laps
5) Lewis Hamilton, Mercedes, 1:36.680, 47 laps
6) Valtteri Bottas, Williams, 1:37.193, 40 laps
7) Max Chilton, Marussia, 1:37.359, 77 laps
8) Dani Juncadella, Force India, 1:37.708, 52 laps
9) Sebastian Vettel, Red Bull, 1:39.811, 76 laps
10) Charles Pic, Lotus 1:41.906, 39 laps
11) Julian Leal, Caterham, 1:42.635, 51 laps.