McLaren's Eric Boullier aware 2015 wait leaves Button & Magnussen 'uncomfortable'
French team chief reveals McLaren planning for up to five years ahead
By James Galloway
Last Updated: 27/08/14 12:23pm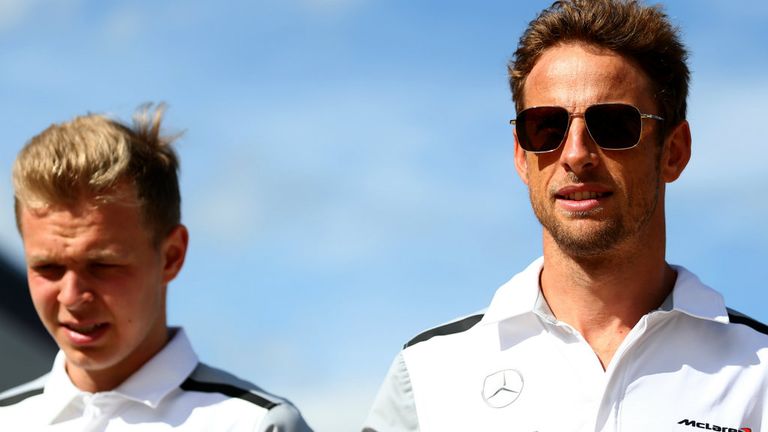 Eric Boullier has stressed that McLaren's ongoing long-term planning over their driver line-up has to take priority even if their current pairing of Jenson Button and Kevin Magnussen understandably feel "uncomfortable" over their 2015 plans.
Despite neither of their drivers currently being confirmed as in possession of a seat at the team beyond the end of the season, and the current campaign having just seven races to run, McLaren's management have made clear for some time that they are in no rush to finalise their 2015 line-up when Honda return to the team as engine supplier.
McLaren have been linked with moves for some of the sport's biggest-name drivers despite Fernando Alonso, Lewis Hamilton and Sebastian Vettel, for instance, all being under contract with their respective teams for next year. Perhaps more realistically for 2015 at least, therefore, rising Williams star Valtteri Bottas and McLaren's own protégé Stoffel Vandoorne are also rumoured to be in the frame.
Boullier, who joined the team in January to the newly-created role of Racing Director following Ron Dennis's return to the helm of the Woking operation, revealed McLaren were thinking up to five years ahead in their driver planning as they work towards settling on a line-up for the start of their new Honda era.
"We are working on the strategy for the driver line-up for the next years," the Frenchman was quoted as saying by the official F1 website. "For me it's important to say 'years' because we are looking for three years and maybe five years. 
"It's true that with Ron being back since January and me being new in to the team we have asked for a little bit more time than necessary, but we can afford this time, even if it is uncomfortable for the drivers, which I understand. We have to put our priorities [first]."
Despite offering no assurances that either experienced team leader Button, who turns 35 in January, or Danish rookie Magnussen's positions in the team are safe beyond the end of the season, Boullier stated that both drivers were driving above expectations.
"They have performed better than we could have expected," he added.
"First of all we didn't give them a good enough car, and of course the worse the car is, the more difficult it is to drive. We are now trying to bring performance as fast as we can."
One rumour doing the rounds in recent weeks suggested Button and Bottas could effectively 'job swap' for 2015 with the Finn switching to Woking and the Briton returning to the team with which he began his career at the start of the century.
Button has, however, publicly expressed optimism that he will be offered a contract extension to stay at McLaren into a sixth campaign. 
This week's Midweek Report will first be shown at 8.30pm on Wednesday on Sky Sports F1 with Reuters' Alan Baldwin and Alex Brundle joining Anna Woolhouse in the studio to dissect the Spa fallout