Sky Sports F1 Exclusive: Pastor Maldonado on Lotus, Williams and his reputation
"So many drivers are doing something even worse than me," says Pastor as the 'bad boy' of the grid battles to change public perception
By Mike Wise
Last Updated: 01/09/14 12:51pm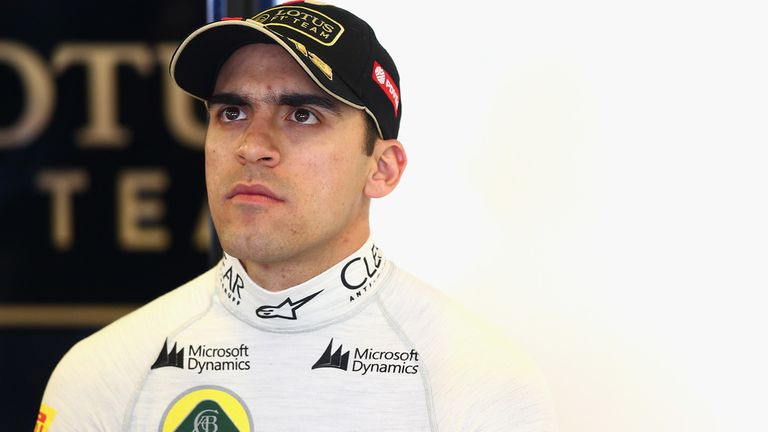 Which driver most divides opinion the most in F1? Lewis? Sebastian? Nico must be on the list now as well. To these names add that of Pastor Maldonado, although in his case opinion doesn't split like, say, a fork in a road. If it did, then one route would be permanently clogged with traffic.
Has F1 had a more controversial presence these past few years? When Lotus announced last December that the Venezuelan was heading their way, fans wailed like banshees; never mind the gimmickry of double points or the lost shrill thrill of the V8, what's he still doing here? Adding to the sense of injustice was that the Enstone team had picked him over Nico Hulkenberg – F1's most maligned driver preferred to its most under-rated. The reason for the decision had little to do with sport, of course, but such considerations meant little.
So Pastor was back. And, let's face it, he's probably here to stay for a while, just so long as Venezuela keeps producing millions of barrels of oil, its people keep electing governments with a Bolivarian view of how socialism can affect change and that romance continues to manifest itself as largesse – oodles of petro-dollars, in other words, doled out amongst its sporting stars (reputedly upwards of $40million in Maldonado's case).
At times, it seems as though the credit granted him by PDVSA is all Maldonado has. The debit column overflows by comparison: a steady stream of crashes, bashes and pratfalls that have sometimes veered towards comedy. It could be argued that advances in safety have allowed a more cartoonish element to creep in – the coyote getting squashed flat by the falling safe but waddling off to fight another day - although it's unlikely that, say, Esteban Gutierrez saw the funny side after his close encounters in Bahrain and at Silverstone.

Besides the erraticism and controversy, there's a quirkiness about Maldonado and it's apparent the moment he bounds into Lotus's motorhome for our interview. Slamming to a halt with an air of frantic bewilderment, Pastor does a fairly good impression of Lee Evans for a few seconds before Sky Sports Online registers its presence. Then he bursts out laughing.
Not that he and Lotus have had much to smile about so far. "Really bad," is how Maldonado sums up their season to date, which started with the late delivery of their E22 chassis and quickly became mired in Renault power unit problems. "It's difficult to make a point this season, just because I haven't even been able to race at most of the races."
According to Maldonado, "most of the problems have been around the power unit, down to Renault. For sure, we don't have the best car or the perfect car on the grid but in my personal opinion we have a good car, a competitive car. Every time we are not having any problems we are very close to fighting the good teams – maybe not with Mercedes, which is miles away from the real pace. But to be honest a very tough season, from the reliability point of view especially.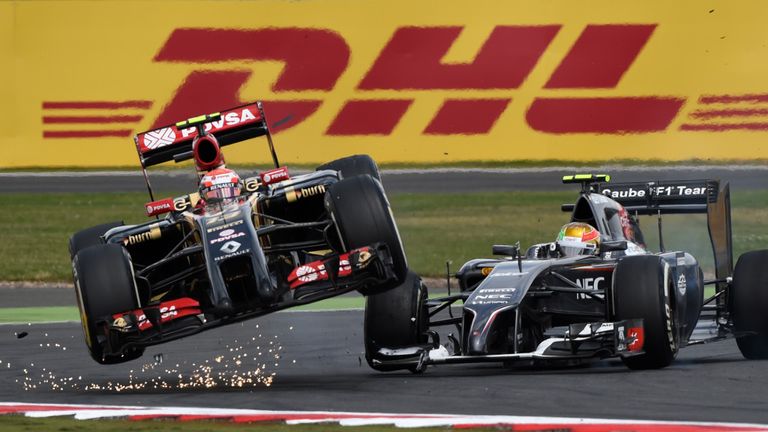 "It's not only the reliability, it's the power. We don't have the power; it's not that we can say, 'Okay this race the car stopped for the engine but the next one we're going to win. The next one we will not struggle a lot because maybe it's a fast track' or whatever, you know? So it's been very, very difficult because we're been fighting against the reliability and still fighting against the power of the car.
"The lack of top speed is very weak; we are not even able to defend or attack the cars on racing."
Maldonado's references to a lack of top speed on fast tracks suggest he's been casting a wistful eye back at Williams. It's understandable: the Grove team's leap back to the sharp end after their dire 2013 has been the feelgood story of the season so far, but their rise has compounded the woes of their ex-driver, who finds himself saddled with a donkey for the second year in a row and with only one points finish in 32 races.
Yet Maldonado claims not even a twinge of regret. "I spent three years in Williams. It's a thing I love," he insists. "I find good friends, good people in the team. I feel welcome in the team but after three years maybe I was expecting something more from the team."
But not something shaped like a Mercedes power unit. "Especially in the last year, everyone was expecting something like a big step forward like they did this year," Maldonado adds. "In my personal opinion, they didn't have any big jump in terms of aerodynamics or the total package. They got the engine, they have a good run because they've always had a good car; maybe last year was not a good car but they are used to having a good car. But the engine now is making it different.
"They have a good chassis but it's not a great chassis. It's not the second chassis on the grid. That's the reality."
Added to charge sheet drawn up by Maldonado's critics was the curious incident in Austin last year when, having been comprehensively outqualified by team-mate Valtteri Bottas, he suggested that Williams had sabotaged his car. The storm blew over quickly enough, and Maldonado left soon afterwards anyway, although it's difficult to gauge whether he feels any happier now. "I don't feel better or worse personally but I feel different in Lotus, which is positive and that's it."
Maybe it was simply time for a change but what certainly hasn't changed is his reputation. It's a potentially thorny subject but Maldonado is open enough; in fact, he's determined to put a positive spin on things. "I can hear so many things about the other drivers as well. Like Kimi, he's very popular, Fernando's very popular, maybe me; I'm one of the most popular guys," he insists. "For good things and even for bad things, it's not only for the bad news.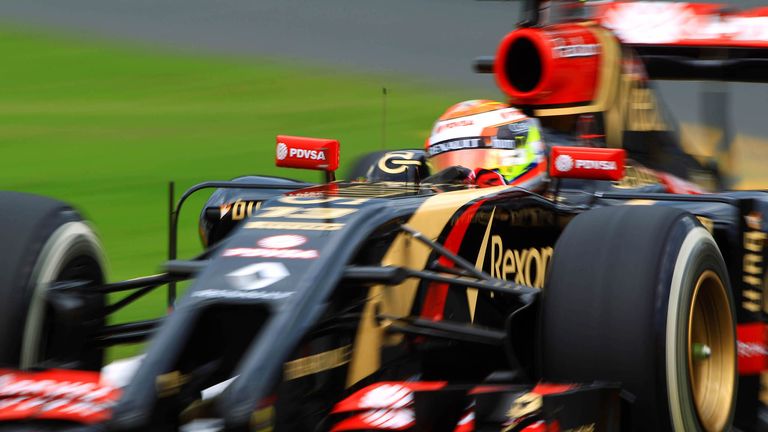 "I remember when I won: it was a real revolution in Formula 1 - from my win, my victory. But at the same time, maybe when I do something wrong and it's a big impact, I can easily see that. So many drivers are doing something even worse than me and nothing's talked about it."
But don't you think that's unfair? "How can you stop it or change it? I would like all the people to always talk good and sometimes when you make a mistake it's normal. [But] so many other drivers are never mistaking or doing less mistakes and they are talking as well, like Kimi. Kimi seems to be a 'stupid driver' now and only a few months ago he was nearly winning the races. Formula 1 is like that."
Maldonado it shrugs off and reckons another tag he has long held, that of a 'pay driver', doesn't even apply these days. Again there are comparisons with drivers whose reputations cast a shadow over his. "They are not talking anymore about it," he insists. "It changed; it changed a lot, especially after my victory because in the past all the pay drivers we had in the small teams, they never won, they never got to the podium. They were always in Formula 1 for one or two seasons then they stop.
"There's a different point of view how to see it: I have a sponsor, this is clear. I have a sponsor – which is not my sponsor, it is a team sponsor – Fernando has the same with Santander, maybe Blackberry for Hamilton."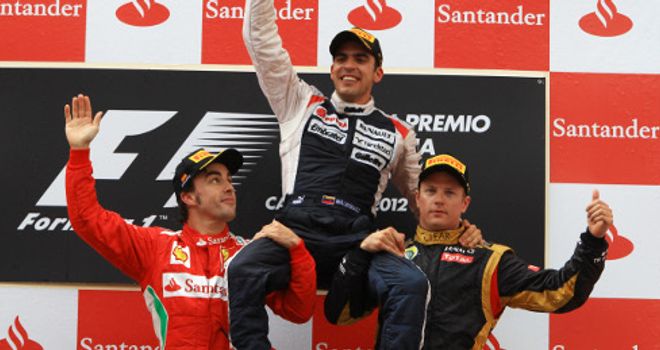 By now, you may have noticed that Maldonado has started mentioning his grand prix victory. While the finest QCs in the land might struggle to argue that his reputation is comparable to those of Kimi or Fernando or Lewis, or that the latter pair might be classed as 'pay drivers', what is immutable is the fact that he is a winner like they are. What's more, his victory in Barcelona two years ago was fully deserved and he beat Alonso and Raikkonen to boot. In light of all the flak Pastor gets, it's no wonder he clings on to May 13th 2012 for dear life.
"It was a clearly good race for me; I show everyone that I can win, even in Formula 1," he says. "I don't know how many drivers can say that. If I remember, I won in all the categories I did in the past and it was a good challenge, a big challenge, to win in Formula 1.
"Formula 1 is even more difficult because you don't find similar cars for the drivers. You need to have the full support from the team, from the engine, all the package needs to work. You need to be smart; you need to be fully prepared. It was my first time starting from the pole in Formula 1, it was my first time fighting for a victory with Fernando, with Kimi, two very experienced champions, and I did it."
He certainly did, but what happened next was pivotal. The expectation might have been that, in only his second F1 season, Maldonado would find the wherewithal to move it up a level – the sort of metamorphosis that Daniel Ricciardo is undergoing right now – and also calm down a bit. His GP2 success in 2010 offers supporting evidence that a fine driver lurks in there somewhere. But any hopes that Pastor had turned a corner were dashed at the very next race in Monaco, when he clobbered Sergio Perez's Sauber during practice.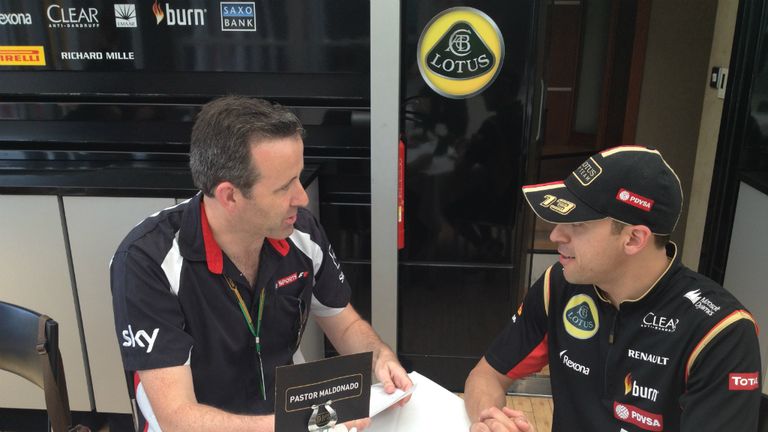 There were flashes in Singapore (P2 on the grid behind Hamilton before retirement) and Abu Dhabi (P3 on the grid before finishing fifth, his second best result in F1) later that season but otherwise it's been frustration all the way, the errors compounded by poor machinery. And whilst it's clear that Maldonado doesn't have the potential of Bottas or current team-mate Romain Grosjean, does that mean he has no place in F1?
In a sense, it's beside the point. Formula 1 has never been a meritocracy; money has always talked and Maldonado's win adds gravitas to his voice. Perhaps it's best to sum him up as a driver cut from the same cloth as, say, Vittorio Brambilla or Andrea de Cesaris: undoubtedly fast, yet with a tendency towards mishap that occasionally borders on farce. But entertainment is the bottom line, right? And Pastor, who has already been confirmed by Lotus for 2015, is nothing if not a character.
He's also optimistic. "Sometimes you are good, sometimes you are bad," he adds. "Unfortunately these two years are going badly but if this is a wheel then I hope the wheel turns to me quickly and I will have a good car and solid car to show my potential to win because it's the only thing I want. And to enjoy."