Force India request review of Jean-Eric Vergne's timed penalty in Singapore
Team claim rivals started work on Vergne's car before full five-second time penalty had elapsed on lap 24; Vergne finished two seconds ahead of Force India's Sergio Perez at chequered flag in sixth.
By James Galloway
Last Updated: 03/10/14 10:59am
Force India have asked the FIA to review what they believe is 'new evidence' showing that Toro Rosso didn't fully apply Jean-Eric Vergne first five-second time penalty in the Singapore GP.
Vergne finished one place and 2.2 seconds ahead of Force India's Sergio Perez in a career-best sixth place at Marina Bay after a late surge through the field despite the Frenchman incurring two separate five-time time penalties for driving infringements during the race.
Under the new-for-2014 regulations, five-second time penalties can be imposed on drivers for minor infringements and Vergne was twice hit with such sanctions for running off the track and gaining a "lasting advantage" at Turn Seven.
While Vergne's second penalty was issued after his third and final pitstop of the race on lap 44, meaning the five seconds was added to his time after the race – something which didn't affect his sixth-place finish in the final classification – Force India believe that Toro Rosso broke Article 16.4c of the Sporting Regulations when applying Vergne's first time penalty on lap 24 by commencing work on the car before the full five seconds had elapsed. 
Article 16.4c of the regulations dictates that "whilst a car is stationary in the pit lane as a result of incurring a penalty under Article 16.3(a) above it may not be worked on until the car has been stationary for at least five seconds."
"The rule is that you can't start work on the car from the time you stop until five seconds have elapsed and we believe, by reviewing some video evidence after the race, that Toro Rosso started to remove those wheels at about 4.4 seconds," Force India's Chief Operating Officer Otmar Szafnauer told Sky Sports F1 at the Japanese GP.
"So he really didn't serve the five-second penalty and we are asking the FIA to review it in light of new evidence."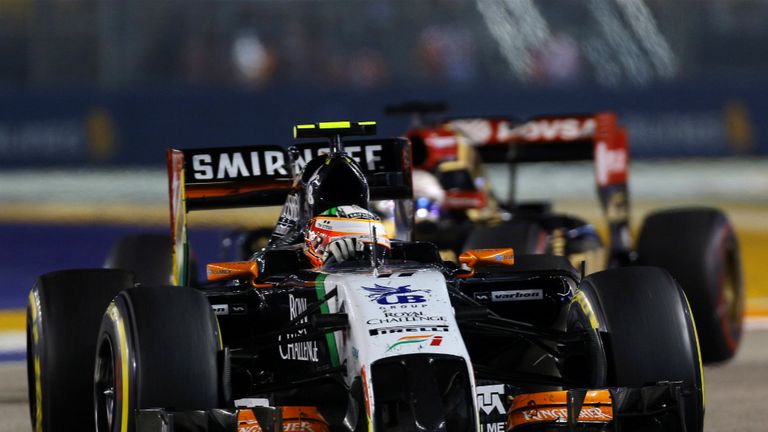 Article 13.10 of the FIA's International Sporting Code permits stewards to re-investigate a case if a "new element" comes to light and Szafnauer is confident the governing body will fully examine the new evidence brought to them.
"The FIA wouldn't brush something like that under the carpet, it is a sporting regulation that they didn't comply with so it is pretty cut and dry," he added.
"You just have to time it and add the appropriate five seconds to his race time. I think the rule is if you don't serve it in a pit-stop then it is just added on, so it's pretty simple to me. As far as the process I am not that sure, but I believe the stewards here can judge that too."
Although Vergne finished ahead of Perez by more than the six tenths of a second margin Force India claim Toro Rosso erred by, Sky F1's David Croft commented: "If you remember, Vergne came out onto the track right behind Kimi Raikkonen and got past Raikkonen very quickly at a point at the Singapore circuit where you can overtake. So maybe he would have benefitted from that and not being stuck behind Raikkonen another half a lap."
Any additional points would prove particularly valuable for Force India as they are currently locked in a tight battle with McLaren for fifth place in the Constructors' Championship, the Silverstone outfit currently holding a six-point advantage heading into this weekend's Suzuka race.
The 2014 Japanese GP is live on Sky Sports F1 this weekend. Extensive coverage of Race Day at Suzuka begins at 5.30am on Sunday with lights out at 7am.