Ron Dennis denies that McLaren have already signed Fernando Alonso for 2015
"I've talked to every driver at the top-end of the pitlane," McLaren boss tells Sky F1 in exclusive interview to air on Sunday
By Pete Gill
Last Updated: 17/10/14 5:19pm
Ron Dennis has denied that McLaren have re-signed Fernando Alonso but provided a bullish prognosis of the team's prospects in 2015 as the Spaniard mulls over his future plans.
Alonso and Ferrari are believed to have terminated the final two years on his contract with the Scuderia, paving the way for Sebastian Vettel to join the Italian outfit and a return to McLaren for the Spaniard.
"I still have not decided completely. I have a plan in my head, I have had my mind set for the last two or three months," Alonso told Sky F1 on Saturday.
With Mercedes ruling out signing Alonso, and Red Bull appointing Daniil Kvyat as Vettel's successor, Alonso's only realistic option for next season, other than taking a sabbatical or plummeting down the grid, would appear to be the McLaren team he left seven years ago after a solitary tumultuous season marred by the infamous Spygate scandal.
"None of our drivers are signed for 2015," declared Dennis in an exclusive interview with Martin Brundle that will be broadcast in the build-up to Sunday's Japanese GP on Sky Sports F1.
"We want the most competitive drivers available and I've talked to every driver at the top-end of the pitlane."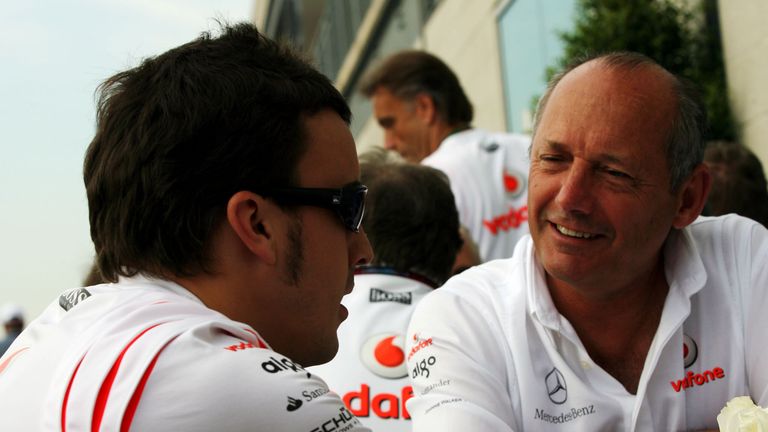 Alonso's association - and alleged role - with the Spygate furore, which culminated in McLaren being stripped of their Constructors' Championship points and fined $100m by the FIA, has been frequently depicted as an insurmountable obstacle barring his passage back to Woking. But Dennis is adamant that Alonso's role in the scandal has been exaggerated and there is no reason why he could not drive for the team again.
"Fernando wasn't the trigger," insisted Dennis. "He was just a part-player. It was the action of other individuals. The emails between Fernando and Pedro de la Rosa were pretty irrelevant.
"I moved on years ago. There's no impediment for Lewis Hamilton coming back. There's no impediment for Fernando Alonso coming back. And there's no impediment for Kevin [Magnussen] and Jenson [Button] staying."
Nevertheless, it is widely believed that McLaren will sign Alonso if the 33-year-old can be persuaded to commit his future – and, in effect, the remainder of his F1 career – to a team without a win since 2012. But Dennis is adamant they have an ace up their sleeves in the shape of Honda and the engine they will exclusively supply for McLaren in 2015, making the Woking outfit one of just three 'works' teams in the field.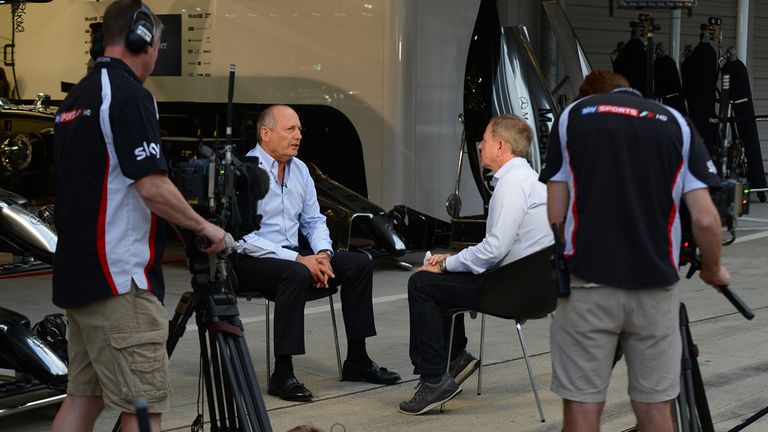 "Everybody started with the same engine and as we've moved forward I don't think the mechanicals have changed that much, I think most of the other teams other than Mercedes-Benz are one step behind always," Dennis said when discussing the disadvantages of being an engine customer.
"But it's really not having access to the source code that allows you to both harness and harvest the energy-recovery systems and that's crucial for getting a well-balanced car.
"Having said that, they've been great partners of ours for the best part of 20 years and I would actually be doing exactly as they've done if the boot was on the other foot. At the end of the day they're there to win but no grand prix team is going to win a World Championship in the future unless it is the dominant recipient of an engine manufacturer's efforts."
Asked specifically about the progress Honda are making with their power pack, Dennis enthused: "It is mindblowing, the engine is a piece of jewellery. They are further ahead than expected. The competiveness of the engine is without question."
Dennis can rarely have sounded more persuasive.
"It takes time to turn a team around and this team will be turned around."
Fernando, are you listening?
Martin Brundle's interview with Ron Dennis can be seen in full on Sky Sports for ipad and On Demand