Could Le Mans style 'Slow Zones' work in F1?
Introduced in 2014 Slow Zones limit drivers to 60km/h through an accident area; allows marshals to recover vehicles without a Safety Car; Stop/Go penalty of five seconds per km/h over limit
By William Esler
Last Updated: 09/10/14 2:53pm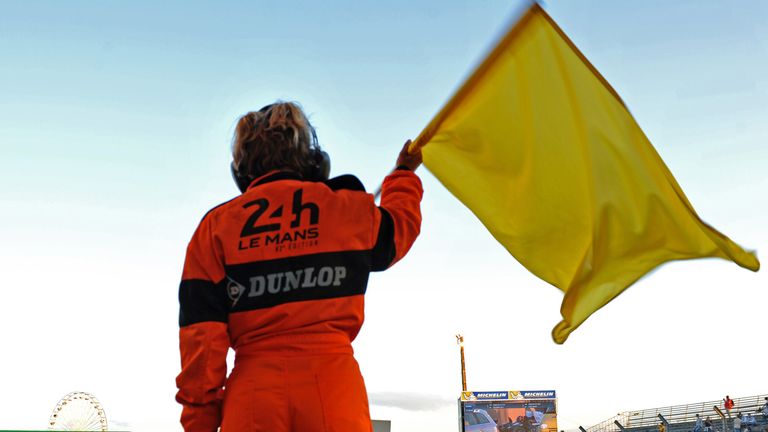 The FIA introduced "Slow Zones" at the 2014 Le Mans 24 Hours to allow marshals to recover cars from the track without the need for a Safety Car whilst providing greater safety than yellow flags.
Rather than neutralising the entire 8.4 miles of the Circuit de la Sarthe, drivers were required to drive at 60km/h or less between two marshals' posts surrounding the area in which the incident occurred.
A "Next Slow" sign (yellow with black lettering), accompanied by a flashing yellow light and a waving yellow flag signal to the drivers that they are approaching the start of the Slow Zone. They must be slowed to 60km/h when they reach the "Slow" board which accompanied by a yellow flag and lights. A flashing green light signals the end of the "Slow Zone". These signals remain in place for the duration of the marshals' presence on track.
All overtaking was forbidden in the zone and if a driver breached the speed limit they were punished by a stop/go penalty of five-seconds per kilometre, rounding up.
Currently F1 drivers are only required to show that slowed through a yellow flag zone, but there is no maximum speed drivers must adhere to.
So could a "Slow Zone" work in F1? With pit-limiters already fitted to the car – currently at 80km/h – in theory all it would take is additional signage to implement. There would be some issues to overcome however.
The tracks currently used are much shorter than that at Le Mans, with the longest at Spa-Francorchamps over four miles shorter than the French venue, meaning a greater percentage of the lap would have to be covered than during the endurance race.
At a maximum of two hours rather than 24, any tenths dropped through the zone could also be more critical, leading to drivers attacking the limit line as they do the pit-lane.
"Do I think it would work for Formula 1? Possibly in very rare situations," says Le Mans and GP2 racer Jon Lancaster.
"It worked at Le Mans because of the sheer size on the lap and for an isolated incident you don't need to be doing Safety Car pace for so long. As for Formula 1 on such short circuits in comparison to Le Mans, I guess it can be applied the same way, but only for certain corners where you don't have to slow down from 200mph in a sudden possibly dangerous way.
"But if a car is stuck in a dangerous place and it's a matter of pushing out of the way then a Slow Zone could be used to keep everyone racing, however this is what the Safety Car is usually used for."
The Safety Car was not deployed when Adrian Sutil's car was being recovered prior to Jules Bianchi's accident at the same corner during the Japanese GP, but Lancaster doesn't believe speed as an issue.
"The problem I see is in Jules' incident is it had very little to do with speed, he aquaplaned just as Sutil did," he added.
"What I think the safer options would be, are in those conditions, do not allow recovery vehicles onto the track, as the driver, no matter how slow he is going, is not in full control. Sutil had just aquaplaned moments before so any other car aquaplaning has no choice but to end up in the same place.
"In my opinion hitting a parked Formula 1 car isn't much of an issue as the cars are designed to take such impacts from all angles. Doing this keeps all marshals safe and gives Charlie Whiting time to decide if a Safety Car is required, or even a red flag.
"The other option is to have cranes at as many corners as possible just as they do in Monaco, so the need for recovery vehicles is kept to the absolute minimum.
"Jules who I have raced with since we were 13/14 years old in Karting is a sensible and talented driver who I respect very much as he is by all drivers. There were double waved yellow flags which I'm sure he will have respected in those very wet conditions.
"This was a terrible accident in tricky conditions but we have to learn from it as I believe it can be avoided in the future, I wish all the luck and hope in the world for my friend Jules, and all the strength for his Family and friends."
Tarmac run-off areas have been criticised by some fans and purists, but with Bianchi's car seemingly skipping across the top of the gravel, Lancaster feels tarmac could allow a driver to slow the car better.
"If you remember there was once a close call a few years ago at Turn One at the Nurburgring when Luizzi almost hit the recovery vehicle, but thankfully there was a lot of tarmac run off for him to just gain enough control to stop in time."