Toto Wolff says no one will dislodge Lewis Hamilton from his Mercedes race seat
Merc chief expects Lewis to extend deal when contract talks open
By James Galloway
Last Updated: 03/11/14 6:37pm
Toto Wolff insists high-flying Lewis Hamilton will not find himself under threat for his race seat at Mercedes for 2016 as the team wait to commence contract renewal talks with the Briton on the conclusion of the Drivers' Championship fight.
Hamilton is nearing the end of his second season at the Anglo-German team meaning the 29-year-old has little over 12 months to run on the three-year deal he signed to defect from McLaren two years ago.
Despite both team and driver having publicly made clear in recent months that they are keen to extend their relationship beyond 2015, it has not stopped wild speculation that Hamilton, either by his own volition or the team's choosing, could yet leave, with Fernando Alonso thought to be eyeing up a seat at the new Constructors' Champions for 2016.
However, having put talks on a new deal on hold while Hamilton's intra-team title duel with Nico Rosberg plays out, Wolff insists both sides are relaxed about the situation with the Austrian expecting a positive outcome when discussions do resume.
"We've said many times, and he's said, that we'd like to continue with Lewis for a much longer period and we've decided to delay the discussions about the contract until we have hopefully won the Drivers' Championship," Mercedes' Executive Director told Sky Sports News HQ.
"He wants to stay concentrated, we think that he needs to stay concentrated and not be diluted by legal or financial discussions, and once we have done that we're going to sit down and hopefully extend it. This is his wish, it's our wish, so I don't see any contradictions at that stage."
And, amid the Alonso rumours, Wolff added on Hamilton's position at the team: "Nobody's going to take that seat away from him until he decides so."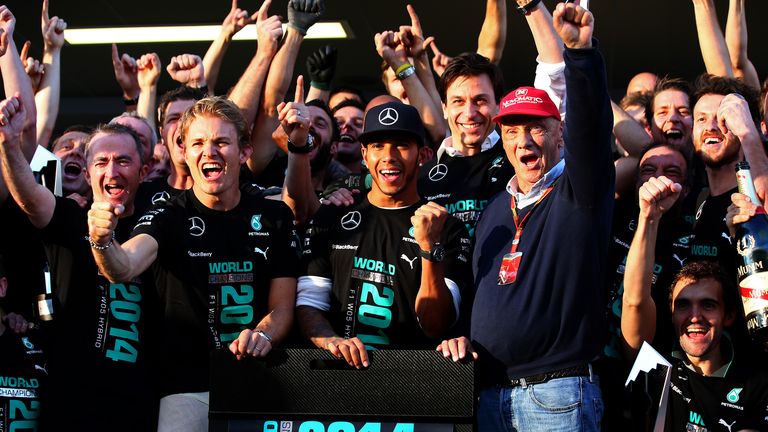 Despite Hamilton increasing his lead over Rosberg in the championship standings to 17 points with victory in Russia, the outcome of the all-Mercedes duel is unlikely to be decided until the season finale in Abu Dhabi given that for the first time in F1's history double points will be on offer.
Wolff, while not a fan of the controversial scoring system, is expecting his drivers' battle to go all the way down to the wire.
"It's still tight and with the last race having double points, a DNF versus winning the race means 50 points difference," he pointed out.  
"So it's probably going to go down to the last race and I'm not a fan of the double points, but I understand why they came and I guess that it's going to be the pinnacle of the whole season. That justifies, maybe, the double points – but not from the sporting point of view.
"Both of them are extremely concentrated and focused on their work and it's going to go down to Abu Dhabi."
With the chances of anyone but Hamilton or Rosberg winning the drivers' crown all-but mathematically extinguished at the last race, Mercedes are set to emulate their Brackley forerunners Brawn GP by winning both championships in the same season.
Wolff admitted that much of the credit for the new outfit's success had to go to Ross Brawn, who sold his eponymous team to the German manufacturer in 2010 before leaving the role of Team Principal at the end of last season after gearing the team up for the 2014 turbo revolution in the intervening years.
"Ross was such a fundamental part of this year's championship. This is his trophy," Wolff, who joined Mercedes from Williams in early 2013, acknowledged.
"He laid down the basis of the success of the team. Some of the decisions which were taken many, many years ago proved to be the right ones today. You can never determine who had which impact but definitely Ross has had a major role."