Adrian Sutil says it was 'obvious' cash-strapped teams would eventually hit trouble
Sauber driver now expects reaction to F1's cost crisis after Caterham and Marussia fall into administration; German says Sauber in "odd" situation still battling Marussia for ninth
By James Galloway in Austin
Last Updated: 03/11/14 6:33pm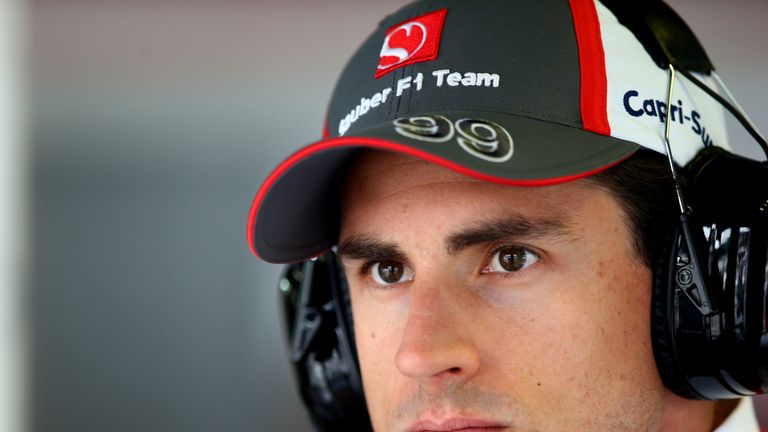 Sauber's Adrian Sutil has expressed surprise that it took so long for financial problems to overwhelm F1's most cash-strapped teams and reckons the plight of Marussia and Caterham will belatedly trigger action on the sport's cost crisis.
Following months of debate and speculation surrounding the financial health of some of the grid's smaller outfits, the administrators were called into both Marussia and Caterham inside the last week with both teams missing from this weekend's U.S. GP entry list as a result.
The two outfits are not the only ones currently feeling the pinch of competing in F1, with Sutil's Sauber team, without a point all season, thought to be the next most vulnerable outfit on the grid.
Speaking in Austin on Thursday ahead of a race weekend which will see the fewest cars on the grid in nine years, Sutil admitted he thought some teams wouldn't even have lasted this long.
"It's not nice to see two teams missing here, but it was very obvious that it was going to happen sooner or later," the German driver told reporters.
"Last year or this year so many teams had financial problems that I was surprised how long they actually survived and how they get on the whole time. This is how it is and for sure this is a reaction maybe followed by a few changes to get back the teams into Formula 1. Only 18 cars running this weekend is not enough."
With the FIA's latest attempts to introduce a budget cap falling down earlier this year, and teams at loggerheads over the best way to manage costs, a sense of stasis has ensued over recent months.
Sutil believes the sport's policy of 'just getting by' will now be altered by Marussia and Caterham falling off the grid.
"If you don't make a change, if you always try to just survive, you will never make a change," he said. "But this was a strong sign of what's happening here and I think now you can expect more reaction than if you only know that they have financial problems but they are still here racing. But this is a clear point there's something wrong. The question is what is wrong?"
Although running at the bottom end of the midfield with their troublesome Ferrari-powered C33 this year, Sauber still trail ninth-placed Marussia in the Constructors' Championship owing to the Banbury outfit's maiden points finish at May's Monaco GP.
Sutil therefore admits it's an odd experience to be battling against a rival which is now not even on the grid.
"It's quite strange to race against a team who's not here anymore," he added. "It [finishing ninth] makes a difference in the championship with the financial things for next year. So that's why we are fighting so hard, every position in the championship means more or less money."
Although the team have shown gradual signs of improvement in recent races, a top-ten finish has remained elusive for Sauber in 2014. Sutil, however, says the team continue to hold onto hope that they can overhaul Marussia and suggests potential unpredictability may come to their rescue at the final two rounds of the year later this month.
"We hope for at least a few points. There are only three races left and we are still focused on it," he said.
"Of course our hopes are more for next year's car and we are pretty sure to start much better. So we have to make the best we can for those last few races. I think in Brazil there's maybe a good "chance but who knows in Abu Dhabi, maybe drivers take more risks because there are double points and you see a more crazy race. We just need to be there and be ready."