Jenson Button is against three-car teams in F1 even if it helps him get a 2015 seat
Briton adds his future will be resolved before the end of the season
By William Esler
Last Updated: 03/11/14 6:31pm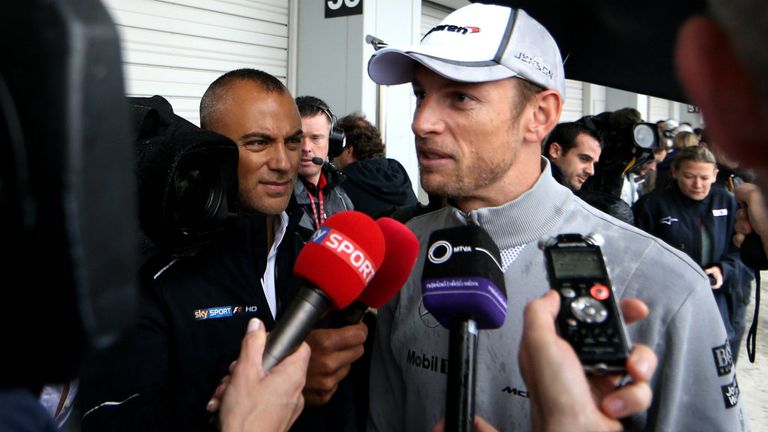 Jenson Button is adamantly against three-car teams in Formula 1, even if they did help him remain on the grid next season.
Just 18 cars will race in Texas this weekend after both Marussia and Caterham entered administration and should another team fall by the wayside, there is a provision in the rules for the eight remaining squads to field an additional car.
The suggestion has received mixed reaction the paddock with Lewis Hamilton being in favour of the move if young drivers are given a chance. However, 2009 World Champion Button feels it would be detrimental to the sport.
"If you have one team like this year [Mercedes] that have been a step above then they lock out the podium in the top three places," he told Sky Sports News HQ. "So personally I feel it is a shame if it goes in that direction."
With Fernando Alonso expected to return to McLaren in 2015 a third car at the Woking team could help Button remain on the F1 grid for a 16th season, but even then the Briton would still not be in favour.
"I don't like the idea of three cars in a team," he responded. "Two cars is the way it always has been and it is the way it works in Formula 1."
Button confirmed his future is yet to be resolved, but says his 2015 plans will be announced before the Abu Dhabi finale.
"There will be an answer before the end of the season," he insisted.
As he battles to retain his seat next year Button has produced impressive displays in back-to-back races with a fifth-place finish in Japan followed by a fourth-place finish in Russia. His task will be made more difficult this weekend, however, due to a five-place penalty which will be imposed due a gearbox change.