McLaren to run upgrade in Abu Dhabi
Development car has also been built for Honda 'systems check'
By Pete Gill
Last Updated: 25/11/14 5:44pm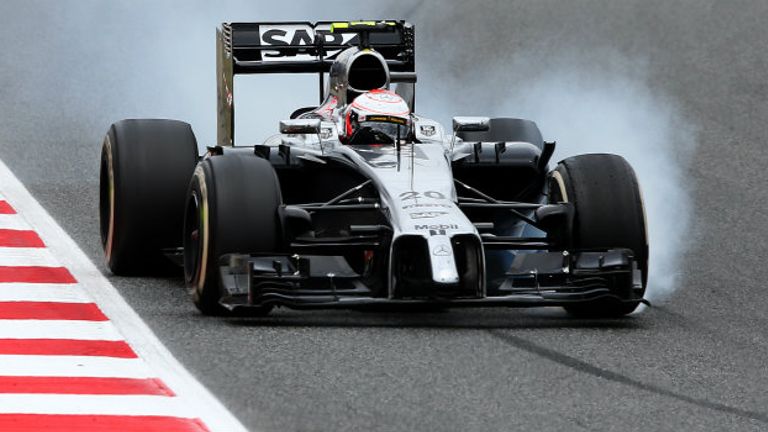 McLaren are preparing to trial an upgrade package at the season finale in Abu Dhabi, Sky Sports F1 understands.
Ahead of their reunion with 2015 engine providers Honda, McLaren are already known have built a development car in order to fast-forward the process of integrating their new power pack and its associated components.
"To make sure that we are ready at the launch of the new cars in 2015 we've decided to build a development car, as Honda needs to check all the multiple systems," team boss Eric Boullier revealed last month. "We also need to check the IT link between track and Woking and between track and Japan. So as not to have to focus on these things too much in the test season, we've decided to run a development car programme."
However, it's now also believed McLaren are preparing to run an upgraded car in Friday's practice sessions at Abu Dhabi next week in order trial new aerodynamic designs as they try to steal a march on their rivals ahead of next year's campaign.
McLaren haven't won a race since 2012 and are just fifth in the Constructors' Championship this season, almost fifty points shy of fourth-placed Ferrari. However, with hopes are already high that their upgrade to a full 'works team' with Honda will inspire a revival next year, the team are also reputed to have provided Fernando Alonso with 'technical guarantees' about their 2015 car's prospective competitiveness as they strive to persuade the Spaniard to return.
According to reports in Spain, Alonso is on the cusp of signing the 'largest deal in the history of F1' and will visit the team's Woking base on Wednesday.