Ron Dennis says Lewis Hamilton had 'his role to play' in McLaren's 2007 implosion
Alonso's return seven years after abrupt exit from McLaren finally made official; Spaniard has signed a multi-year deal after leaving Ferrari
By James Galloway
Last Updated: 11/12/14 4:30pm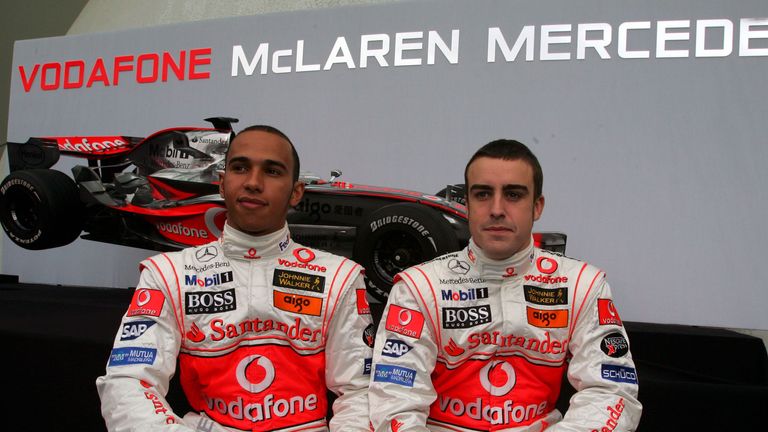 Ron Dennis has claimed that Lewis Hamilton wasn't entirely blameless in the spectacular fallout at McLaren in 2007 which triggered Fernando Alonso's original departure from the team
Alonso was finally unveiled as a McLaren driver for a second time on Thursday with the former Ferrari driver appearing alongside new 2015 team-mate Jenson Button and chief executive officer Dennis, the man who he had a high-profile public falling out with during his previous tumultuous single campaign at the team.
Despite their troubled past, both men were understandably keen on Thursday to draw a line under the events of seven years ago when the Spaniard went head-to-head with a then rookie Hamilton and the team became embroiled in the Spygate scandal.
Alonso, who arrived at the team first time round as the reigning two-times world champion, has since been widely cited as causing the internal ructions which ultimately cost either McLaren driver the world title to Ferrari's Kimi Raikkonen. However, speaking in a press conference alongside the returning Spaniard, Dennis suggested that the then 22-year-old Hamilton had his role to play in the breakdown too.
"If you go back to that period, you look at the chemistry and we had Lewis, a young guy, understandably perceived by many people as the chosen one but also someone who had immaturity," Dennis said of the now Mercedes driver and 2014 World Champion.
"If you go on the 'who struck the first blow' route, actually I would say that Lewis had his role to play in starting this process which escalated."
Dennis, who at the time was in his penultimate season as Team Principal, admits that unlike tense team-mate pairings of the past the Alonso/Hamilton rivalry "got away from me" and he accepts he made mistakes in the way he handled the situation.
However, despite suggestions that Alonso's second spell at Woking could feature similar ructions if things don't go well on track, Dennis is confident there will be no repeat fall-out.
"By and large those challenges that you have between drivers – and I had them in previous championships with Alain [Prost] and Ayrton [Senna] several times – we've always managed to be able to diffuse," he reflected. "But this one got away from me and I look back on my contribution to that with exactly the same emotion that Fernando expressed, which is you regret the mistakes you make in your life and sometimes you can't change what's happened.
"So could I have engineered a way out of it? I could probably have done things better, but the reality is that you look back at your mistakes, you are honest with yourself, and [if] you accept them and you intend not to repeat them then you put themselves in a frame of mind and position to actually over-compensate.
"So I don't actually anticipate any issues between Fernando and I."
While Dennis says there was naturally an initial degree of edginess when the pair first met to discuss the possibility of Alonso returning to McLaren, he insists the smiles between them on Thursday were no front.
"Of course, when we started to meet in various rooms over the last few months there was no question there was a little bit of circling and discomfort," he admitted.
"Anything that we demonstrated today that would appear to be the friendship that we have re-established you would be very suspicious of and you wouldn't think had any grounds. In fact, this now [2007] has gone. We are focused on the future. We have to succeed together."
The good, the bad and the ugly: Alonso's 2007 season at McLaren