Zooming into view for for a worthy cause
Star-studded event held in support of Great Ormond Street Hospital
By Phillip Porter
Last Updated: 19/01/15 4:45pm
Sky Sports Online joined Formula One drivers, team principals and its boss Bernie Ecclestone, along with their snapshots of 2014, in London for this year's Zoom Charity Auction – raising upwards of £20,000 in aid of Great Ormond Street Hospital.
The star-studded event, held in association with Nikon UK, is in its third year and once again the @ZoomInitiative asked the stars of F1, from both on and off the track, to contribute and sign a photograph they had personally taken in 2014.
Christian Sylt, co-founder of Zoom, said: "Once again we would like to thank the teams and drivers, Bernie Ecclestone, the other participants and all our partners for their support."
Adrian Newey, Red Bull's Chief Technical Officer added: "Most importantly, everything that goes in the auction goes to the people who need it."
Geri Halliwell, fiancé of Red Bull Team Principal Christian Horner, said: "I think it's amazing to be able to give back. F1 brings a lot of joy to people but to be able to give back to an amazing hospital and help children – I think that's a lovely thing to do."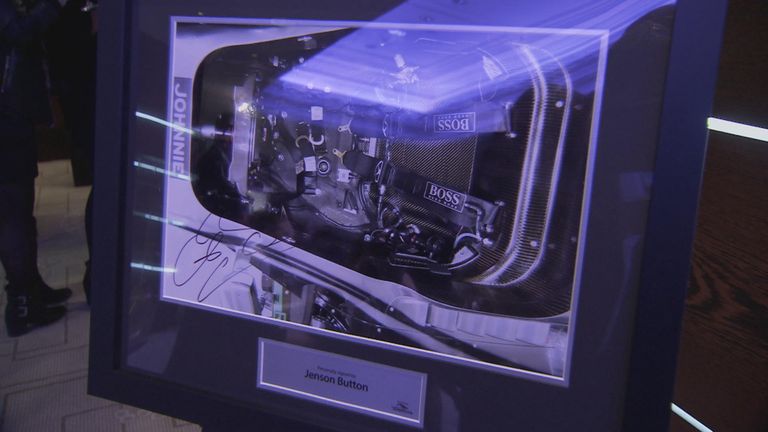 The quirky images received ranged from McLaren driver Jenson Button's shot of his 'office' to Bernie Ecclestone's begging bowl portrait.  "You can see the F1 community is here. It's a great cause. There is obviously a lot of causes and this one is great," said McLaren boss Eric Boullier.
Former Marussia boss Graeme Lowdon donated his own pencil sketch of Ayrton Senna, something he drew while on long-haul flights to races.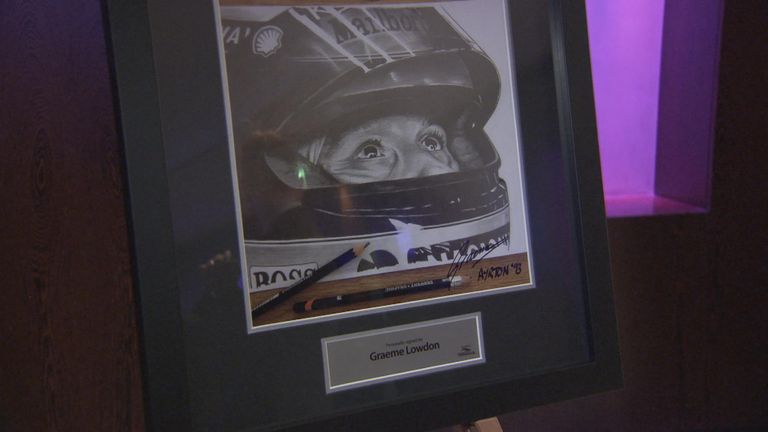 The picture was eventually sold, along with the original print, for £1,400. Lowdon has his own personal reasons for supporting this particular cause saying, "Great Ormond Street does fabulous work. I know first-hand what it's like to be told some fairly grim facts by doctors and also as a parent. I know how it feels when your child is being looked after by the best in the world. Any help we can give, to put something back and help the great work that they do, then we're very happy to do it."
Sky Sports ran its own photographic competition for fans to enter. Mark Timms emerged as the winner with an image he captured at last year's Spanish Grand Prix of two young Ferrari fans. When asked about the auction he said, "It's amazing – really, really good to come down here and help raise lots of money for a great charity."
In what was a great night for a great cause, it was also a great reminder of how 2014 produced so many memorable images in F1. With the new season on the horizon, it remains to be seen who will provide the defining image of 2015.
The Sky Sports F1 Online team will be providing live commentary of all three winter tests, starting in Jerez on February 1, with live updates from trackside also on Sky Sports News HQ.