Force India to sit out Jerez test after changing plan on running 2014 car
Silverstone team now won't run until first of Barcelona tests
By James Galloway
Last Updated: 28/01/15 3:48pm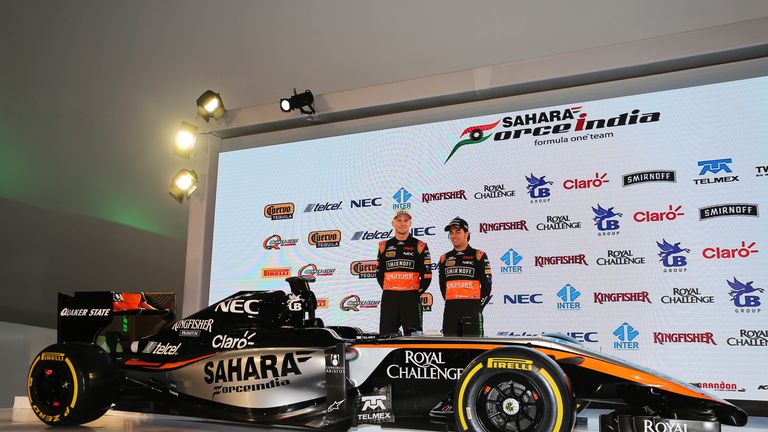 Force India will now skip the first test of 2015 entirely after deciding not to run their old car at Jerez either.
It emerged last week that the Silverstone-based outfit would start pre-season with last year's VJM07 having decided to keep the new VJM08 on hold for a further fortnight while they continued to work on the car in their new wind tunnel.
However, the team have now confirmed via Twitter that they now won't be travelling to southern Spain at all as "the learning opportunities would have been limited so the focus is now on Barcelona". The 2015 challenger is set to make its debut at the first of the back-to-back tests at the Spanish GP venue on February 19.
Sky sources understand that neither of Force India's 2015 race drivers, Sergio Perez and Nico Hulkenberg, were ever down to drive at Jerez with the team instead having intended to use the test as a chance to run with test drivers who brought some financial backing.
Although it appears Force India have performed a sudden U-turn with regards to at least testing at Jerez, it is understood that they decided last week that it would be more efficient to channel all of their resources into the Barcelona tests. Force India Technical Director Andrew Green told Sky Sports F1 at the launch of the team's 2015 livery in Mexico that the team would have had little to gain from running their new car in southern Spain.
"We've never really been a big fan of Jerez as a test track. It's very unique – the asphalt is very unique – we don't race there and Pirelli are bringing the tyre that we tested in Abu Dhabi," he said.
"We're happy to give it a miss, to be honest, and take the development time."
Force India head into 2015 aiming to push on from their best-ever season last year when they finished sixth in the Constructors' Championship and hot on the heels of McLaren. Despite the on-track successes, speculation has routinely surrounded the financial health of the Vijay Mallya-owned outfit with the team joining Lotus and Sauber in calling for the sport to adopt a more equitable prize money model following the demise of Caterham and Marussia last November.
A Force India spokesman declined to comment on speculation in Germany on Wednesday morning surrounding the future of the team.
The Sky Sports F1 Online team will be providing live commentary of all three winter tests, starting in Jerez on February 1, with live updates from trackside also on Sky Sports News HQ.