McLaren-Honda forced out of Day One in Barcelona after completing just 21 laps
Faulty seal on MGU-K unit results in early end to MP4-30's running
By Pete Gill and James Galloway in Barcelona
Last Updated: 16/03/15 2:29pm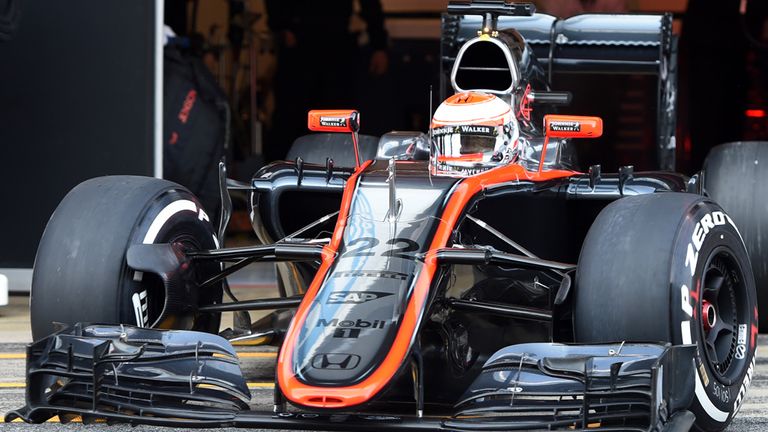 McLaren's winter woes have continued after the team were forced to stop on the first day of the Barcelona test after completing just 21 laps.
Following their reunion with Honda, the team have so far recorded a mere 100 laps over five days of pre-season running.
Their latest setback stemmed from a fault on the MGU-K necessitating an engine change on their troubled MP4-30 car. Although the team intend to return to action on Friday, when Fernando Alonso is scheduled to take over from Jenson Button, a replacement unit will not be delivered to the Circuit de Catalunya until Saturday. As a result, a reoccurrence of Thursday's issue is more than likely.
"We had to stop running this morning after discovering a faulty seal on the MGU-K. That faulty part then caused an issue that requires full replacement of the power unit - and the time needed to make those changes effectively ends today's programme," Honda managing officer Yasuhisa Arai said.
"We'll need to run a re-designed component to avoid a potential repeat of the problem. Unfortunately, we won't be in possession of that updated part until Saturday, which means that we may face the same problem when we run again tomorrow."
Following the myriad of technical woes that bedevilled the team at Jerez, venue of the first of three winter tests, McLaren-Honda used up both of their allotted 2015 filming days earlier this week at Barcelona in a desperate bid to cajole the MP4-30 back on track.
To compound McLaren's frustration, their Day One running had started in promising fashion with Button vying with Ferrari's Kimi Raikkonen for top spot in the timesheets during the early stages before the MP4-30 suffered its latest ailment. A hybrid version of McLaren's 2014 car also ran in the post-season Abu Dhabi test in November, but completed a mere five laps over the course of two days.
According to Sky Sports F1's Ted Kravitz, McLaren-Honda are at least one month behind the rest of the field's development curve - with that deficit set to grow further over the coming days.
"It won't be until Saturday when they will be able to give the car a full run and we saw last year how long it took the teams to change these complicated power units," Sky Sports News HQ's Rachel Brookes reported. 
"By the end of the year, it took the teams about three hours to complete the change. Unfortunately for McLaren-Honda, they are a new partnership, and it's a new power unit in that car, so they are learning as they go and it's taking them a while longer.
"Certainly their running has been curtailed today and it looks like a troublesome few days ahead as they try to catch up."